Stir Together Apple and Macadamia Cake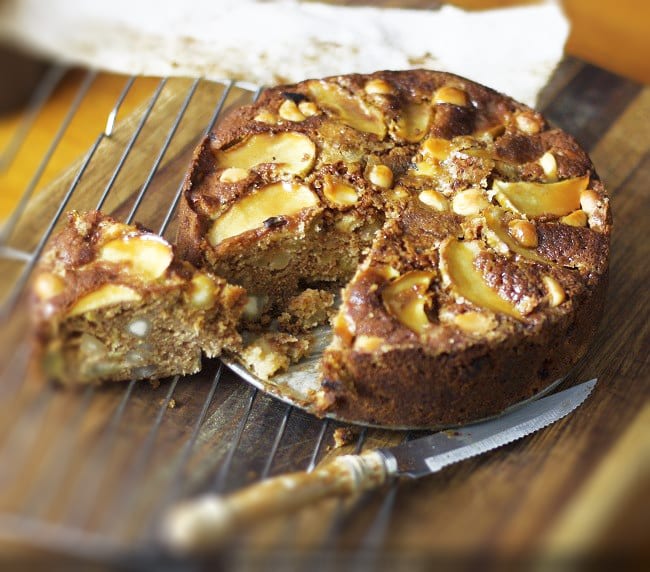 Throw this on a cake plate with an extra handful of Macadamias and some ice cream and let every body dive in and serve themselves.
By Tania Cusack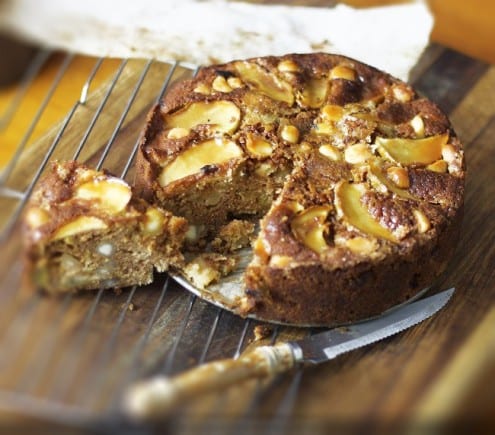 When I first started making this cake ( so many years ago I am embarrassed to say), I thought it was the ideal throw together dessert, and I still do. Serve it like this…..a breakfast cake or serve it hot out of the oven at tea time.

Stir Together Apple and Macadamia Cake
Throw this on a cake plate with an extra handful of Macadamias and some ice cream and let every body dive in and serve themselves.
Ingredients
125 gm melted butter ( 1 stick)
2 apples diced ( approximately 3 cups )
1 cup of brown sugar
1½ cups of flour
1 teaspoon of Bicarbonate of soda
¾ teaspoon of baking powder ( optional)
1- 2 teaspoons of cinnamon
1 teaspoon of ground ginger ( nutmeg or cardamom)
1 egg
1 cup of Macadamias ( or other nuts)
approximately ¼ cup of milk
Garnish / optional
1 Tablespoon extra melted butter for brushing
1 small apple (or ½) sliced
Extra chopped nuts
Instructions
Grease and line the bottom of a 22-25cm tin 9- 10 inch. Preheat the oven to 170C/340F – not too hot
Melt your butter first. Set aside
Put the chopped apples into a mixing bowl, big enough to fit all of the ingredients. Add the flour baking powder and soda, sugar and spices and mix up well .
Break the egg into a cup and beat to break up. Pour into the bowl with the apple and flour mixture add the melted butter and the milk mix well with a spatula or spoon. Add a little more milk ( up to 2 Tablespoons ) if it seems very hard to mix. Mix quite well to make sure it is all incorporated.
Spoon into the prepared cake tin and flatten with a spoon. Garnish with sliced apples painted with a little butter sprinkle with nuts and a little raw sugar if you like. ( I do!). I even glaze the top with melted caramel sauce too..
Tania Cusack
After completing Culinary School in Sydney, Tania travelled the world working as a Chef in restaurants, doing catering and cooking on road for a travel company in Europe and the US. Once back at home, the birth of her son meant a change, and during his small years, she enjoyed jobs in wholesale food, buying Artisan food products, testing and recipe writing as sales and educational tools. Tania is now back to what she loves, working as an in house Chef for a large retailer, conducting Cooking Classes and writing recipes for her blog.