Summer corn is so flavorful it hardly needs anything at all, but a few well-chosen additions just brighten the taste.
By Chitra Agrawal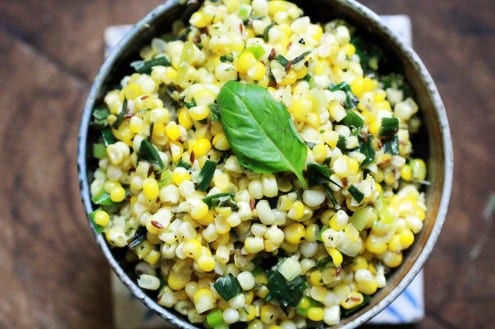 Stir-Fried Corn with Basil and Leeks
Summer corn is so flavorful it hardly needs anything at all, but a few well-chosen additions just brighten the taste.
Ingredients
4 corn cobs, kernels shaved off cob (2 cups)
2 tablespoons ghee or vegetable oil
½ teaspoon cumin seeds
1 leek, white & green parts chopped small
½ teaspoon fresh ground black pepper
2 tablespoons basil, chopped
juice of half a lemon
salt to taste
Instructions
Easy method to shave corn off cob: just stand it upright and run your knife as close to the cob as you can get. The kernels will just come right off.
Heat ghee or oil under medium-high heat in a frying pan. Add in cumin seeds. When the seeds start to brown, turn the heat to medium and add in the leeks. Cook the leaks for about 3-5 minutes, until they are cooked down. Mix in the black pepper.
At this point, add in the corn kernels and salt to taste. Fry the corn for a few minutes (doesn't take long to cook). Turn the heat off. Squeeze lemon and mix in the chopped basil. Add salt to taste.
Chitra Agrawal
Chitra writes the food blog, The ABCD's of Cooking, which chronicles her adventures cooking American Born Confused Desi recipes. When she is not recipe blogging, Chitra can be found hosting her online cooking show and a supper club featuring Indian-inspired, vegetarian cuisine. She also teaches cooking classes and sells Indian street foods (sometimes yummy Indian tacos!) at events and artisanal markets in Brooklyn. Her cooking has appeared in the New York Times Dining Journal and she is a contributor to The Huffington Post, Gojee, The Daily Meal and Brooklyn Based.