These baked soy sauce chicken wings are coated in a sticky, sweet and salty sauce and makes for some finger-licking flavor.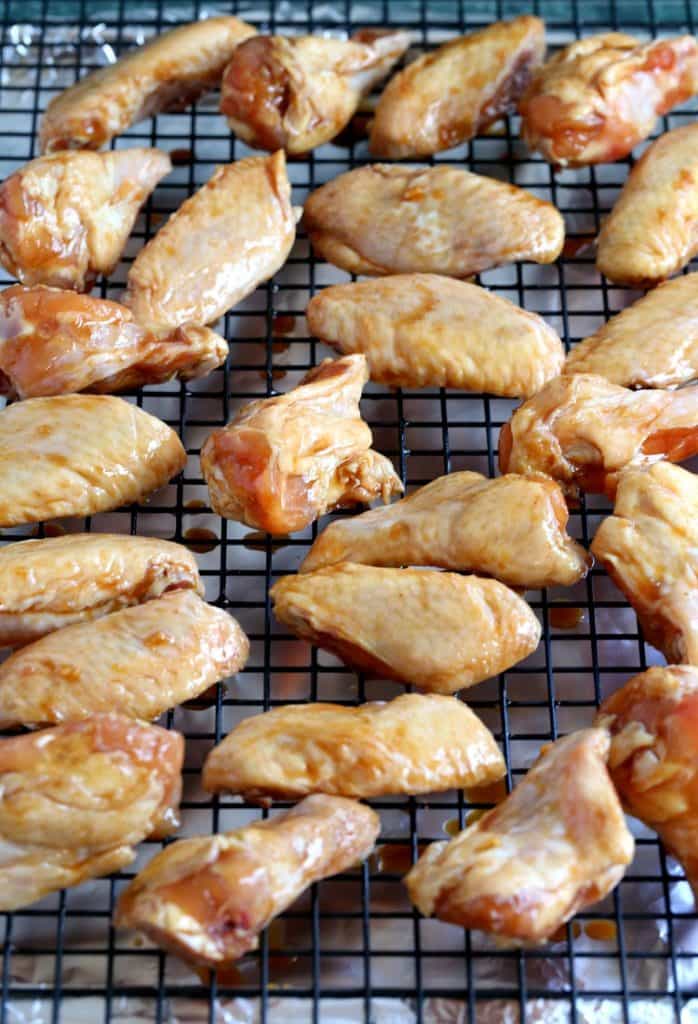 Who doesn't love wings? I have to say, wing night is right up there with taco night at my house. Everyone gets excited for wing night.
The only question is which wings are we having? Nacho Wings? Salt and Vinegar Wings? Or now these Sticky Hoisin Chicken Wings…
A couple of our favorite wing recipes are fried but some are oven baked. I'm definitely not afraid to break out the oil and go in for the deep fry but an oven baked recipe is definitely a little easier to deal with on a busy night.
There's even some wing recipes I've seen that cook right in your slow cooker…haven't tried that yet but it's on the list!
But you do have to marinate these wings and I do like to marinate them overnight if possible. If you get them in the marinade in the morning and give them a good 6-8 hours that'll work too. They're still going to be one of the best wings you've ever tasted…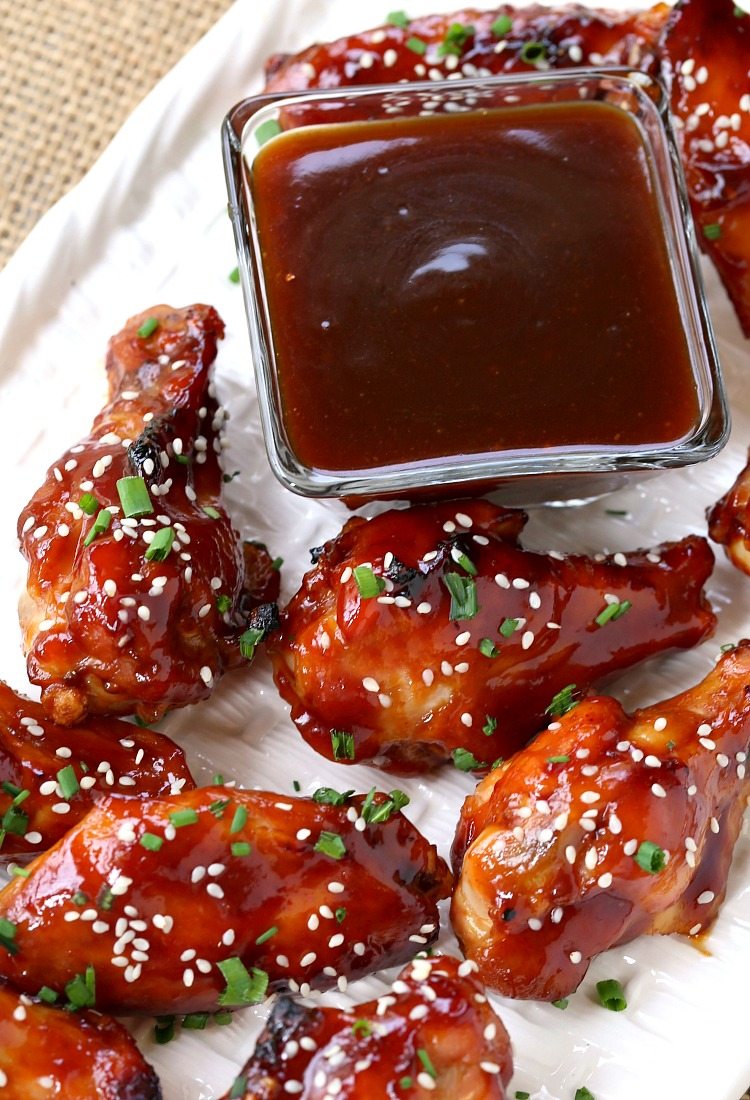 So get them in the marinade which is made up of hoisin, soy sauce, ginger, garlic, brown sugar, rice wine and sriracha – just a teaspoon for some background heat – not too much to make them super spicy. You'll use half the sauce to marinade the wings and half to baste on the wings as they cook.
After they soak up all that marinade they go into the oven to bake.
See Also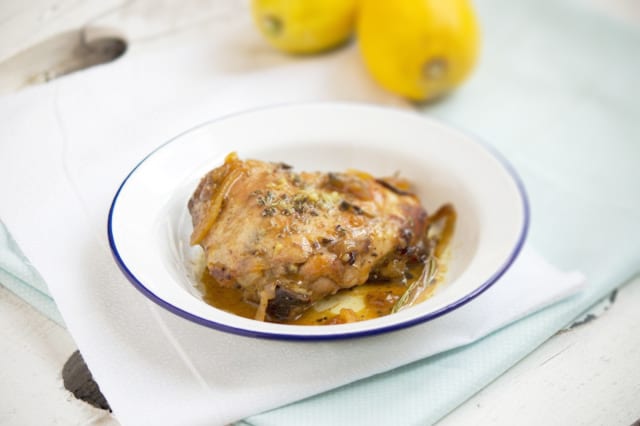 These wings are going to bake at 425 – pretty high heat – but that's the way to make them come out crispy like a fried wing, without using all the oil.
Definitely a 10 napkin dinner here…which makes dinner that much more fun.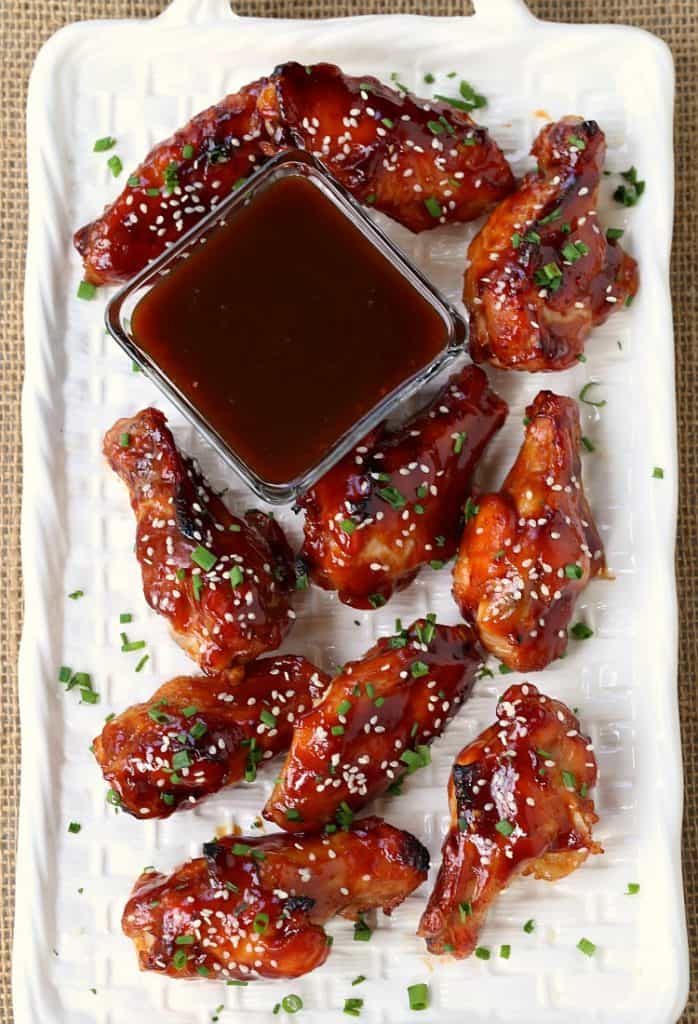 Print
Sticky Soy Sauce Wings
These baked soy sauce chicken wings are coated in a sticky, sweet and salty sauce and makes for some finger-licking flavor.
Author:

Dan George

Category:

Main
3

lbs chicken wings

1 tablespoon

cornstarch mixed with 1 tablespoon water
sesame seeds and chives for garnish
For the Sauce/Marinade
½ cup

hoisin sauce

1 cup

soy sauce

1/4 cup

rice wine vinegar

1/4 cup

water

½ cup

brown sugar

1 teaspoon

sriracha

1 teaspoon

ginger paste

4

garlic cloves (crushed)
Instructions
Mix the sauce ingredients together in a bowl, then use 1 cup of the sauce to marinate the chicken wings in a large bowl or resealable bag for 8 hours or overnight.
Reserve the extra sauce for basting the wings while cooking.
Remove the wings from the marinade (discarding the marinade) and place on a wire rack over baking sheet covered in foil.
Bake at 425 for 30 minutes.
While the wings are baking pour the remaining sauce into a saucepan and bring to a boil. Thicken the sauce with the cornstarch mixture and bring to a boil again. Once the sauce is thickened you can remove the pan from the heat and cover until the wings are done.
Take the wings out of the oven and baste with a thick layer of the sauce.
Place the wings back in the oven for an additional 5 minutes.
Garnish with chives and sesame seeds and serve any extra sauce on the side for dipping.
Dan George
Born and raised in New Jersey, Dan started the web site Mantitlement as a way to learn how to cook for the first time from his wife, Christie. Christie has always been the primary cook in the household and Dan got used to having her three-course, restaurant quality meals for dinner every night. Well, it was time he learned how to do some cooking on his own, and that's how Mantitlement got started. Dan believes that everyone is entitled to having great food and drinks at home...and he can show you how to make them with his collection of recipes!