Pretty toasts are great for a spring party or Sunday brunch. Don't forget the lemon zest to add a burst of freshness to the creamy and rich appetizer.
By Shareba Abdul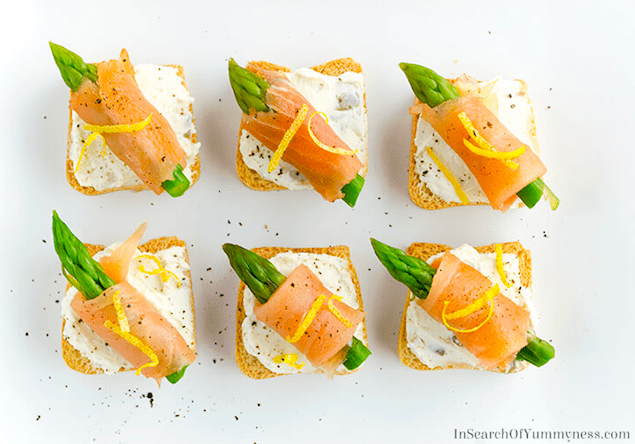 These little bites are based off a tea sandwich that I made a few years ago. I love them because they look impressive, but are not very difficult to make. The only thing you have to be careful of is to not overcook the asparagus, or it will lose its fresh green flavour.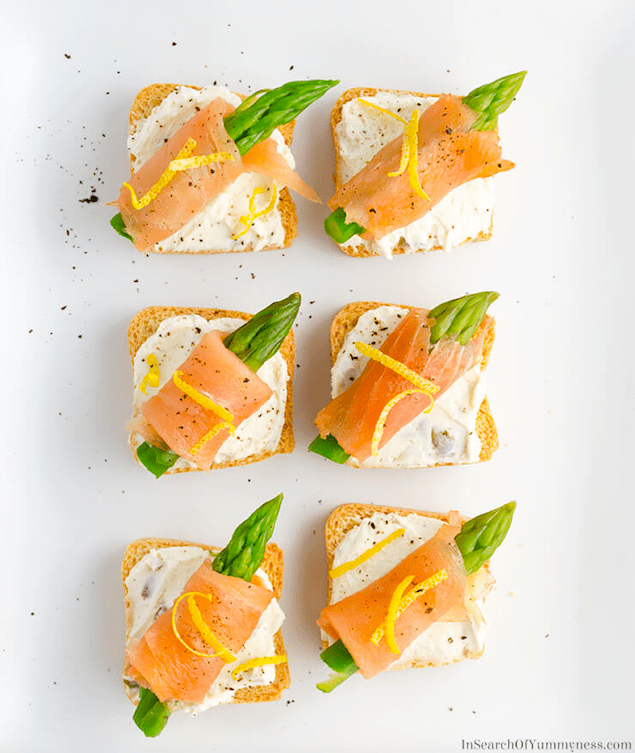 If you want to make these for a party, you can do some of the prep work ahead of time. I actually had to prep everything in advance and then assemble these at the last-minute, because I didn't think the would last long under my photography lamps. You can blanch the asparagus, zest the lemon, cut the smoked salmon into bite-sized pieces and mix the cream cheese spread. Keep everything in the fridge until you're ready, and then assemble everything on the serving dish that you're going to use. These little guys don't like to be moved around too much, so moving them from plate to plate isn't a great idea.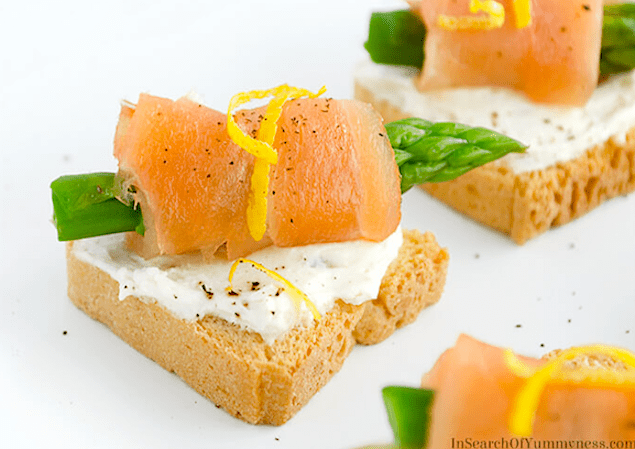 Print
Spring Bites with Smoked Salmon and Asparagus
Pretty toasts are great for a spring party or Sunday brunch. Don't forget the lemon zest to add a burst of freshness to the creamy and rich appetizer.
Author:

Shareba Abdul

Category:

Appetizer
1 cup

plain cream cheese, softened

¼ cup

finely chopped capers

1 tbsp

of lemon juice

2 tbsp

finely chopped dill

10

spears of fresh asparagus, ends trimmed

1

large package of smoked salmon (keep cold until ready to use)

1

package of Paris Toasts (or you can use Melba Toasts)
zest of

one

lemon
freshly cracked black pepper (to taste)
Instructions
Fill a large saucepan with water, add 1 tsp of salt, and place over medium-­high heat. Bring to a boil.
Meanwhile, in a bowl, combine the cream cheese, capers, lemon juice and dill. Set aside for later.
Add ice to a large bowl of cold water, and place it next to your stove. You will need this to blanch the
asparagus.
Add the asparagus to the boiling water. Cook for about 3 minutes, or until bright green and tender.
Use tongs to take the asparagus out of the boiling water and into the bowl of ice water. The asparagus will take about a minute to cool down, and then you can drain them. Once they are cool enough to handle, cut each spear into bite­-sized pieces and set aside.
Find the serving tray or dish that you want to use, you will be assembling the canapés directly onto this
dish.
Set out the toasts, and spread some of the cream cheese mixture on each one. Next, wrap a piece of smoked salmon around each piece of asparagus. I just ripped the smoked salmon with my fingers, it doesn't have to be neat.
Place each salmon/asparagus bundle on top of the toasts, and top with the lemon zest and black pepper.
Serve immediately.

The recipe for Spring Bites with Smoked Salmon appeared first on In Search Of Yummy-ness.
Shareba Abdul
Shareba is a blogger and freelance writer. She holds an Honours Bachelor of Applied Arts in Media Studies, a Diploma in Journalism, and has a passion for writing, photography, and blogging. Shareba has worked on two cooking shows that aired on Food Network Canada, and has bee known to (accidentally) set cookies on fire.