Kankana Saxena serves a flavorful and easy to make Pesto with a twist and a kick.
By Kankana Saxena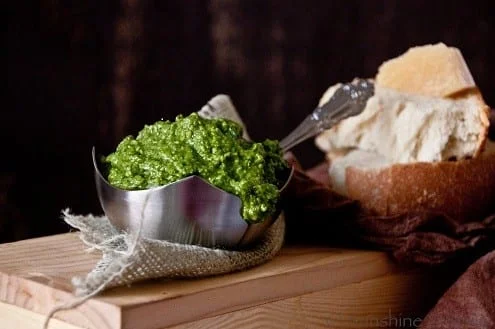 Pesto has always been my all time favorite sauce for pasta, spread for bread and dip for chips. It's always so easy to make that I never buy it from the store. I don't remember the first time when I had pesto and how did I react to it. I don't even remember when it became my favorite. All I know  is that at some point of time it made it's way to my favorite food list and even before I realized I was making pesto more often than ever.
Basil Pesto would definitely be my first choice but at times I like to change it up with some other greens. This time, I chose spinach and to add some extra flavor I decided to add some roasted garlic.
See Also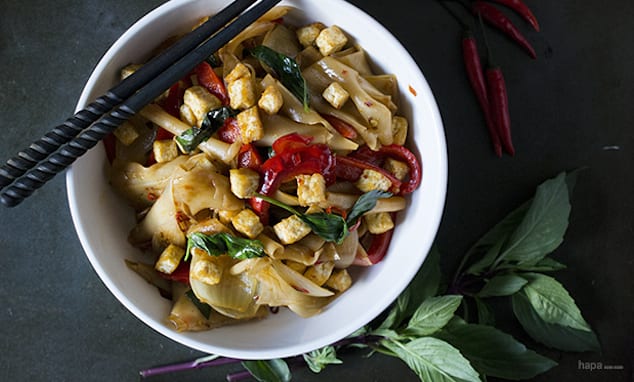 Roasting garlic is super easy. Cut half an inch from the top, put in an aluminum foil, drizzle some olive oil, sprinkle some salt and wrap it up tight. Let it roast in the oven for about 35 minutes at 400F and that's it!
If you haven't tried spinach pesto yet.. try it. you will love it.

Spinach Pesto with Roasted Garlic
Flavorful and easy to make Pesto with a twist.
Recipe Type:
sauce, condiments
Ingredients
2-1/2 cup lightly packed fresh baby spinach, washed and dried
6 cloves roasted garlic
½ cup toasted walnut, roughly chopped
½ cup parmesan cheese, roughly chopped
2 tablespoons lemon juice
¼ tsp salt
½ cup extra-virgin olive oil
Instructions
Roughly chop the spinach. Drop it in the food processor along with all the other ingredients except oil.
Lightly pulse until it's all mixed together.
Keep the food processor running and slowly add oil from the top.
Let it blend till the mixture becomes creamy.
If you are not using the pesto right away, store it in a air-tight jar. It can be refrigerated for about 2 weeks and if you wish to store it longer, you need to freeze it.
Kankana Saxena
Kankana Saxena shares culinary journey, travel stories and passion for photography in her blog 'Playful Cooking'. Her cooking style is mostly nutritional with little bit of indulgence here and there. She believes in the mantra 'homemade is happiness'! She is a native of India but currently resides in Santa Clara, California with her husband.