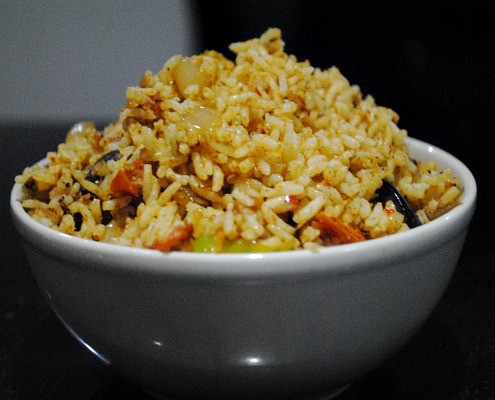 This rice dish celebrates the eggplants, sautéed with Indian spices they leave a lovely lingering taste in your mouth.
By Suchitra Vaidyaram
Nothing thrills me like fresh stock of vegetables on display at the market. I am pulled automatically to the vegetable counter if I see some fresh stock of vegetables- I don't know if it is their color or their vibrancy that attracts me? The other day, I was amazed to see some shimmering eggplants at my market and I loved the glistening coat and their texture. You get to see two varieties in the market- big-sized eggplants and the cute little small ones. I love the small ones, which taste heavenly in any kind of south Indian cooking.
This rice dish, celebrates the eggplants, which has been sautéed with Indian spices and will leave a lingering taste in your mouth. Creativity is the essence here- You can recreate this dish with different vegetables and vary spice level according to your palette. The recipe credit goes to my mom, who has always shown me the path to enjoy different flavors. so, Enjoy :)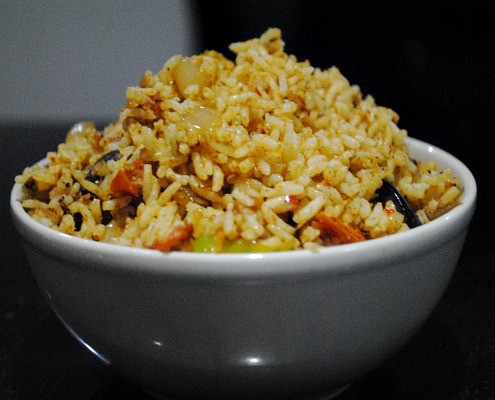 Shimmering eggplants sauteed with feisty Indian spices combines with rice to create this simple & tasty delicacy!
Author:
Suchitra Vaidyaram
Ingredients
Basic Ingredients-
2 large onions (chopped)
3-4 small eggplants (cut in cubes)
3 tomatoes (chopped)
4 garlic cloves (crushed & chopped finely)
tsp grated ginger
Uncooked rice- 1 cup
Mustard seeds- 1 tsp
Asafetida powder (just a dash)
2 Green chillies- slit and cut in half
Spices used-
Cinnamon stick- ½ inch
Bay leaf- 1
Sambar powder- ½ tsp
Garam masala- ¼ tsp
Coriander seeds (sabut dhania) 100 gms
3-4 dry red chilies
Cardamom pods -3
Instructions
Wash the rice & cook it in a non stick pan with two cups of water. Alternatively, you can use a rice cooker/pressure cooker for the same. Just ensure that the cooked rice is not sticky and the grains are separated.
Dry roast the coriander seeds, dry red chilies, cardamom seeds and grind them to a fine powder.
Heat some cooking oil in a pan and add the mustard seeds. Allow the seeds to crackle and add asafetida powder.
Add green chillies, bay leaf, garlic and ginger. Allow the oil to soak up the flavor.
Add onions and saute them well till translucent.
Add tomatoes and allow them to cook for few minutes.
Toss in the eggplants and cook till tender.
Enhance it by adding the sambar powder & garam masala. Allow the eggplants to absorb the spices. If need be, sprinkle a bit of water so that the mixture doesn't get too dry.
Add the ground spices that we prepared earlier and ensure that the mixture has incorporated all the spices well. Adjust salt according to your taste.
Add this mixture to your cooked rice and blend well till the rice has absorbed the mixture completely.
Serve hot with raita and pickle!
Notes
Sambar powder is readily available at any Asian store and is normally prepared by pan roasting whole spices like lentils, coriander seeds, dried whole red chili, fenugreek seeds, curry leaves & grinding them to a coarse powder.
Suchitra Vaidyaram
Suchitra is passionate about cooking flavorful food and loves fusion cooking. She records her recipes on the blog Flavors, which focuses on simple and easy to cook recipes.