Also known as chaat, this spicy corn salad is a wonderful summer side. The salad is tossed with fresh mint and vinegar for a bright flavor.
By Shuchi Mittal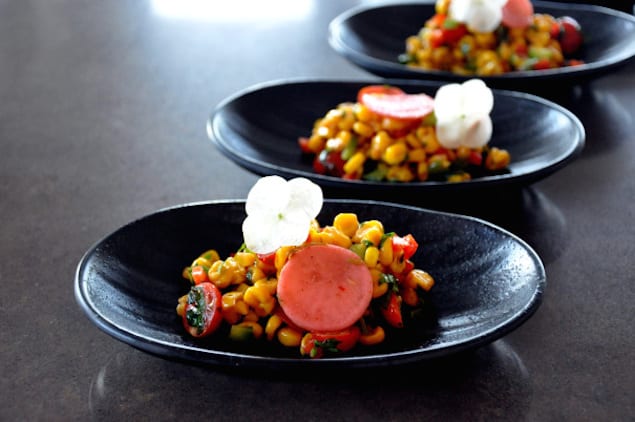 "I walked streets
Of vendors full,
Frying & tossing
Aromas that pull..
A quick squeeze
For a perfected snack,
Spice, masalas & lemon
No flavors lack!
Chaat for family
Or when you're lone,
A delicious memory
Re-created at home.."
Spicy Corn Salad
Also known as chaat, this spicy corn salad is a wonderful summer side. The salad is tossed with fresh mint and vinegar for a bright flavor.
Ingredients
2 cups corn kernels
½ red pepper, finely chopped
½ green pepper, finely chopped
1 green chili, finely chopped (remove seeds if you don't want it too fiery!)
1 cup cherry tomatoes, halved
Bunch of fresh mint, roughly chopped
Bunch of fresh coriander, roughly chopped (leaves & stalks)
2 tablespoons white vinegar
Juice of half a lemon
½ teaspoon paprika
½ teaspoon cumin powder
½ teaspoon chat masala (or dry mango powder)
Salt & pepper to taste
1 tablespoon light olive oil
Instructions
Heat oil in a non-stick skillet. Add corn, salt & paprika and roast on high flame for 10-12 minutes, till the corn is tender and all the moisture has been absorbed. Continue to sauté till the corn kernels start turning brown. Remove from heat & cool completely.
Once cooled, stir in the green chili, peppers & tomatoes. (make sure you don't mix the vegetables when the corn is hot, or they'll wilt & become mushy).
Put the mint, coriander, vinegar, lemon juice in a mortar and pound to make a chunky wet paste.
Once ready to serve, toss the corn in the vinegar mixture. Season with chat masala, cumin and pepper. Adjust salt & serve fresh.