This spicy South Indian chutney can be treated like hummus – spread it on anything and everything for some added flavor.
By Chitra Agrawal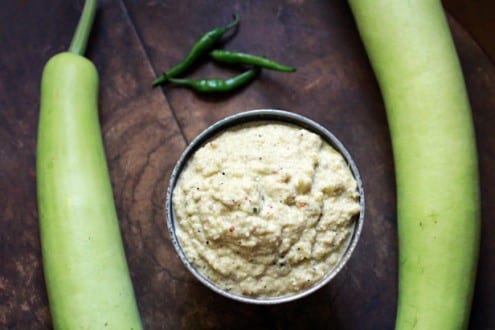 Spicy Bottle Gourd Coconut Chutney
This spicy South Indian chutney can be treated like hummus - spread it on anything and everything for some added flavor.
Ingredients
1 bottle gourd, peeled, cut into cubes (2 cups)
1 tablespoon + 1 teaspoon oil
2 pinches of hing or asafetida
1 teaspoon + 1 teaspoon black mustard seeds
1 tablespoon + ½ teaspoon urad dal (white without black skin)
½ teaspoon fenugreek seeds
5 small green chillies or 1 jalapeño, stems removed (or to taste as chillies can vary in heat)
2 strands of curry leaves + 3 curry leaves
2 tablespoons roasted chana dal
half bunch of cilantro with some stalk
½ cup of frozen grated fresh coconut
1 teaspoon tamarind concentrate (depending on concentration) or 2 tablespoons tamarind pulp with no seeds or stems
salt to taste
water for blending
Instructions
Heat 1 tablespoon of oil under medium heat with 1 pinch of hing or asafetida, 1 teaspoon of black mustard seeds and 1 tablespoon of urad dal. When the black mustard seeds start to pop and the urad dal starts to brown. Turn the heat to medium low and add in the fenugreek seeds. When they start to turn golden brown (few seconds), add in the green chillies and the 2 strands of curry leaves. Let them sputter for a seconds and get coated in oil. Add in the chopped bottle gourd and mix well. Cook the squash and salt to taste under a low flame with the lid on for 30 minutes or until soft. Cool the bottle gourd.
In a blender, first put in 2 tablespoons of roasted chana dal and blend to a powder. Add to the blender the cilantro, coconut, tamarind, and cooked bottle gourd for blending. You may need to add a little water or stuff the contents of the blender down with a spoon periodically to get it blending. You want to have a consistency of a loose hummus and the flavor to have some heat from the chillies, sour for tamarind and sweet from the coconut and bottle gourd.
Transfer the chutney to a bowl.
In a small frying pan under medium heat, add 1 teaspoon of oil, pinch of hing, 1 teaspoon of mustards seeds, ½ teaspoon of urad dal. When the mustard seeds start to pop and the urad dal starts to brown, add in 3 curry leaves. Coat the leaves with oil and immediately pour over the chutney in the bowl. Add salt to taste.
Chitra Agrawal
Chitra writes the food blog, The ABCD's of Cooking, which chronicles her adventures cooking American Born Confused Desi recipes. When she is not recipe blogging, Chitra can be found hosting her online cooking show and a supper club featuring Indian-inspired, vegetarian cuisine. She also teaches cooking classes and sells Indian street foods (sometimes yummy Indian tacos!) at events and artisanal markets in Brooklyn. Her cooking has appeared in the New York Times Dining Journal and she is a contributor to The Huffington Post, Gojee, The Daily Meal and Brooklyn Based.