It cooks for just a little bit on the stove and then gets finished off in the oven, gently simmering and softening in its own sauces.
By Rinku Bhattacharya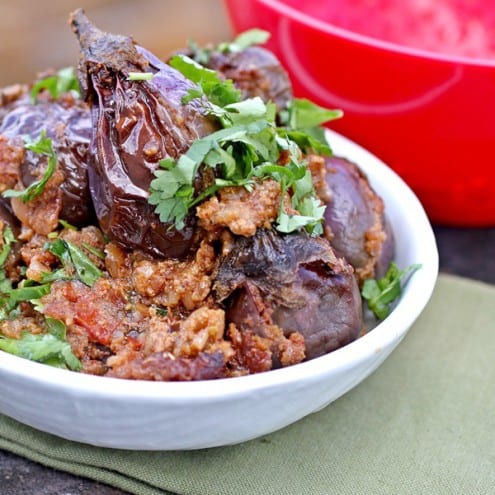 Spice Stuffed Baby Eggplants
It cooks for just a little bit on the stove and then gets finished off in the oven, gently simmering and softening in its own sauces.
Author:
Rinku Bhattacharya
Ingredients
2 pounds baby tender eggplants (about 15 to 20)
For the Spice Filling
2 teaspoons panch phoron (Bengali Five Spice) powdered
2 tablespoons Greek yogurt
1 teaspoon amchur (dried mango powder)
¾ teaspoon red chili powder
1 teaspoon salt
For the coating base
3 tablespoons oil
1 medium red onion, cut into a dice
1 tablespoon ginger paste
2 tomatoes, cut into a fine dice
Salt to taste
Cilantro for garnishing
Instructions
Cut the eggplants halfway, almost all the to the top but do not separate from the top. Repeat the same on the other side, so in other words, cut into quarters.
Make a paste with the panch phoron powder, yogurt, amchur, red chili powder and salt.
Gently smear generously into the eggplants. Note, depending on the size of eggplants you might need more spice mixture, in which case increase in the same proportion mentioned.
Set this aside for about 30 minutes.
Heat the oil on medium heat for about a minute and add in the onion and cook for about 3 to 4 minutes, until the onions are fairly soft.
Add in the ginger and the tomatoes and cook until the tomatoes are nice and soft.
Pre heat the oven to 350 degrees and line the eggplants in a single layer in a casserole.
Top the eggplants with the freshly prepared sauce and bake uncovered for 45 minutes. The eggplants should be nice and soft with a thick coating sauce that has meshed and married the stuffing spices.
Serve the eggplants with chapatis.