California Love – Spice Roasted Pear and Squash Recipe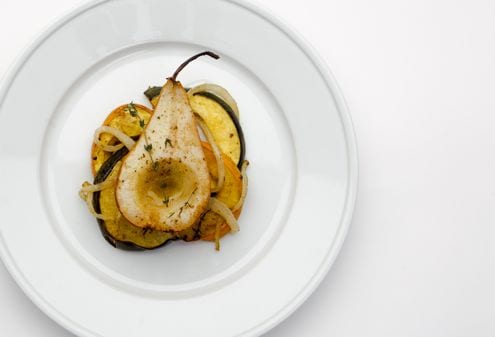 Spiced roasted pears and acorn squash that taste of lemony- baking spice flavors with a rounded sweetness.
By Olivia Caminiti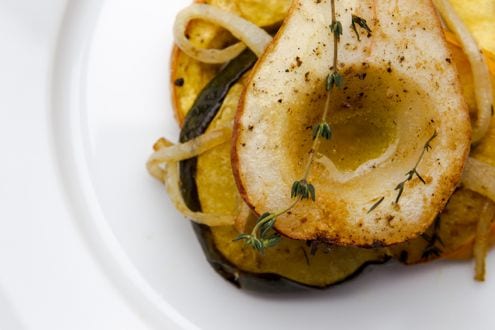 I have been roasting root vegetables, squash, broccoli, that sort of thing, for winters past. Never have I ever roasted fruit. As with roasting vegetables, roasting fruit or citrus concentrates the flavor and gives the sweetness more depth. The addition of ground ginger, ground cardamom, fresh thyme, and lemon to both the squash and pears before roasting was just what I had on hand. The combination turned into a harmonious mix of lemony-baking spice flavors that worked well with the thyme. Onions add as an aromatic and keeping the skins on the squash and the stem on the pear gave the whole dish a rustic feel. Let this dish lead the way to roasting your other favorite fruits.

California Love - Spice Roasted Pear and Squash
Spiced roasted pears and acorn squash that taste of lemony- baking spice flavors with a rounded sweetness.
Ingredients
2 pears, firm and ripe, cored and halved
1 acorn squash, cleaned and cut in 1" slices
½ onion, sliced
2 tsp. ground ginger
½ tsp. ground cardamom
4 sprigs fresh thyme, de-stemmed
1 lemon, ½ for juice and whole rind for roasting
2 tbs. olive oil
salt and black pepper to taste, about 1 tsp salt. ½ tsp. pepper
parchment paper
Instructions
Preheat the oven to 425*F.
Gently toss all ingredients together.
Lay out squash, onion and lemon on a parchment lined baking sheet and place in the preheated oven for 40 minutes.
Lay pears, skin side down, on a separate parchment lined baking sheet and place in the oven 15 minutes AFTER the squash, so to be removed at the same time.
Take out both baking sheets and check that squash is tender and slightly browned and pears are slightly wilted.
Serve together, enjoy & repeat!
Photographer:
Nick Simonite
Olivia Caminiti
Olivia's passion for food is rooted in California's Bay Area though now regrowing in Austin, Texas. She mixes with her travel experience, eye for beautiful food and intuition to find the next ingredient to keep a balance in life. See what she incorporates next and check-out her website at oliviacaminiti.com