Smoked Boston Butt BBQ Burger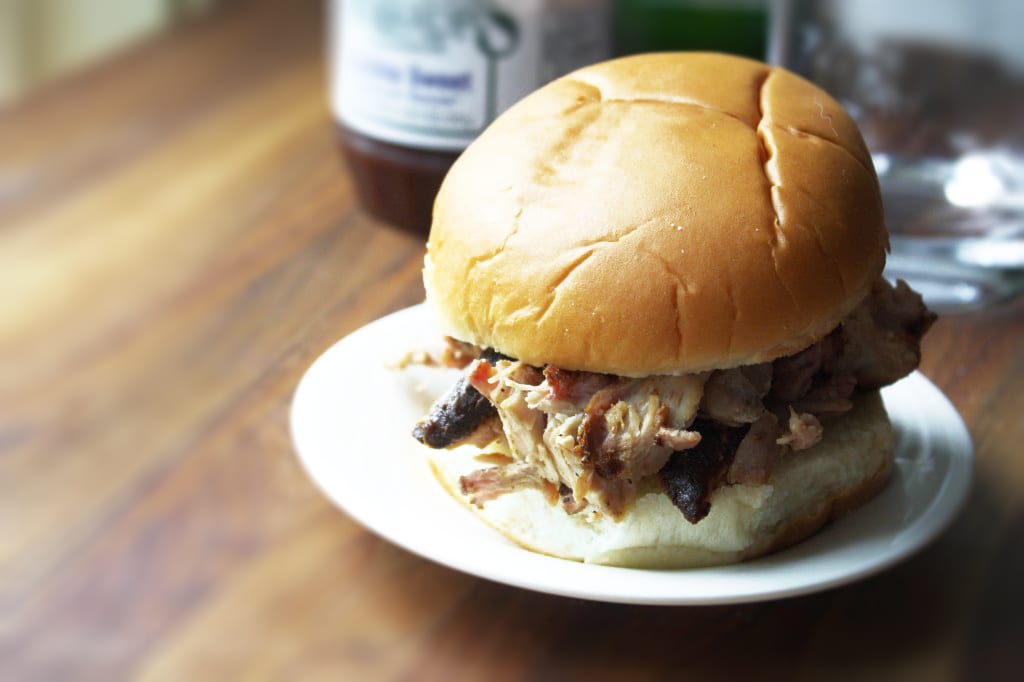 These are juicy, smoky, salty, spicy… Everything a great barbeque burger should be.
By Abby Himes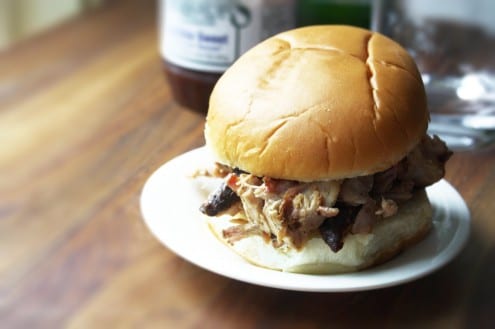 Smoked Boston Butt BBQ Burger
These are juicy, smoky, salty, spicy… Everything a great barbeque should be.
Ingredients
3 lb Boston Butt
2 Tablespoons ground coffee
BBQ Rub (we used a local blend, Bad Byron's Butt Rub)
Hickory wood chips
charcoal
2 aluminum pans
¼ cup apple cider vinegar
1 Tablespoon mustard
4 Tablespoons BBQ Sauce
Extra BBQ Sauce (we used Sticky Fingers)
Buns
Instructions
To prepare the meat:
Cut the twine off of the boston butt and discard. Mix together the ground coffee and a good amount of rub, enough to season but not coat the entire butt. Place the butt on plastic wrap and season it, rubbing the seasoning mixture all over the meat but not coating it too heavily. Wrap the meat up in the plastic and let sit in the fridge over night or for a few hours to tighten up.
To prepare the gas grill:
Turn on the gas grill to high heat and place a 6-7 charcoal bricks on to char until just turning gray, you don't need them flaming, just gray and be sure to flip them over and get both sides warmed. Place about a cup of wood chips in a bowl of water and let them soak while the charcoal heats up. Drain the wood chips before using.
Place the hot charcoal in an aluminum pan and the wood chips over it and set on the grill top with the flame still on. Then take another aluminum pan and fill up about a quarter of the way with water and place it under where the Butt will be if you have an upper rack as part of the grill to also catch the drippings.
Remove the plastic wrap from the boston butt and discard. Lightly grease the place on the grill for the meat and place the butt on the upper rack of the grill. Set the temperature to about 250 degrees F in order to keep the wood chips smoking, we found that was the magic number for our grill at least. Grill for roughly 6 hours or until about 175-180 degree F internal temperature, we read 190-195 was ideal for tenderness, but we got hungry!! At 165 it's cooked through.
Mix together the apple cider vinegar, mustard, and BBQ Sauce to use to baste the meat. Lightly brush the mixture over the meat every hour and a half or so, turning the meat as well.
Check the water pan as well, refill as needed.
Once cooked, let sit for 15 minutes and then shred/slice. Add a little bbq sauce and make a yummy sandwich! Enjoy!
Abby Himes
Abby can be found cruising her local farmer's market and co-op looking for fresh, new, flavors and sustainable options. She sees food as an adventure, and is always excited to try something new. Abby is also the creator and voice behind the food blog, Seaweed & Sassafras.