PARTNER POST: The versatile potato is perfect in a multitude of recipes showcasing flavors from around the globe. Get creative with your spuds.
French fries receive Cajun flair in the form of crispy shrimp and remoulade, just like the New Orleans Shrimp Po' Boy sandwich. These loaded fries are the perfect pair with a bourbon cocktail.
By Tina Putzing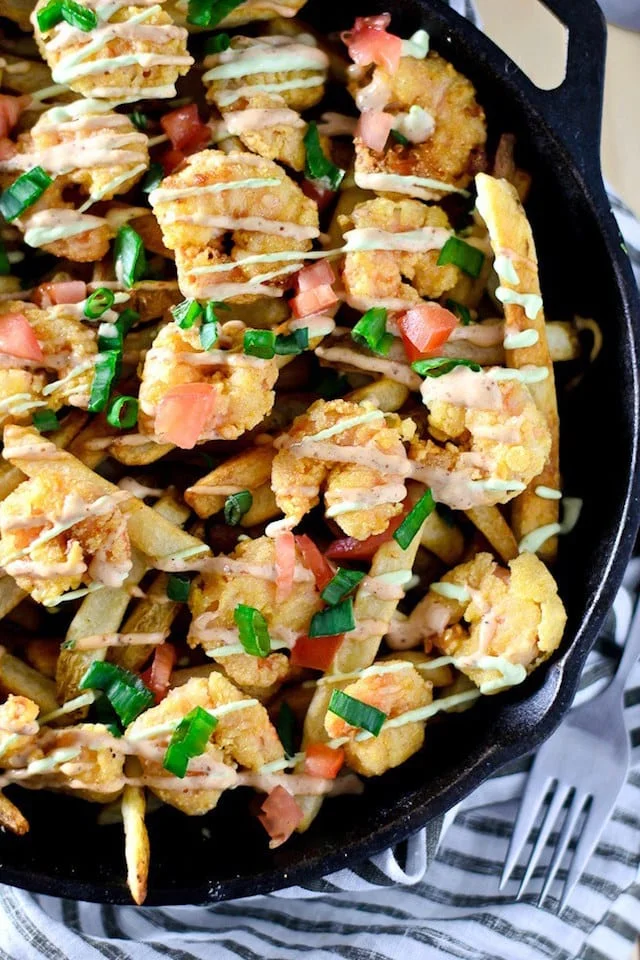 Ah, the humble potato. Beloved of people…everywhere, really. Delicious, nutritious, versatile – truly, there has never been a more perfect food.
Fry 'em, bake 'em, boil and/or mash them – short of burning them to a crisp, there is literally (in my opinion) no way for you to make a potato un-appealing. And did you know that they're good for you? They're packed with more potassium than a banana, and are bursting with vitamins, fiber, and iron.
I like my potatoes thin and crispy, long and soggy, fat and fluffy, wavy, plain (with lots of salt/pepper, of course), home fried, loaded with melted cheese, smothered in chili, piled onto sandwiches, and wrapped around hot dogs.

In my mind, Mardi Gras is all about letting loose, having fun, indulging in excess and treating yo'self, which in turn means…drunk food to soak up all that fun and excess. And, what's a more perfect drunk food than fried potatoes?
Of course, no New Orleans-themed recipe can be complete without some Cajun flair, so I jazzed my fries up with some crunchy fried shrimp and spicy/tangy remoulade. If that feels familiar to you, it's because these are, as you might suspect, the french fry version of the super popular Louisiana classic: the shrimp po'boy.
For this recipe, which is an homage to killer po-boys (also, my undying love for french fries), I decided to go with Russet potatoes. There are more than a 100 types of potatoes sold in the US, but Russets are my favorite. They're easy to find in stores, they're affordable, and they taste really good.
And, instead of frying my potato strips, I opted to bake them in the oven. You can fry yours if you want, but I promise you won't miss it with this recipe. The potatoes crisped up perfectly in the oven and developed beautiful golden-brown crusts.
Crisp on the outside, fluffy and soft on the inside – just the way you want a fry to be. And if you were thinking that fried shrimp, a bunch of creamy/tangy sauces, and crispy french fries wouldn't be good together…you'd be wrong, my friend. Very wrong. This is the same as the sandwich, except instead of chewy/toasty French bread, you have crispy/fluffy fried potatoes. For maximum enjoyment, I recommend some forks, extra dipping sauce, and a couple bourbon-based cocktails.
After you try these loaded fries, make these Bombay Spiced Potatoes. A perfectly flavorful side dish.
Shrimp Po' Boy Fries
French fries receive Cajun flair in the form of crispy shrimp and remoulade, just like the New Orleans Shrimp Po' Boy sandwich. These loaded fries are the perfect pair with a bourbon cocktail.
Recipe Type:
Appetizer, Side
Ingredients
Remoulade
½ cup mayonnaise
3 tbsp stone ground dijon mustard w/ horseradish (or, Creole mustard)
2 tsp hot sauce of choice
1-1/2 tsp Worcestershire sauce
1 tbsp ketchup
1 tbsp chili sauce
¼ tsp garlic powder
½ tsp paprika
1 dash cayenne pepper
Avocado Sour Cream
½ cup sour cream
½ a ripe avocado, cubed
1 tsp garlic powder
Salt, to taste
Garlicky Baked Fries
1 lb russet potatoes (unpeeled), scrubbed clean
¼ cup olive oil
½ tsp cayenne pepper
1 tsp garlic powder
1 tbsp kosher salt
1 tsp ground pepper
Fried Shimp
1 lb shrimp (shells removed and de-veined)
1 cup buttermilk
½ cup all purpose flour
¾ cup cornmeal
2-1/2 tsp salt
1 tsp cayenne pepper
1 tsp garlic powder
½ tsp paprika (smoked, if you have it)
Oil, for frying
Instructions
To make your Remoulade
Whisk together all ingredients in a small bowl.
Taste and adjust seasoning as needed.
Cover and store in the fridge until ready to use (up to one week).
To make your Avocado Sour Cream
Combine ingredients in a blender or food processor, and blend until smooth and chunk-free.
Taste and adjust seasoning as needed.
Cover and store in the fridge until ready to use (up to one week)
To bake your fries:
Preheat the oven to 425 degrees and line a sheet pan with parchment paper.
Mix cayenne pepper, garlic powder, salt, and pepper in a small bowl.
Slice your potatoes into long strips.
Place the potato strips into a bowl and pour hot (not boiling) water over top. Let sit for 10 minutes, then drain and thoroughly pat all your strips dry.
Place the potatoes on your prepared baking sheet and drizzle with oil, then sprinkle with your salt mixture.
Using your hands, toss the potatoes until each strip is fully coated with oil and seasoning.
Bake until the fries are golden and crisp, about 20-25 minutes.
Remove fries from the oven and place them on a paper towel to drain slightly.
To fry your shrimp
While your potatoes are baking, get started on your shrimp.
In a small bowl, combine your salt, cayenne, garlic powder, and paprika, and mix well.
Place your shrimp in medium bowl and pat them with a paper towel to dry slightly.
Sprinkle half your salt mixture over your shrimp and toss to coat each shrimp with seasoning.
Heat a pot of oil over medium heat until small bubbles form on the bottom of your pot.
Pour your buttermilk into a bowl.
On a shallow dish, combine your flour and cornmeal, and the rest of your salt mixture.
Dip your shrimp in the buttermilk to coat, then dredge them in the flour mixture.
Working in batches, place coated shrimp into your hot oil, and fry for about 3 minutes (until golden brown).
Using a slotted spoon, carefully remove fried shrimp and let drain on a plate covered with paper towels.
Continue until all the shrimp are fried.
To assemble:
Place your fries on a large plate (or, in my case, a large skillet).
Toss your fried shrimp on top.
Drizzle generously with avocado sour cream and remoulade (I poured my sauces into sauce bottles for drizzling, but you can also just use sandwich bags with a corner snipped off).
Garnish with chopped tomatoes and green onions (if desired).
Serve immediately.
Enjoy!