Beth Ebin went to Abu Gosh, claimed to be the hummus capital of Israel, in search of the perfect hummus. Did she find what she was looking for?
By Beth Ebin
The restaurant was the first thing I saw as I turned off route 1 into Abu Ghosh, the hummus capital of Israel. I had driven an hour and a half north from Be'er Sheva with my friend Katherine and our husbands for hummus. I know that may sound ridiculous, an hour and a half trip for a bowl of hummus. To make sense of it, you have to understand the importance of hummus here in Israel. Israeli's take their hummus very seriously and for a country that claims to be the best at everything and anything you will get a different answer on where to find the best hummus from each Israeli you talk to. The battle on the best hummus has been an ongoing one for sometime now here in the Middle East, but it seems to be a common ground when it comes to Abu Ghosh wearing the hummus crown. And so, to Abu Ghosh we went.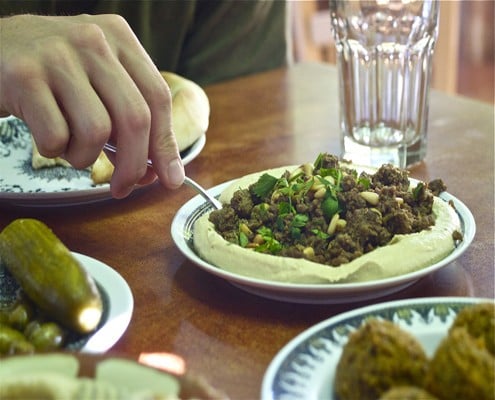 Abu Ghosh is a small Arab village overlooking the Judean Hills, west of Jerusalem. The small village is lined with restaurants, mostly serving the towns famed hummus. One of the most well known and most visited of these restaurants is straight forwardly named The Lebanese Restaurant. As we entered the large open yard that sat amongst stone buildings, we were seated right away. A beautiful large tree with lanterns and chimes hanging from the branches jutted out of the ground and provided shade for the whole room. Soon after, we were greeted with a large basket of warm pita, a plate of olives and pickles and another of fresh crispy falafel balls that had the perfect amount of spice to them. The menu offered traditional foods and mezzes. However, we were there for the hummus and our eyes were narrowed in on that and nothing else. We ordered hummus with meat and pine nuts and hummus with ful (stewed fava beans), we also strayed from the hummus and placed an order for labaneh with lemon and garlic. It just sounded too good to pass up.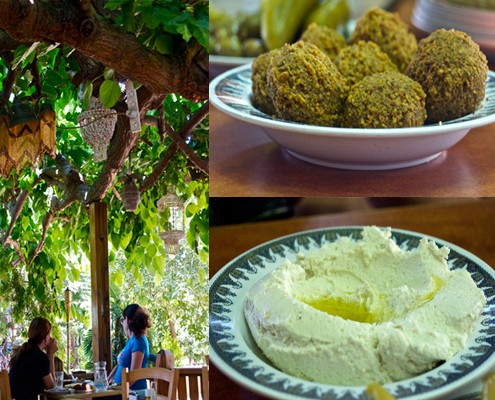 Since moving to Israel from the States I feel I have started to develop a sophisticated and serious hummus palette and I was very excited to try this famous best of the best hummus. The hummus with meat was some of the best I have had. The meat was flavorful and seasoned just right and the addition of pine nuts sprinkled on top was a big plus. The meat was definitely the star of the dish as the flavors almost completely took over and the hummus had a hard time coming through. The hummus with ful was very different then the hummus with ful that I have become accustomed to at my favorite hummus restaurant in Be'er Sheva. It was smooth and creamy with wonderful flavors, but dare I say it, not the best I have had. My favorite dish happened not to be hummus, it was the labaneh with lemon and garlic. It was thick and creamy but also light at the same time. The fresh taste of lemon against the rugged heavy tasting garlic worked in perfect harmony and the olive oil drizzled over it all was the perfect touch.
So, Abu Ghosh, hummus capital of Israel? Maybe. I need to try a few more of their restaurants before I can really make such a bold statement, and I have no problem making the trip back to do so.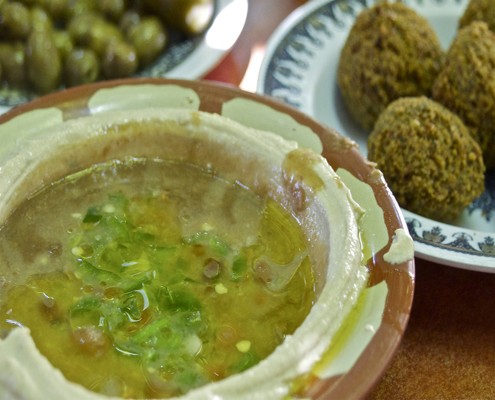 The Lebanese Restaurant – 88 Ha'shalom Street, Abu Ghosh, Israel.
Open Daily 9am-11pm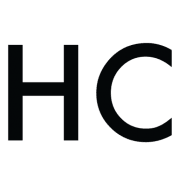 Beth Ebin
Beth Ebin is a devout foodie who learns from epic failures in the kitchen as well as great successes. Beth is originally from New York and now lives in the Negev desert of Southern Israel. She spends her time blogging about her new life and sharing her tasty creations with newly discovered spices and produce she finds through her adventures. When not in the kitchen, Beth spends her time traveling and believes the best way to learn about a culture is through their food.