With a puff pastry crust, this just might be the easiest salted caramel apple galette you could ever make.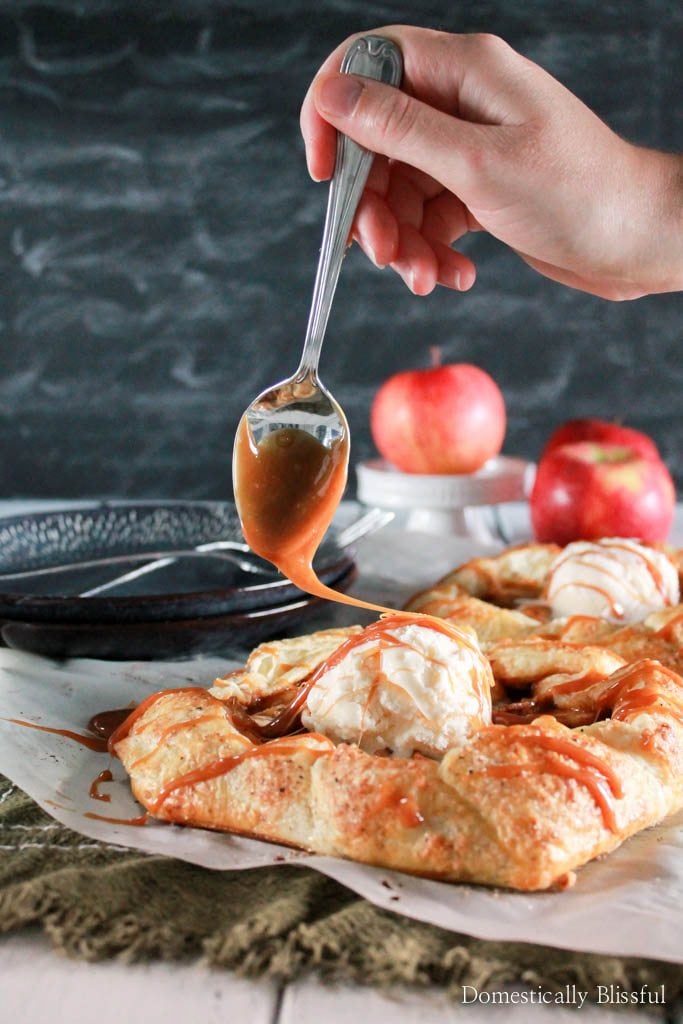 I just realized I whispered "I love it so much!" as I'm sitting here looking at this Easy Salted Caramel Apple Galette recipe.
Some people whisper "I love you so much" over their sleeping babies, & I'm over here whispering to my dessert galette about how much I love it & want to eat it.
I hope that isn't too creepy? Because it is so true! I'm completely obsessed!
When I made these Easy Salted Caramel Apple Galettes I was lucky my sister was with me, because I would have happily consumed the first one (that serves 4) all by myself. I then saved the second one, by putting it in the freezer, to enjoy later. Although later came only a few hours later… I may or may not have popped the second apple galette in the microwave to reheat because I had to have some more!
Yes, I am overly addicted to these apple cinnamon galettes drizzled in salted caramel sauce. My mouth began to water just writing that sentence as the memory of those flavors on the puff pastry crust came rushing back.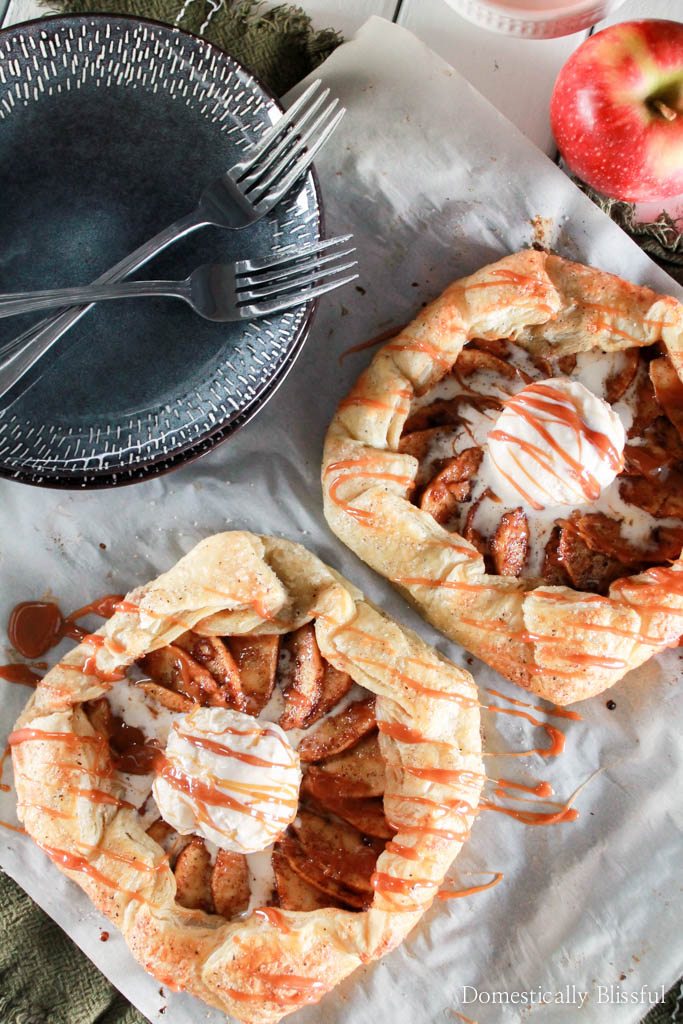 Galettes are similar to tarts and pies, but I don't really like pies, something about the crust. So I decided to create a galette with a crust that I knew I would love & that would be way easier to create, puff pastry!
My sister is the official apple pie baker for Thanksgiving and she admitted that she likes this cinnamon apple galette even better than apple pie!
See Also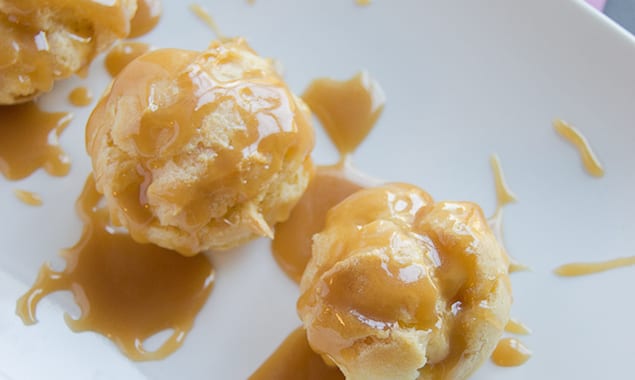 I think we both love how simple, fresh, flaky, & quick this recipe is to create, plus it makes your home smell incredibly delicious!
If you need a last minute fall dessert, I highly recommend this Easy Salted Caramel Apple Galette! Although I should warn you, once your family tastes just one bite, they will be begging you to make it again & again all season long. Good thing it is so easy to make!
Click here for the easy salted caramel recipe.
Print

Salted Caramel Apple Galette
---
Author:

Giustina Blissful
Description
With a puff pastry crust, this just might be the easiest salted caramel apple galette you could ever make.
---
Puff Pastry (defrosted over night in the fridge)
Sea Salt
Ice Cream – optional
Filling Ingredients
3

Large Apples (peeled & thinly sliced, about

1/4

inch thick)

1 Tablespoon

Lemon Juice

1 Teaspoon

Pure Vanilla Extra

2 Tablespoons

Corn Starch

1/4 Cup

Granulated Sugar

1/4 Cup

Dark (or light Brown Sugar)

2 Teaspoons

Cinnamon

1/4 Teaspoon

Nutmeg

1

Pinch of Salt
Egg Wash Ingredients
1

Large Egg

1 Tablespoon

Milk

1 Tablespoon

Granulated Sugar
Salted Caramel Drizzle Ingredients
Click the link above for the recipe
---
Instructions
First, preheat your oven to 425 degrees Fahrenheit.
In a large bowl, combine the apple slices, 1 tablespoon lemon juice, & 1 teaspoon pure vanilla extract.
In a small bowl mix the 2 tablespoons corn starch, 1/4 cup granulated sugar, 1/4 cup dark brown sugar, 2 teaspoons cinnamon, 1/4 teaspoon nutmeg, & 1 pinch of salt.
Sprinkle the ingredients from the small bowl into the large bowl & toss the corn starch mixture with the apples.
Remove the puff pastry from the refrigerator and cut off the corners to create a circle. *(1)
Pile & arrange the apple slices in the center of the crust while leaving 1-2 inches of crust.
Fold the 1-2 inches of crust dough up & over the sliced apples to create a crust edge that will hold in the apples while baking.
In a small bowl, whisk the egg & milk to create an egg wash. Brush the top of the crust edge with the egg wash & sprinkle with granulated sugar.
Bake for 10-15 minutes or until puffed & golden brown.
Once golden & flaky remove from oven & let cool slightly.
In a small pan (I use an egg pan) add 1/3 cup caramel bits & 1 teaspoon milk & cook at medium heat until melted, stirring occasionally.
Once melted stir in 1/2 teaspoon flaky sea salt & then drizzle the salted caramel sauce on top of the warm apple galette.
Serve with ice cream & enjoy!
Notes
*1. I cook these on the side to eat with the ice cream & dip in the salted caramel.
Giustina Blissful
Hello! My name is Giustina and I'm a 20 something who is married to my best friend and love of my life. I think everything tastes better when made with love and a splash of lemon. Although love, life, and marriage is never easy I believe that it is always an adventure worth traveling!