Rugelach is a Jewish pastry which can be made with various combinations of stuffing.
By Pallavi Gupta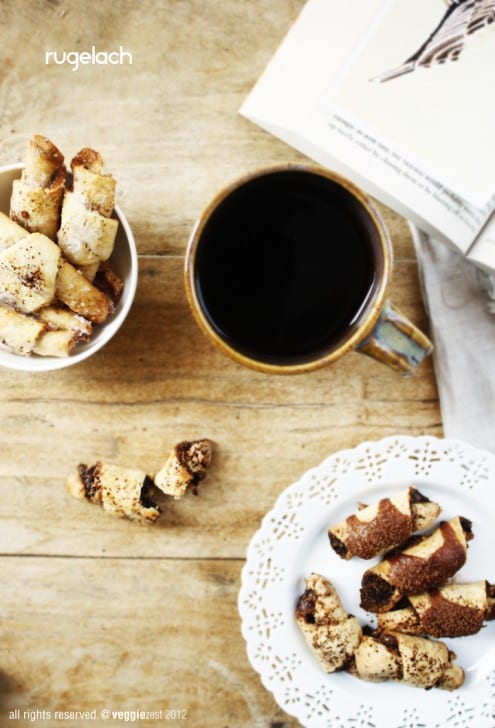 Although quite popular, but for those who don't know – Rugelach is a Jewish pastry which can be made with various combination of stuffing. Traditionally, this cookie is made with sugar and nuts but I experimented with the stuffing a little bit.
I made two kinds – a cinnamon sugar rugelach and a chocolate rugelach. With the chocolate version I used crushed up Ferrero Rocher….it was definitely the more popular out of the two in my house.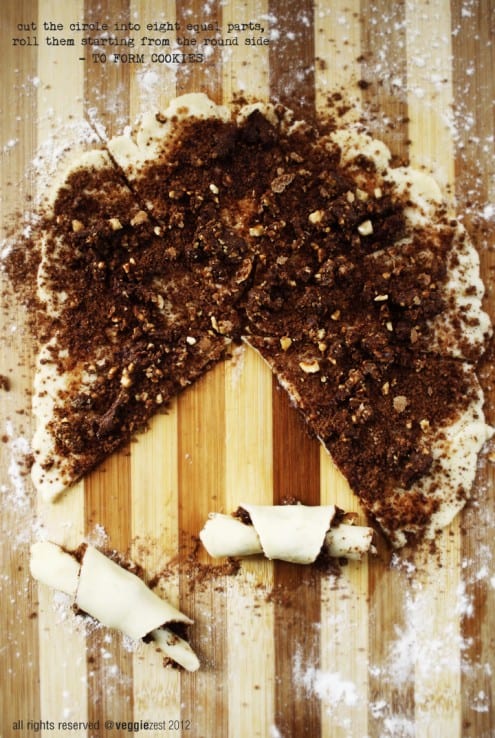 I made both the cookies with glazing on the top (plain and chocolate) just to give it a little more sweetness. These cookies are so nice and easy to make – they make a perfect partner to you evening hot beverage.  I served mine with a hot cup of coffee.
To shape these cookie, roll out the dough (in a circular shape) and cut the circle into 8 equal parts and roll each part starting from the circular side finishing at the pointy side.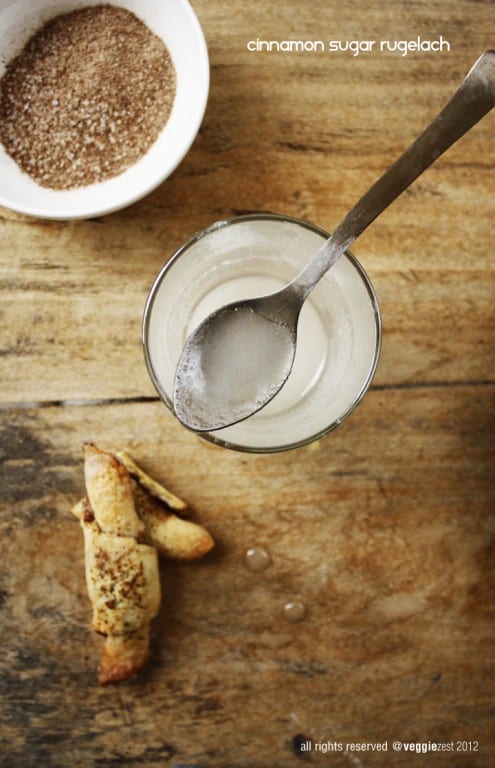 Serving makes about 32 cookies
cooking time 1 hour plus baking time
Things You Will Need:
For the Dough
2 cups all purpose flour
1 cup unsalted butter, room temperature
1 cup plain yogurt, greek or regular (if using regular yogurt, first strain the water by keeping it in a strainer or a cheesecloth for 30 minutes)
1/2 cup confectioners sugar
1/2 tsp salt
In a large bowl mix butter and yogurt with a whisk till it turn into a smooth paste…cream like consistency. Add sugar and mix again. Mix salt with the flour and add  to the yogurt butter mixture. Using a wooden spoon or a spatula mix well to form a dough. Take out on a clean surface and using your hand form into a neat ball and cut it into 4 equal parts. Wrap individual parts in a cling film and refrigerate for about 30 minutes.
For the Cookie Stuffing
Chocolate (these measurement are for a quarter part of the dough that will make 8 cookies)
3 Ferrero Rocher, crushed
2 tbs unsweetened cocoa powder
See Also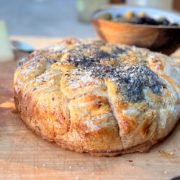 1 tbs sugar
2 tbs buttermilk
Mix the sugar and cocoa powder.
Cinnamon and Sugar
2 tbs sugar
1/2 tbs cinnamon powder
2 tbs buttermilk
Mix cinnamon and sugar and keep aside.
To assemble the cookie
Take a quarter of the dough and roll it out into a circle of 1/4 inch thickness. Cut the circle into 8 equal parts. Brush the buttermilk onto the surface. For chocolate rugelach– first sprinkle the sugar and cocoa mixture leaving about 1/2 inch from the edge of the circle and then spread the crushed Rocher evenly. Press lightly. Roll the individual pie shapes starting from the circular side. Place on the baking sheet, pointy side facing down. Roll up the remaining 7 pie shapes the same way. For cinnamon sugar rugelach– brush the buttermilk onto the surface and sprinkle the sugar and cinnamon mixture evenly. Press lightly and repeat the process (above) to form 8 cookies.
Brush the cookies with some buttermilk. Bake in a preheated over at 350F for 30 to 40 minutes, or till they turn a light golden color. Remove from the baking tray, let cool before serving.
Pallavi Gupta
Pallavi is a vegetarian globetrotter, who currently lives in the southern part of India. Past ten years of her life includes living in six cities in three different countries. It has added to her vast exposure of cuisines from different parts of the world which is now reflected in her cooking. She shares her knowledge of vegetarian and vegan recipe from around the world via her blog Veggie Zest. When not cooking or photographing, she does graphic design.