Rosemary and Baby Carrot Chicken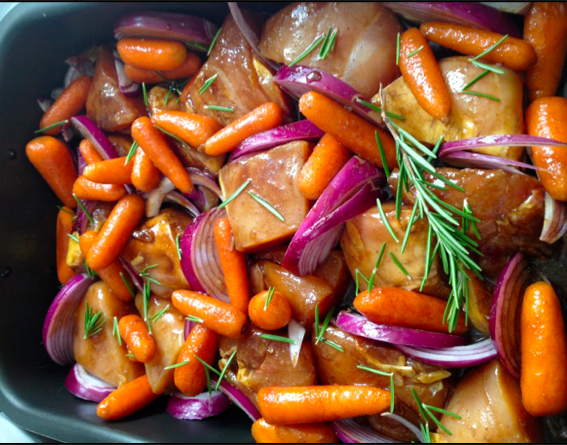 This juicy, flavorful chicken is made in the oven and ready from start to finish in 45 minutes. Enjoy!
By Nicole Medgenberg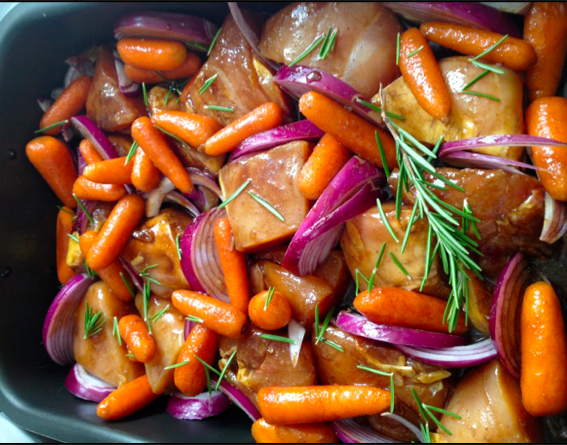 Rosemary and Baby Carrot Chicken
This juicy, flavorful chicken is made in the oven and ready from start to finish in 45 minutes. Enjoy!
Author:
Nicole Medgenberg
Ingredients
- 4 large chicken breasts, halved
- 2 cups baby carrots (or regular carrots into pieces)
- 1 red onion sliced ??into thin strips
- 1 stalk fresh rosemary
For the marinade:
- 1 teaspoon dried rosemary
- 2 tablespoons brown sugar
- 3 tablespoons Worcestershire sauce
- ½ teaspoon chili powder
- 2 tablespoons balsamic vinegar
- 2 tablespoons soy
- 2 tablespoons ketchup
- 3 tablespoons olive oil (+1 for Pyrex)
Instructions
In a bowl, mix all the marinade ingredients with a spoon (rosemary, sugar, Worcestershire sauce, chili powder, vinagra balsamic, soy, ketchup and olive oil).The mixture smells delicious!
Add the breast pieces, incorporate well and let sit for 5 minutes.
Meanwhile, in an oven dish, spread the carrots, onion slices and drizzle them with olive oil, salt and pepper.
Place the marinated chicken pieces on top of vegetables, adding the liquid that's left to the bowl with a spoon.
Put in the oven for 30 minutes at 200ºC.
Nicole Medgenberg
Nicole Medgenberg is a German-Mexican food, travel and lifestyle journalist based in Mexico City. She writes for several Latin American publications including National Geographic Traveler and Cosmopolitan Magazine. She has a passion for traveling, eating local food, cooking and writing about it all in her food blog La Cocinera con Prisa.