The roasting adds a nice deep caramel flavor, and the natural pectins in the skin and seeds help thicken the butter to a creamy consistency.
By Katherine Sacks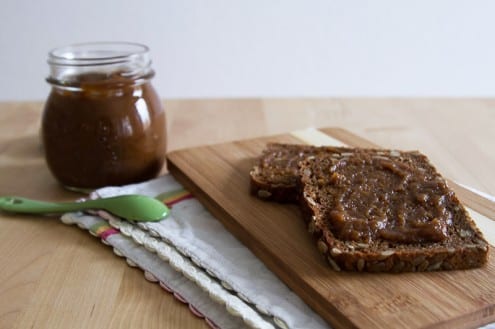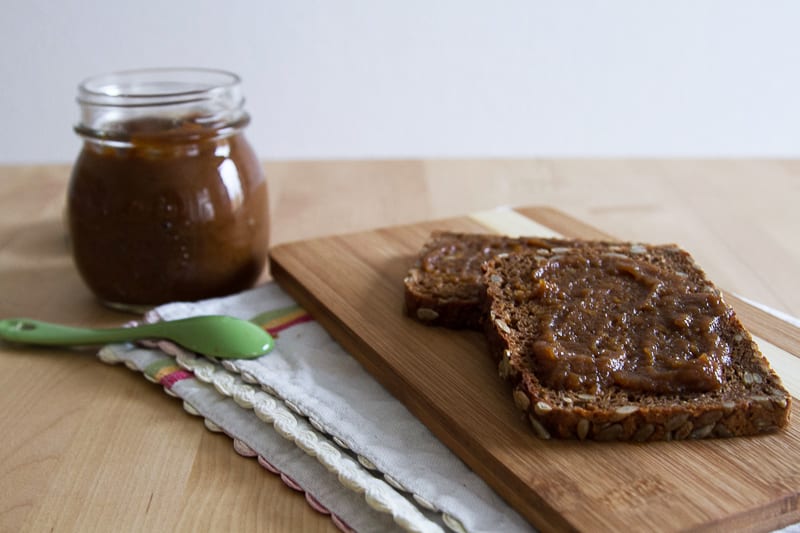 Roasted Pear Butter
The roasting adds a nice deep caramel flavor, and the natural pectins in the skin and seeds help thicken the butter to a creamy consistency.
Ingredients
3 pounds pears, quartered
½ cup pear or apple cider
½ cup brown sugar
¼ lemon, juiced
1 small piece ginger
½ teaspoon cinnamon
2 tablespoons unsalted butter, cubed
¼ cup bourbon
¼ teaspoon salt
Instructions
Preheat the oven to 350°F. Place the pear pieces in a large roasting pan and cover with the cider, brown sugar, and lemon juice.
Grate the ginger over the pan, sprinkle with cinnamon, and dot with butter.
Roast until the pears are soft to the touch, about 2 hours.
When soft, remove pears from the oven and use a potato masher or heavy spoon to mash into a puree.
Run the mixture through a food mill or push through a fine chinois to remove the seeds, core, and stems.
Transfer to a pot, stir in the bourbon and salt, and bring to a boil.
Adjust seasoning with sugar and cinnamon and cook until desired consistency is reached.
Process in canning jars or cool and store in an air-tight container in the refrigerator for up to one week or in the freezer.