Winter Salad with Roasted Carrot and Avocado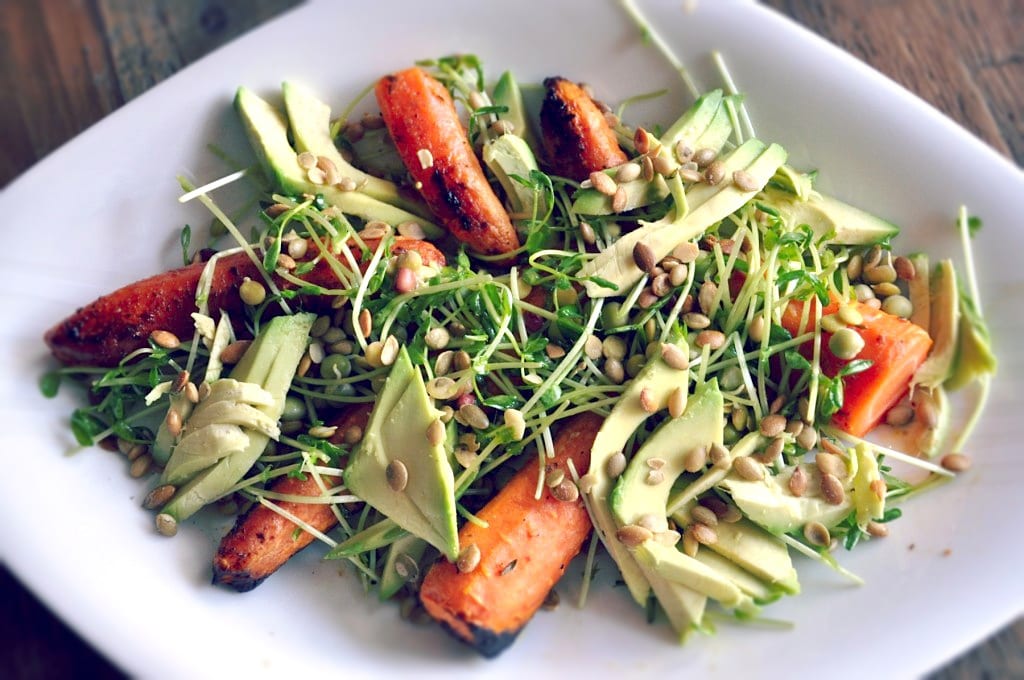 A flavorful and wintery salad that is perfect as a main course, or accompanying your favorite protein.
By Kim Hamill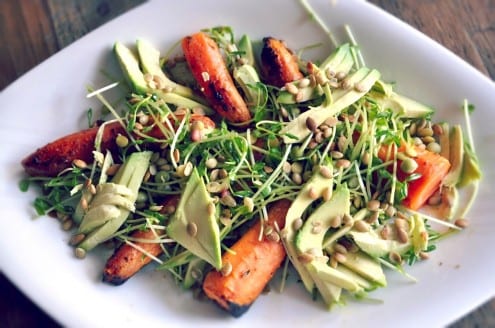 Winter Salad with Roasted Carrot and Avocado
A flavorful and wintery salad that is perfect as a main course, or accompanying your favorite protein.
Author:
Kim Hamill, Adapted from ABC Kitchen
Ingredients
3 garlic cloves, peeled
¾ teaspoon ground cumin
1 teaspoon fresh thyme leaves
¼ teaspoon crushed red chile flakes
Salt and ground black pepper
1 tablespoon red wine vinegar
4 tablespoons extra virgin olive oil
1 pound medium-size carrots peeled
1 orange, halved
1 lemon, halved
1 avocado, pitted, peeled and cut in thin wedges
1 ½ cups packed pea shoots
½ cup of crunchy sprouts
3 tablespoons roasted hulled pumpkin seeds
Instructions
Heat oven to 400 degrees. In a small food processor or a mortar, pulse or pound the garlic with the cumin, thyme, chile flakes, 1½ teaspoons salt and ¾ teaspoon pepper to make a paste. Add vinegar and 2 tablespoons of the oil, and mix well.
Arrange carrots in a roasting pan and spread spice paste on top. Place orange and lemon halves, cut side down, on carrots. Roast until carrots are tender (but not mushy) and starting to brown, about 45 minutes. (I like a little char on them, so I broil for a short time at the end)
Using tongs, arrange carrots on a serving platter. With the tongs or a dishtowel to protect your hands, squeeze juice from the roasted orange and lemon halves into a measuring cup. You should have about ½ cup juice. Beat in remaining 2 tablespoons oil. Season with salt and pepper. Drizzle some of this sauce over the carrots.
Arrange avocado over carrots, then scatter sprouts on top. Drizzle with reserved sauce, top with a sprinkling of the seeds. (The restuarant serves it with a dollop of sour cream or yort on top, I thought it was just as good without)
Kim Hamill
By day, Kim is the 3rd generation in her family's NYC taxi business. By night, she writes about food, fashion, DIY projects, travel, and beyond on www.loveumadly.com. Her stories, recipes, and photographs have appeared in Marie Claire, NY Press, the Kitchn, HGTV.com, Food Gawker, and Finding Vegan. She doesn't sleep very much.