PARTNER POST: Let Pomì's premium quality, Italian tomatoes bring the fresh and healthful taste of Italy to your cooking, no matter the cuisine or season.
This restaurant style chana masala recipe so rich and flavorful. It is Indian cuisine at it's finest–creamy chickpeas simmered in a deliciously spiced tomato gravy, rich in flavor and incredibly satisfying to eat.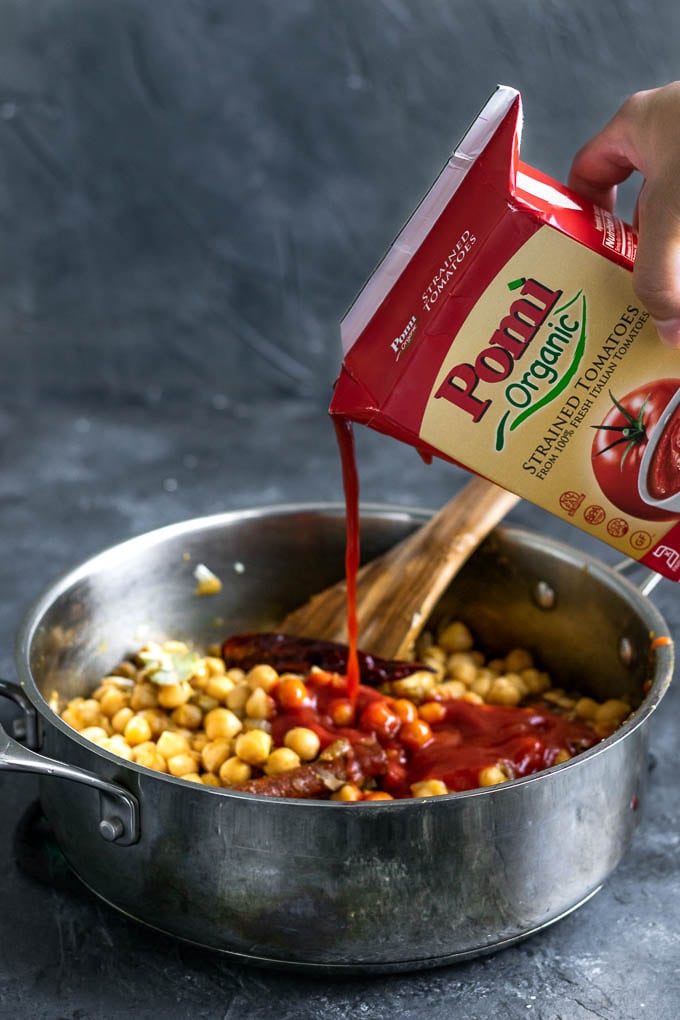 This restaurant style chana masala recipe is everything I have ever dreamed of! It is Indian cuisine at it's finest–creamy chickpeas simmered in a deliciously spiced tomato gravy, rich in flavor and incredibly satisfying to eat.
I take my chana masala very seriously. I need the gravy to be thick and saucy, each bite to be bursting with flavor. The chickpeas should be tender but still keep their texture. And everything needs to taste so fresh that it pops. When chana masala is done right, it's hard to hold back and with this recipe we find ourselves digging in for seconds every time!
The secret to good, authentic, restaurant-style chana masala is in the ingredients. Indian spices, good quality chickpeas, and really good quality tomatoes for the sauce. Each bite should be out of this world good!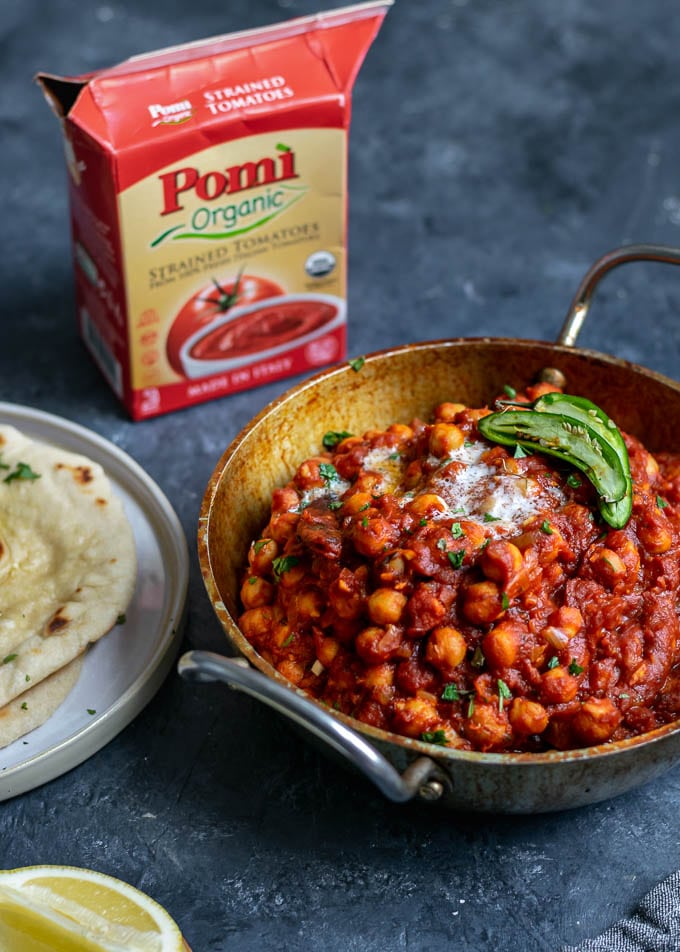 To make this chana masala we start with a trio of ingredients found in most Indian curries–onion, garlic, and ginger. The onion is finely diced and cooked to soften so that it practically melts into the final dish. Garlic and ginger are strongly flavored aromatics that add depth of flavor and some bite to the curry.
Whole spices are added alongside the garlic and ginger. These include dried Indian red chilis, green cardamom pods, cloves, a cinnamon stick, and a bay leaf. If you can't find dried Indian red chilis, fresh hot chili peppers make a great substitution. Mince a couple up and throw them in with everything else.
Toasting these spices in the hot oil brings out their deepest and best flavors, as a lot of the flavor molecules in these spices are fat soluble. Frying the garlic and ginger mellows them so they don't overpower.
Next we add the ground spices: amchoor, coriander, cayenne, garam masala, turmeric, black pepper and salt.
Amchoor powder is made from ground dried green mangoes. It's tart and delicious, and a key ingredient to authentic chana masala. It's easy to find it at Indian grocery stores, online spice stores, or even on Amazon. If you must find a substitute for amchoor the recipe will not taste as authentic, but it'll still be great!
For the amchoor you can substitute freshly squeezed lemon juice, adding it after cooking and right before serving. Or you can substitute tamarind concentrate or paste. Tamarind is actually a common ingredient in the Sindhi chole I grew up with. Add a teaspoon or three of tamarind to the dish for some mouth watering tartness.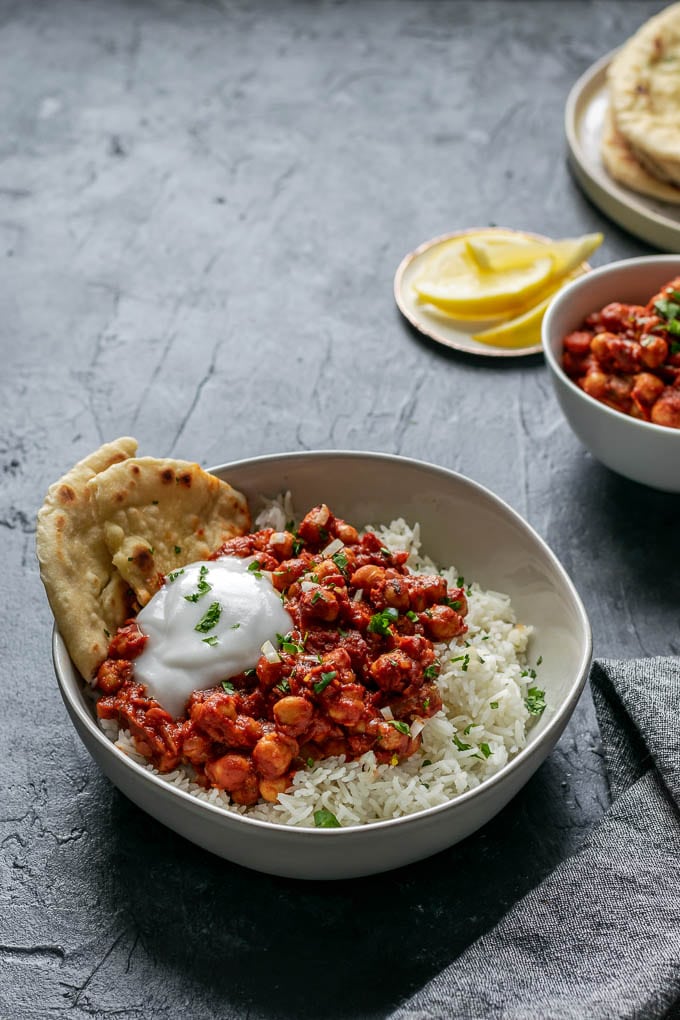 [A little aside for those wondering about the difference between chole and chana masala: Both chole and chana malasa refer to chickpeas in a spiced tomato sauce. What you call them depends on where you are from and every region–and probably every family–has their own variation of the recipe.]
A quick fry of these ground spices activates their flavor before we add the chickpeas and the tomatoes. You'll read in a lot of places that the secret to chana masala is cooking dried chickpeas from scratch. Which you can do, but I'm here to tell you that you can make great chana masala with canned chickpeas! Not only will it be great, but it lets you indulge those last minute cravings. Use freshly cooked or canned beans as you'd like and is most convenient for you.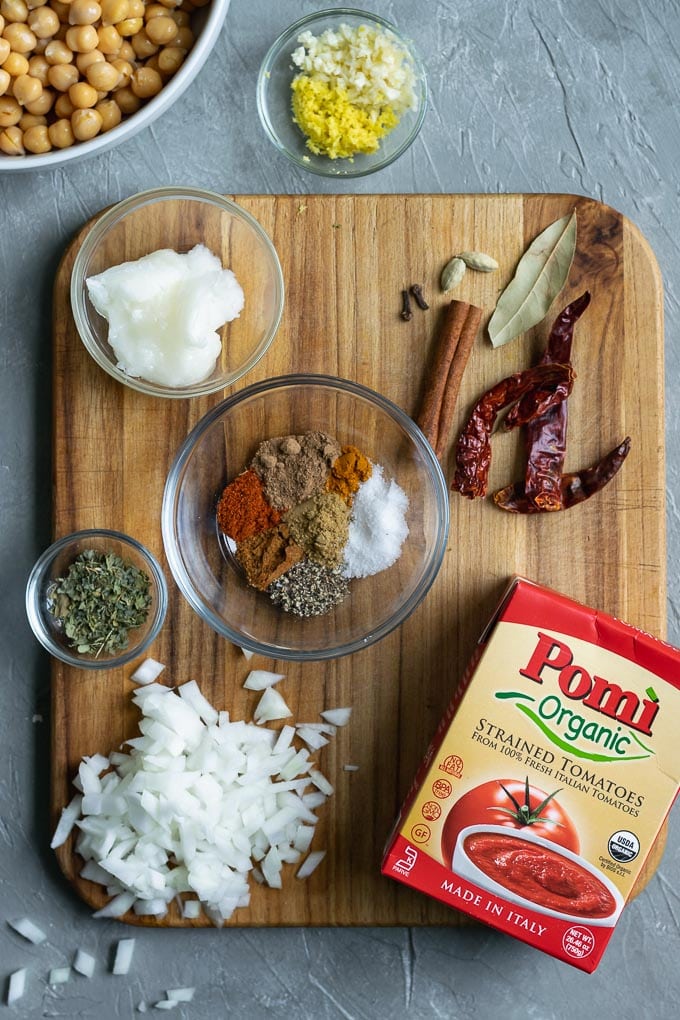 As for the tomatoes, just like when it comes to pasta sauce and pizza sauce, the quality of your tomatoes is of utmost importance! We want the most flavorful tomatoes and we want them picked at peak ripeness. And that's where Pomi comes in.
Pomi tomatoes are fresh and flavorful, always making the most out of your recipes. On top of that Pomi is a super cool socially conscious company! Utilizing sustainable farming techniques, reducing their water usage, limiting their carbon emissions, making packaging from renewable forests–they've thought of everything! You can even track each box of tomatoes to find out where they were grown!
For this recipe, I used Pomi Organic Strained Tomatoes. Strained tomatoes are a thick saucy, 100% tomato puree which brings the perfect tomatoey flavor to the chana masala. Strained tomatoes make this recipe so simple as there is no need to use your blender to puree them yourself plus you get the most concentrated tomato sauce. I mean, would you just look at that deep beautiful red color!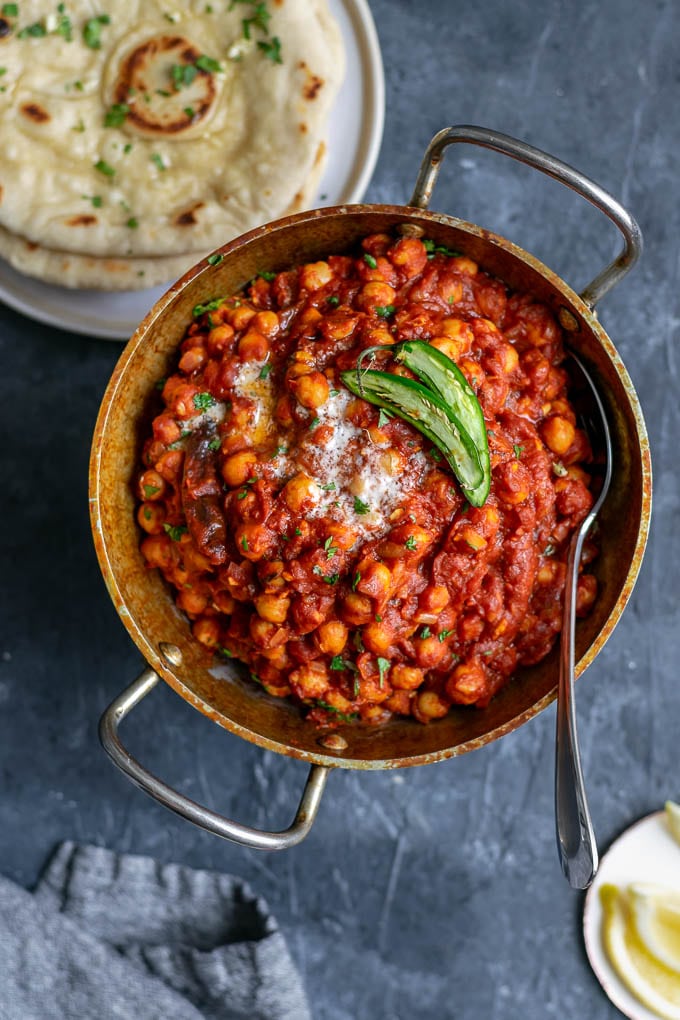 See Also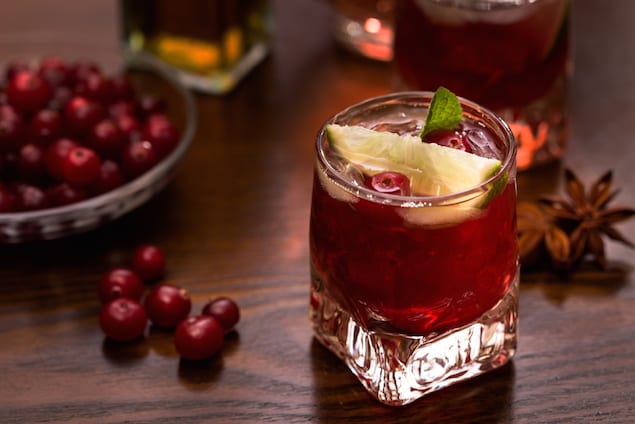 The tomato puree simmers down to a thick sauce that clings to the chickpeas so that each bean is perfectly coated. Any remaining sauce is easily sopped up with some Indian flatbread (hello naan!) or basmati rice (perfect for a gluten free option).
Before serving, I love to stir in some kasoori methi (dried fenugreek leaves). It's one of my favorite Indian spices so you'll see methi in a lot of recipes around here! It's optional, but if you do pick some up, now you know how to use it!
This recipe makes the most flavorful and mouth watering authentic, restaurant-style chana masala and I really hope you guys try it out! I love that this recipe is accidentally vegan and gluten free. It makes it perfect for just about everyone!
I like to serve it with a dab of vegan butter and a scattering of minced cilantro. If you'd like, a scoop of tangy non-dairy plain unsweetened yogurt is perfect for cooling the dish off for any spice-sensitive folks–and it's also just really good that way even if you like it hot!
If you make this restaurant style chana masala recipe, leave a comment and rate the recipe below! And tag your recreations @thecuriouschickpea and #thecuriouschickpea on Instagram, I love seeing your photos!
Get a $1.00 off coupon for your next Pomi product at www.pomicoupons.com!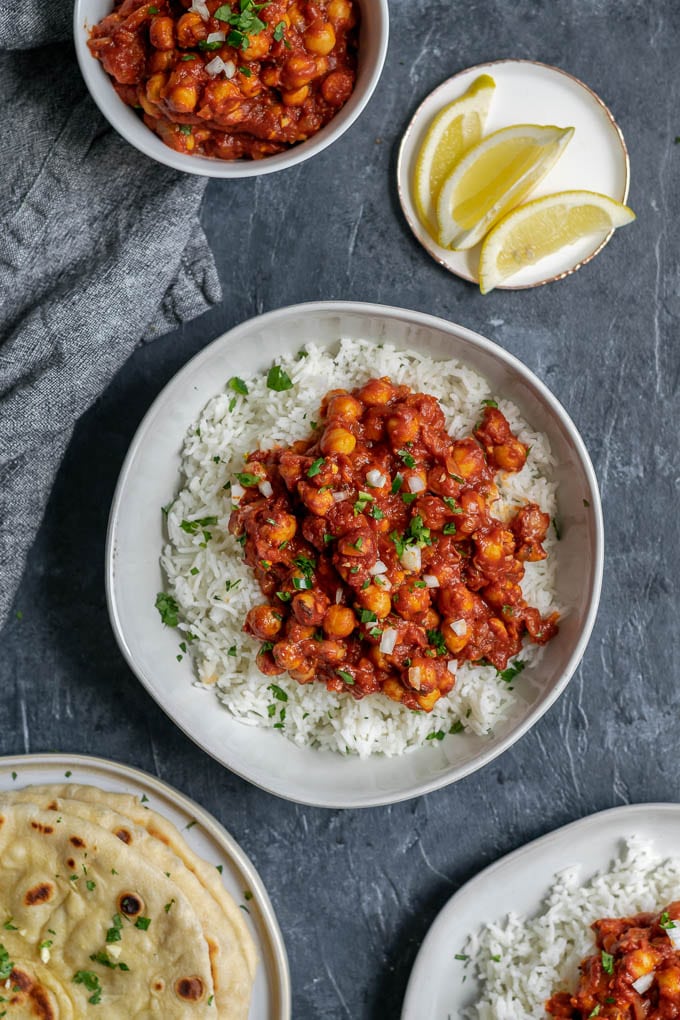 Print

Restaurant-Style Chana Masala
---
Total Time:

55 minutes

Yield:

6

to

8

servings

1

x
2 tbsp

coconut oil or vegetable oil

1½

yellow onions (finely diced (

2 cups

))

4

cloves garlic (minced)

1 tsp

minced ginger (~1/2″ piece)

4

whole dried red chiles (more or less to taste)

2

green cardamon pods

2

whole cloves

1

cinnamon stick

1

bay leaf

1 tsp

amchoor* (dried mango powder)

1 tsp

ground coriander

½ tsp

ground cayenne or hot chili powder

½ tsp

garam masala

1/4 tsp

turmeric
freshly ground black pepper

1

to

1½

tsp salt to taste

3 cups

28oz can cooked chickpeas, drained and rinsed

1

26 oz carton Pomi Organic Strained Tomatoes

1½ tsp

kasoori methi (optional)
To serve
vegan butter (optional)
minced cilantro (optional)
minced yellow onion (optional)
vegan plain unsweetened yogurt or coconut cream (optional)
basmati rice
garlic naan
---
Instructions
Heat a large, heavy bottomed pot over medium-low heat and add the oil. Add the onion and a pinch of salt and cook for about 10 minutes until translucent and softened.
Add the garlic, ginger, and the whole spices: dried red chiles, cardamom pods, cloves, cinnamon stick, and bay leaf. Cook for 1-2 minutes stirring constantly so the garlic doesn't burn.
Add the ground spices: amchoor (if using), ground coriander, cayenne, garam masala, turmeric, black pepper, and 1 tsp of salt. Stir in and let cook for 30 seconds.
Add the chickpeas and the Pomi Organic Strained Tomatoes. Partially cover, bring to a simmer, and let simmer for 25-30 minutes stirring occasionally.
Turn off the heat, sprinkle in the kasoori methi, crumbling between your fingers. Taste and adjust the salt and pepper. Remove the whole cinnamon stick, bay leaf, and cardamom pods & cloves if you can see them.
Serve with a dab of vegan butter to melt on top if desired. Garnish with cilantro and minced yellow onion. Enjoy with basmati rice and/or some garlic naan, and vegan unsweetened yogurt.
Notes
Use more or less dried red chiles depending on your spice tolerance. As is this is approximately medium spicy. If you want it spicier, eat the chiles! Otherwise eat around them or remove them before serving.
The serving suggestions are all optional, pick and choose your favorites!
*Amchoor is necessary for an authentic chana masala, but if you can't find it, substitute 1-3 tsp of tamarind paste (add at the same time as the ground spices) or freshly squeezed lemon juice (add with the kasoori methi, if using) to taste.
Prep Time:

10 minutes

Cook Time:

45 minutes
Eva - The Curious Chickpea
I'm half-Sindhi and half-old American with ancestors that came over on the Mayflower (that's an ethnicity, right?), and I love bringing my multicultural perspective into the kitchen with me. I love making food from and inspired by other cultures. You'll find me regularly geeking out about the science behind the food I cook. Check out my recipe in collaboration with Pomì, the authentic Italian tomato ready to use for preparing all recipes that require the fresh taste of premium-quality Italian tomatoes.