This stew is based on a South Indian rasam and features a mildly tangy broth that compliments the subtle sweet flavors from pumpkin, carrots and shallots.
By Pallavi Gupta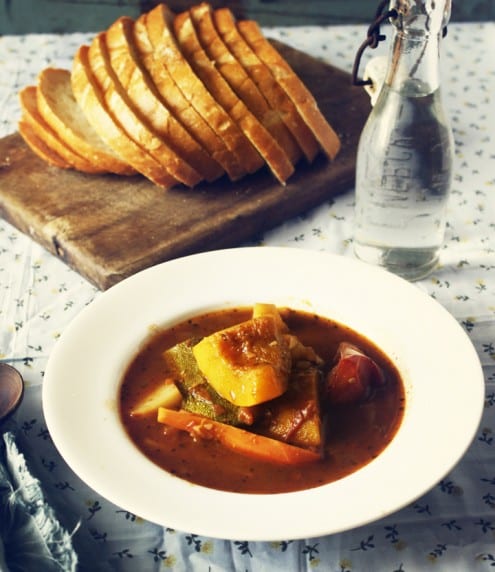 Pumpkin and Mixed Vegetable Stew
This stew is based on a South Indian rasam and features a mildly tangy broth that compliments the subtle sweet flavors from pumpkin, carrots and shallots.
Ingredients
Half of a small pumpkin, seeded, peeled and cut into big chunks
½ of a big zucchini, cut into chunky sticks
1 potato, peeled and cut into big chunks
2 small carrots, peeled and cut into chunky sticks
2 tomatoes cut into 4 wedges (each) + 2 more tomatoes (extra soft)
handful of roughly chopped shallots
2 tsp tamarind pulp
4 to 5 cups warm water
½ stick of cinnamon
1 heaping tsp ground coriander
1 heaping tsp ground cumin
1 tsp dried parsley
1 tsp garlic powder
1 tsp paprika
1 tsp dried parsley
½ tsp sugar
salt
Instructions
Mix tamarind pulp in 4 cups of warm water till dissolved completely. Take the 2 extra soft tomatoes, cut them in half and squeeze out the pulp (like you would squeeze a lemon) into the tamarind water. Mix and keep aside.
In a large, heavy bottom pan (use the one in which you make soups) heat up some olive oil. Add shallots and cook with a pinch of salt & cinnamon stick till the shallots turn pink.
Add potatoes and pumpkin and continue to cook for a few minutes. Add all the spices – cumin, coriander, parsley, garlic powder and paprika. Stir to coat everything in the spices well and continue to cook for a couple of minutes.
Add the tamarind and tomato water and mix well. Add sugar and salt.
Add the tomato wedges. Cover and simmer over low heat till the pumpkin and potatoes are semi cooked.
Add zucchini and carrots at this stage, cover and cook on low till all veggies are cooked through. Keep checking though as you dont want them to turn mushy.
Uncover and taste to adjust the seasoning.
Serve warm with a crusty bread or over couscous.
Pallavi Gupta
Pallavi is a vegetarian globetrotter, who currently lives in the southern part of India. Past ten years of her life includes living in six cities in three different countries. It has added to her vast exposure of cuisines from different parts of the world which is now reflected in her cooking. She shares her knowledge of vegetarian and vegan recipe from around the world via her blog Veggie Zest. When not cooking or photographing, she does graphic design.