At Honest Cooking we absolutely love ourselves a good breakfast taco, and Bria Helgerson's pork carnitas tacos are no exception.
By Bria Helgerson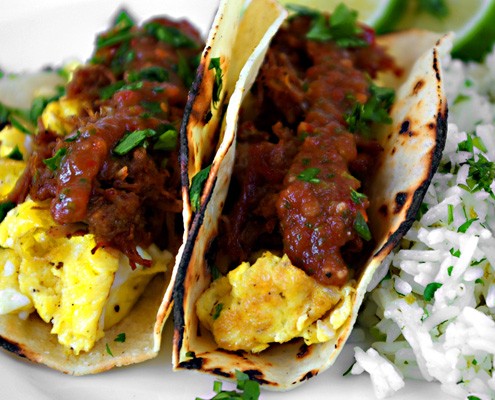 Cakes, cookies, cupcakes, pastries, bread, and custards. This is what my diet has consisted of the past few weeks. I am not kidding, I feel like I have been on a constant sugar high, and on a serious carbohydrate overload. First quarter of pastry school will do that to you I guess.
It is also approaching April, and spring is just about here. For a baker, that means one thing. It is officially wedding and shower season. I have one friend with a bun in the oven, and another with a rock on her finger, and they are both going to be showered with gifts and well wishes from friends and family, and treats from my kitchen in the next month or so. I have noticed when I do large projects like dessert tables, or fancy cakes, that I forget to eat, and just nibble on the scraps or the rejects from the goodies I am baking.
This habit, while delicious, and actually helpful to my waistline (that whole forgetting to eat thing can make you bikini ready in no time) it's definitely not a good way to sustain myself for the long hours standing in my kitchen. I need to take better care of myself this spring season, and that means cooking more. I have no trouble being a busy bee baker, but I have been neglecting my first loves: meats, cheeses, pastas, mexican dishes, italian feasts, and thai food! No more. One of my many spring resolutions is to not only prepare for these events with lots of do-ahead baking, but also making nutritious, filling, meals to keep me going until summer.
Welcome to operation carnitas. There have been many times that I have ordered carnitas tacos, or burritos from Chipotle, or better yet, the authentic mexican taco stand down the street, but had never even thought about making them at home. I feel as though my life has changed. Have I mentioned that I am a bit over-dramatic when it comes to food? No?
Carnitas are incredibly easy to make, and provide a perfect filling for burritos, breakfast tacos, or simply served over rice. The best part? Braising is one of those cooking methods that takes just a little prep, then you get to stick the meat in your dutch oven and forget about it for a few hours. Plus it makes a LOT of shredded pork, perfect for being wrapped in individual portions and freezing (if it makes it that long). Spicy, tender, juicy, a little sweet, this is a killer recipe, and would be great for a crowd. My boyfriend and I mowed down more than half of a nearly five pound pork shoulder over the course of three days, so I can say with complete confidence, you will love these carnitas.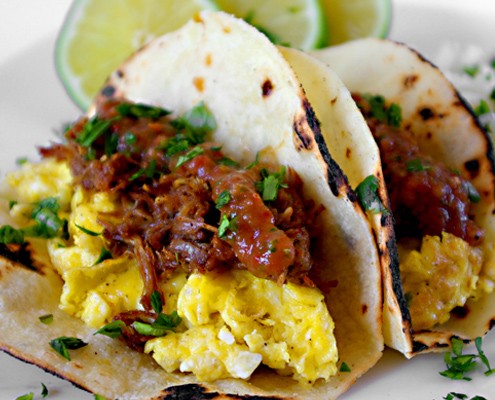 Orange & Beer Braised Pork Carnitas
for a 4.5 pound pork shoulder, feel free to halve recipe for smaller cut of meat
4.5-5 pound (8-10 kg) pork shoulder roast, cubed into 3-4 inch pieces
2 teaspoons salt
6 teaspoons chili powder
3 teaspoons ground cumin
2 teaspoons garlic powder
2 teaspoons fresh ground black pepper
1 teaspoon cayenne pepper
2 teaspoons smoked paprika
1-2 tablespoons olive oil
4 slices thick cut applewood smoked bacon, diced
12 ounces (3,5 dl) beer (I used a New Belgium pale ale, any full flavored ale would work fine here)
2 quarts (9,5 dl) chicken stock
zest of 1 orange
juice of 2 oranges
1. In a medium bowl, combine salt, pepper, chili powder, cumin, garlic powder, cayenne, and paprika. Toss each piece of pork shoulder in spice mixture to coat lightly, rubbing gently into the meat with your fingers. Let the meat rest at room temperature for about 20 minutes to let the rub penetrate.
See Also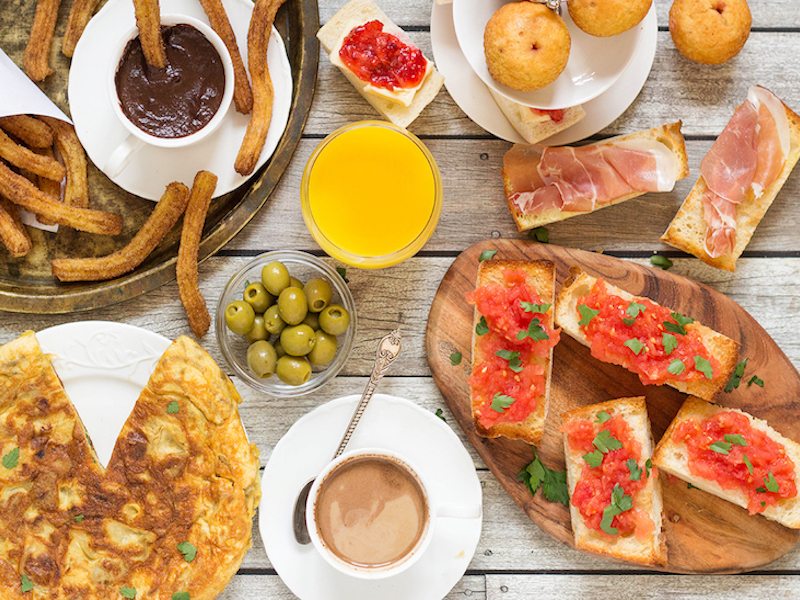 2. In a large dutch oven, heat the olive oil over a medium flame, and when it is hot, add the diced bacon. Cook, stirring frequently, until the bacon has rendered all of its fat and become slightly crisp, about 8-10 minutes. Be careful not too cook the bacon on too high of heat because it can burn. Remove the bacon with a slotted spoon, and any excess bacon fat from bottom of pan, leaving just enough to coat the bottom of your pot. In batches, over high heat, sear the pork shoulder pieces, until brown, about 2-3 minutes on each side. Remove the pork and set aside. When all pork has been seared, add the chicken stock, beer, orange juice, and zest to the pot, and bring to a simmer, scraping up all the browned bits on the bottom of the pot.
3. Preheat oven to 350 degrees F (175°C). When the liquid is at a simmer, add the pork and the bacon pieces back into the pot, cover tightly, and braise for 3-3 1/2 hours, until meat is falling apart. Turn meat over a few times throughout braising process. Remove pot from oven, then remove the pork from the pot, place in clean bowl and cover tightly with tin foil. Put your liquid over medium high heat and bring to a simmer. Reduce the sauce at a simmer for about 30 minutes. You will want to skim as much fat off the top of the liquid as possible, it will reduce the greasiness of your carnitas.
4. When the sauce is reduced to your liking, reduce your heat to low, and begin picking through your meat, removing the large pieces of fat, and returning the tender meat to the sauce. Take two forks and shred the meat into the sauce. I ended up having no sauce leftover, it was all soaked up by the pork, but if you do thats okay too, pour it over some rice or your pork when you serve it (don't waste it, it is delicious!).
5. If you want to make breakfast tacos, just heat up some corn tortillas, scramble some eggs, and top with carnitas, salsa, fresh cilantro, and some sour cream if that strikes your fancy. You can also just take a fork and eat them straight out of the pot like I did the night I cooked them. Don't judge, just enjoy!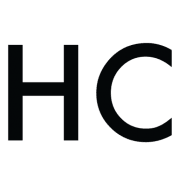 Bria Helgerson
Bria Helgerson is a Chicago based food blogger and pastry school student. Lover of all things sweet and savory, she cooks, bakes, and blogs as she navigates her culinary life at her website These Peas Are Hollow.