Popular NYC Market Returns: Mad. Sq. Eats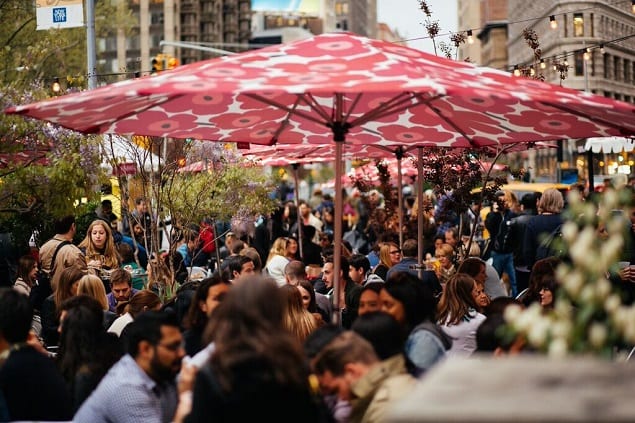 If you are in the NYC area this month, eat your way through a fun pop-up gourmet market at Madison Square Park in the Flatiron District, now in its eighth year. Check out our top picks for the best eats.
By Carolyn Haitsch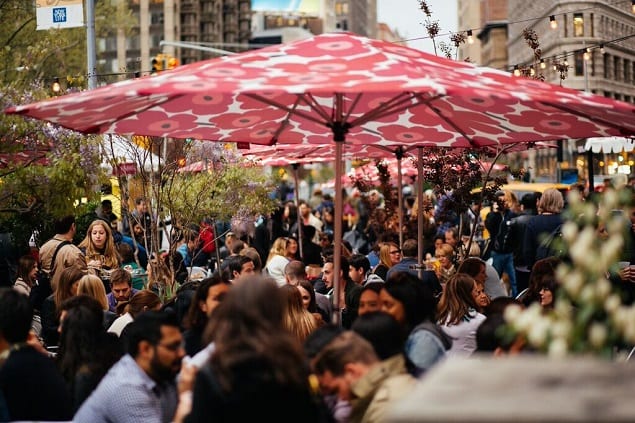 Erin Kestenbaum
Mad. Sq. Eats is back! If you are in the NYC area this month, check out this fun pop-up gourmet market at Madison Square Park in the Flatiron District, showcasing the best eats from area restaurants and chefs. Below are a few memorable stops made on opening day. The event runs through the month of May and is back in September.
Arancini Bros.
Have you ever tried arancini? This delicious fried stuffed risotto ball is a traditional street food in Sicily dating back to the tenth century. When done properly, making arancini is an art form and very labor intensive, but for Arancini Bros., it's a labor of love. While traditional arancini is fried saffron risotto filled with meat ragu, Arancini Bros. offers dozens of other varieties as well–both savory and sweet–including seafood, vegetarian, vegan, and gluten-free. We tried 6 varieties, each with a burst of flavor from the center better than the last. The "OUR FAMOUS Nutella" arancini was the perfect topper.
Bar Suzette Creperie
Part of Mad. Sq. Eats since it began eight years ago, Bar Suzette is a perennial favorite. Drinks at most stalls in the market are made ahead in large batches, but drinks at Bar Suzette are prepared one by one using fresh fruit and herbs. Hang out at their bar and watch as crepes are prepared and drinks are made. We enjoyed the pear, walnut and gorgonzola crepe and some truffle fries while watching the strawberry Nutella crepe come together as well as our mojito and raspberry cosmo. Fun!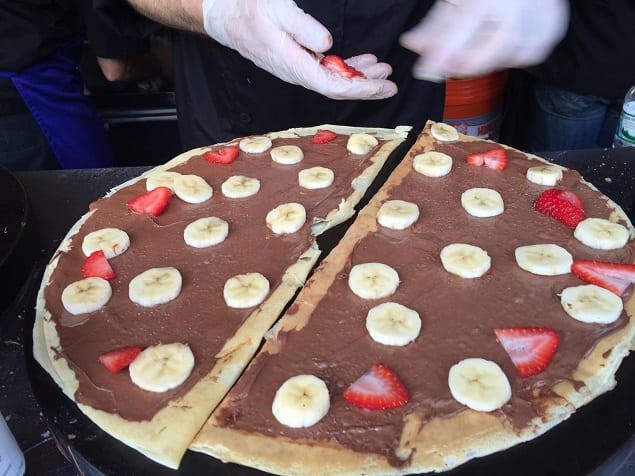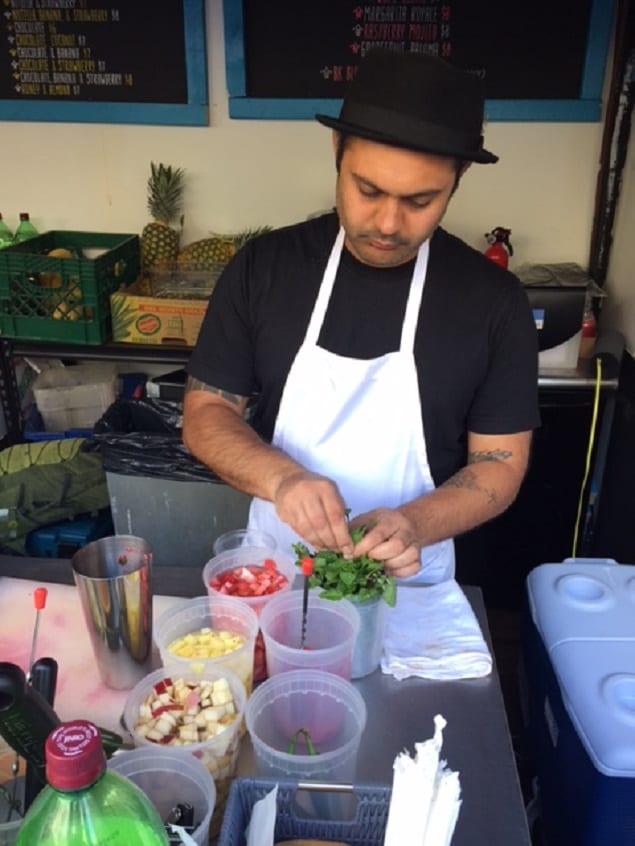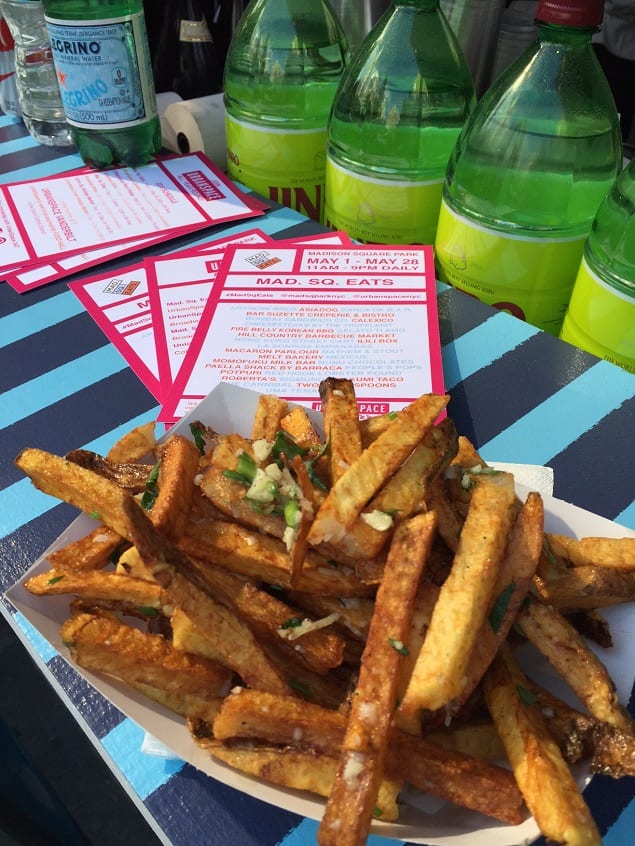 Red Hook Lobster Pound
Another market mainstay, this was our favorite stop. The mojitos were delicious and the straight-from-Maine lobster so fresh. If we weren't there to taste test, we would have made camp at this stall. Quarter-pound fresh-picked Maine lobster on a grilled top-split hotdog bun with a Brooklyn Brine pickle. They offer a variety of styles: Maine, tossed with a touch of homemade mayo; Connecticut, served warm with butter and lemon; and Tuscan, tossed in a basil vinaigrette. Tastes like summer. Red Hook Lobster Pound
Hill Country Barbecue Market
This was our first stop and biggest surprise. BBQ was not really calling to us, but we saw a spot in line so we jumped on and glad we did. The brisket at Hill Country Barbecue Market was so flavorful and tender, if we weren't so stuffed at the end of the afternoon, we would have definitely made a second visit. Their brisket, sausage, ribs and other meats are smoked low and slow over Texas post oak and served on butcher paper, counter-style by the pound as is traditional in Central Texas. Brisket is served with a slice of white bread and a pickle. Very satisfying. Nice beer offerings as well.
Melt Bakery
Ice cream sandwiches at their best. We tried the Classic, chocolate chip walnut cookies with vanilla ice cream; Lovelet, red velvet mini cakes with cream cheese ice cream, and the Lumberjack, oatmeal bacon cookies with maple ice cream (our favorite). Melt Bakery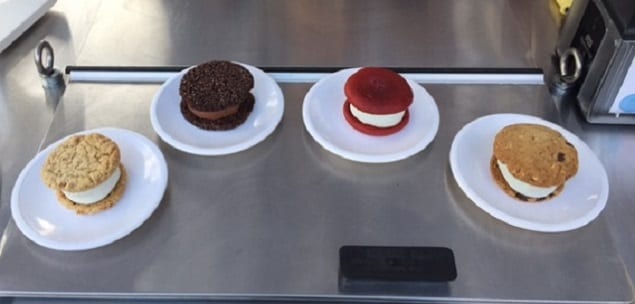 Check out some of these other tasty stops: Bangkok B.A.R. makes fresh pad thai on a hibachi grill. Delicious. Cheesesteaks by The Truffleist are cheesesteak-y but not the truffleist. More truffle please! Asiadog has some really tasty hotdogs with Asian-inspired toppings and a pretty fabulous panko-crusted corndog. And Sigmund's Pretzels offers a creative selection of freshly made pretzels. For a full list of vendors, click here.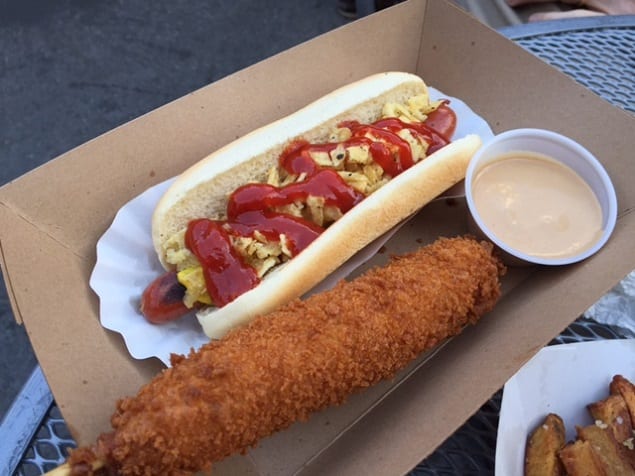 Erin Kestenbaum

If you are looking for a fun way to spend a few hours outdoors in NYC, check out this beloved dining destination and innovative use of public space presented by UrbanSpace and Madison Square Park Conservancy. You won't be disappointed. Come hungry!

Mad. Sq. Eats
Madison Avenue (between 24th and 25th Streets at the intersection of 5th Ave and Broadway)
New York, NY
#MadSqEats
Open daily May and September, 11am-9pm.
Carolyn Haitsch
Love of food and wine led her back to NYC where she spent years developing recipe collections, attending culinary classes, and searching out the best restaurants in Union Square. When not in the Honest Cooking editorial offices, she can be found in Connecticut doing what she loves best--cooking for family and friends and dreaming up her next culinary adventure.