PARTNER POST — The holiday season is here and it is time to add some Italian flair to your menu with authentic ingredients from Colavita and Perugina's rich Italian chocolate.
A festive holiday side, make a new dish of polenta with sausage and crispy sage. And for dessert, serve up rich chocolate pot de crèmes with a hint of orange and spicy cayenne.
By Keith Jackie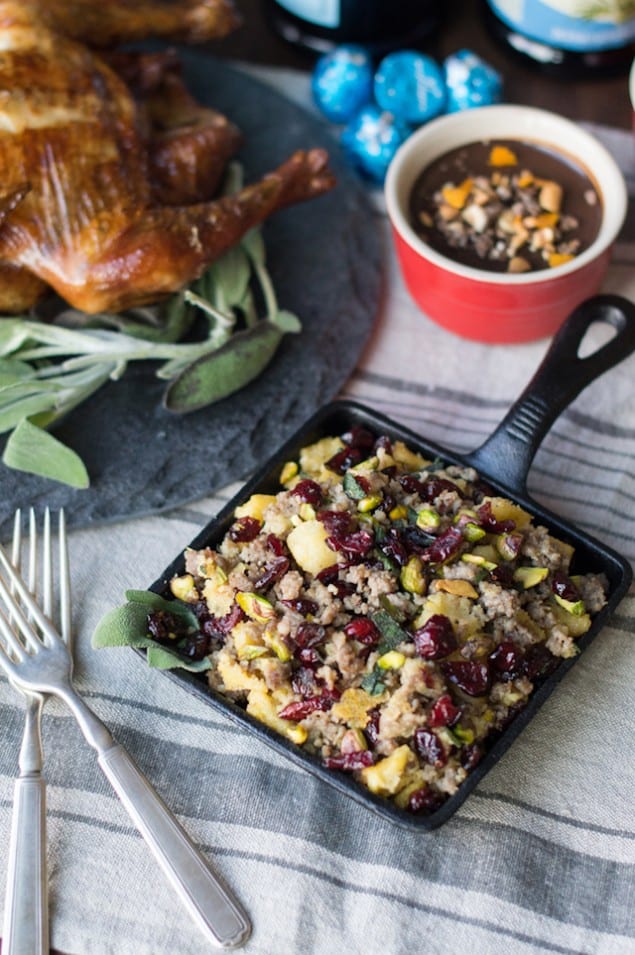 The holidays, for us, are about two things: family and food (not necessarily in that order). As we prepare to celebrate, planning our menu is one of our favorite things to do. This year, thanks to our friends at Colavita and Perugina, we are showcasing not one, but two new dishes for our holiday table: Polenta Stuffing with Sausage and Crispy Sage and Chocolate Pepper Pots de Crème.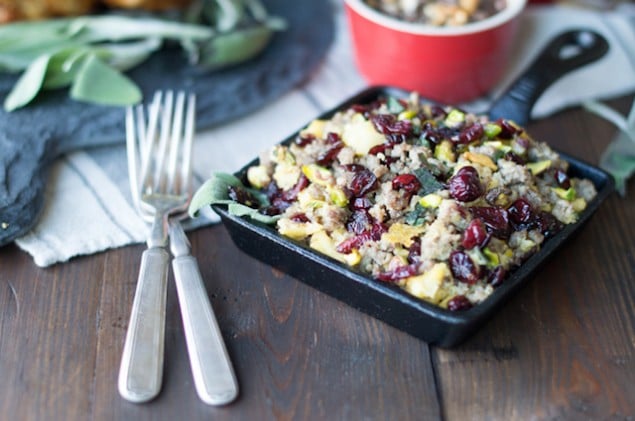 First up for consideration: Polenta Stuffing. We used Colavita Polenta Cornmeal (instead of bread) as a base for this incredibly delicious side dish. The flavors are rich and complex, featuring sausage, crispy sage, pistachios, and cranberries. We chose Colavita Roasted Garlic Olive Oil and Extra Virgin Olive Oil to highlight these savory ingredients. I absolutely love this stuffing! There is nothing bland or old-fashioned about it; it is bursting with savory flavor and texture in every bite.

Italian Holiday Table: Polenta Stuffing
Cuisine:
Italian Inspired
Prep time:
Cook time:
Total time:
Make a new holiday dish of polenta with sausage and crispy sage. And for dessert, serve up chocolate pot de crèmes with a hint of orange and spicy cayenne.
Ingredients
2 Cups Colavita Polenta
3½ C Water
6 Oz Pork Sausage
1 C dried Cranberries
4 TBSP Colavita Garlic Olive Oil
½ C shelled Pistachios
12 Fresh Sage leaves
2 TBSP Colavita Olive Oil
Instructions
In a large sauce pan, bring 2½ C water to a boil.
Mix one Cup Polenta into a medium bowl with one Cup water and stir.
Once water has boiled, slowly pour Polenta and water mixture into boiled water and cook until thickened for 5 minutes stirring constantly
Pour Polenta onto a sheet pan 8×12 and allow to cool until completely firm.
Brush 4 tablespoons garlic olive oil over top of Polenta and place in oven under broiler until golden brown, turning pan as needed ( about 10 minutes)
In medium sauté pan brown sausage and crumble while cooking.
Remove from pan and set aside.
In same sauté pan add 2 TBSP Colavita Olive oil and add pistachios and cranberries and cook over low for 5 minutes.
Tear sage leaves and add to sauté pan and allow to crisp in oil with berries and nuts.
As Polenta gets browned, remove from broiler and cut into ½ inch squares to resemble croutons.
Combine all ingredients, polenta squares, sausage, cranberries, pistachios and sage into large mixing bowl and mix thoroughly.
Place in oven safe bowl and place in oven set to 325 degrees for 15 minutes.
Serve immediately.
See Also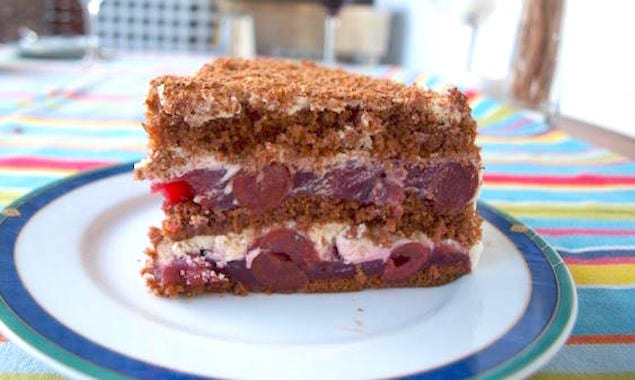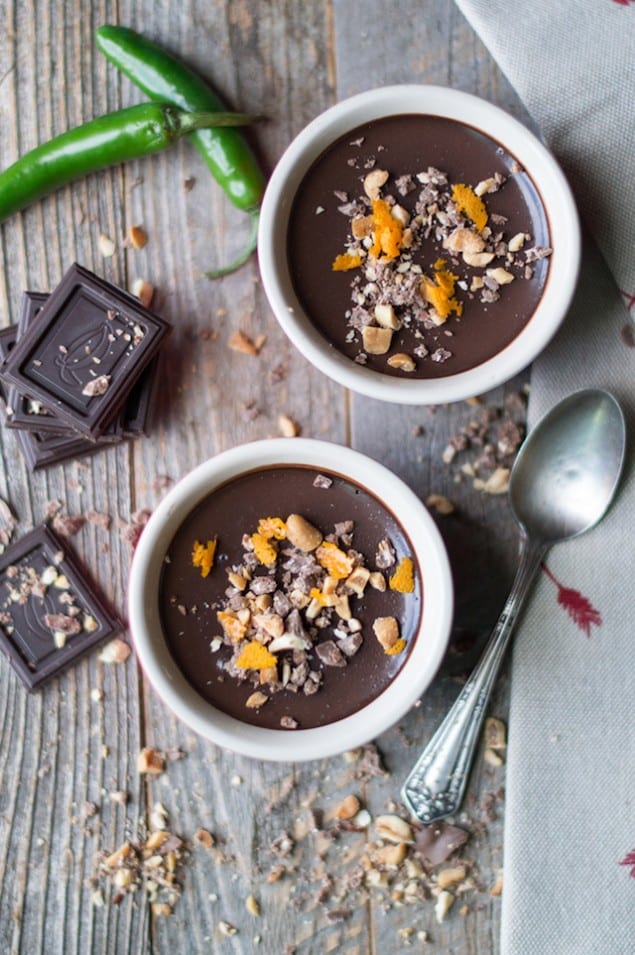 Next, we used delicious Perugina 70% Cacao Bittersweet Chocolate and Dark Chocolate Orangello to create these out of this world pots de crème. The combination of rich chocolate with a hint of orange and cayenne is truly incredible. It is rich and decadent, as I prefer my desserts to be, and it could not be easier to make. The sprinkle of Baci Milk Chocolate Hazelnut Candy adds just the right amount of texture to this incredible dessert.
Italian Holiday Table: Spicy Chocolate Pot de Crème
Recipe Type
:
Dessert, Chocolate
Prep time:
Cook time:
Total time:
Serves:
4 – 1/2 cup servings
Ingredients
1 bar (3.5 oz) Perugina 70% Cacao Bittersweet Chocolate
1 bar (3.5 oz) Perugina Dark Chocolate Orangello
2 Perugina Baci Milk Chocolate Hazelnut Candy
2/3 cup heavy whipping cream
½ cup milk
½ tsp vanilla
¼ teaspoon cayenne pepper
1 egg
orange zest for garnish
Instructions
Using a knife, chop chocolate into very small pieces
In a sauce pan, bring milk and cream to near boil
Add vanilla and cayenne pepper
Stir until combined
Remove mixture from heat.
Pour milk mixture over chocolate and stir until chocolate is melted.
Crack egg into small bowl. Whisk.
Pour egg into chocolate mixture, whisking rapidly until combined.
Pour mixture into small cups and refrigerate for at least 5 hours
Remove cups from refrigerator 20 minutes before serving.
Chop Baci into small pieces and sprinkle on top of chocolate pots. Add orange zest for garnish
Keith Jackie
We met on a warm summer evening. His square jaw and engaging smile reminded me a bit of Clark Kent. We share a passion for life: music, baseball, and especially food. He makes me feel like I can fly. Welcome to our exploration of food, recipes and ideas that celebrates our life together. He creates the recipes and prepares the food, and I am the documentarian. My superman can cook! Check out our site, Superman Cooks.