Quick and easy pickling doesn't take long. It's a treat, and absolutely worth trying.
By Katherine Ingui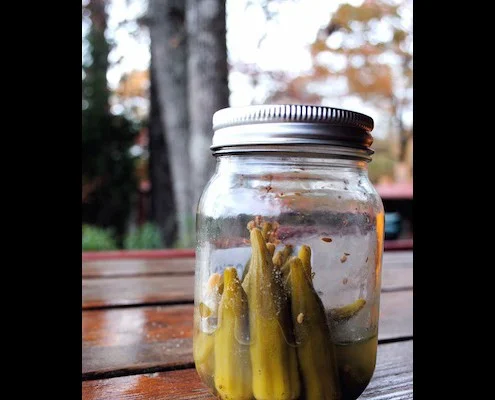 I recently had the pleasure of visiting a local artists' studio a few weeks ago a little outside Athens, Georgia. The art was a combination of pottery and sculpture made by a retired UGA professor, Ron Meyers, who is still making headlines in the world of ceramics. He and his wife hosted a few students and I for lunch, following the visit.
On the table was a lovely little jar of homemade pickles. They were made at the beginning of the summer and were fantastically done. I have always admired those who pickle. Not because of the difficulty, because it's relatively easy, but for the time and preparation. I guess I just haven't made that extra effort to make my own, so I decided (after having these little guys) that it was my turn.
See Also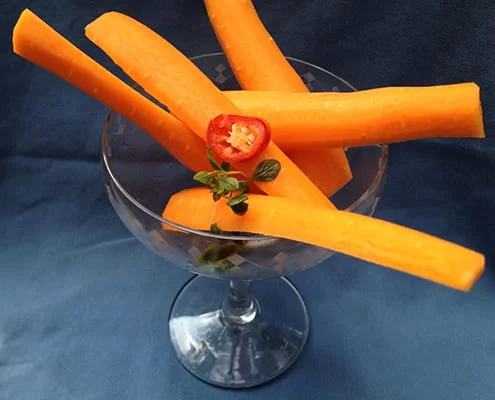 I wanted to go home and re-make these delicious little bites, but I didn't have the equipment, time, or patience to wait a couple of months to eat these pickles. So I decided to creatively improvise and do some quick pickling. I had a bag of fresh okra in the freezer that had been picked this past summer, and I thought what better of a sign! I needed to make these- clearly. I looked up this recipe on allrecipes.com, and went for it. I'll say, for my first try these were pretty impressive. They're all gone, so that says something good, right?
Quick and easy pickling doesn't take long! It's a treat, and worth trying. I used okra that was picked fresh this summer that I'd been saving for a new recipe. Substitute any vegetables (or eggs) for the okra- whatever your heart (and appetite) desires.
Author:
Katherine Ingui, via Lorelei Rusco at allrecipes.com
Ingredients
1½ pounds fresh okra
3 dried red chile peppers
3 teaspoons dried dill
2 cups water
1 cup vinegar
2 tablespoons salt
Instructions
Divide the fresh okra evenly between 3 sterile (1 pint) jars.
Place one dried chile, and one teaspoon of dill into each jar.
In a small saucepan, combine the water, vinegar and salt, and bring to a boil.
Pour over the ingredients in the jars, and seal in a hot water bath for 10 minutes.
Refrigerate jars after opening.
Katherine Ingui
Katherine Ingui is a photographer, an art educator, and a lover of healthy and adventurous food, in her home or on the road. A devout supporter of creativity in the everyday, she appreciates the glorification of what we all essentially crave: food.