For a refreshing Peruvian appetizer, serve fresh scallops with a bright onion, tomato, chili and lime juice topping that brings just the right amount of heat.
"A la Chalaca" is a term used in Peruvian cuisine. It refers to a specific style of preparing dishes, particularly seafood ones, most notably in the preparation of ceviche. "A la Chalaca" means "in the style of Callao", which is a major port city in Peru.
The typical "Chalaca" style preparation involves ingredients like finely diced tomatoes, onions, chili peppers, corn, and fresh cilantro or parsley. These ingredients are usually mixed with lime juice, olive oil, and sometimes vinegar, then used to top or accompany the main ingredient (commonly seafood like fish, mussels, or like here – scallops).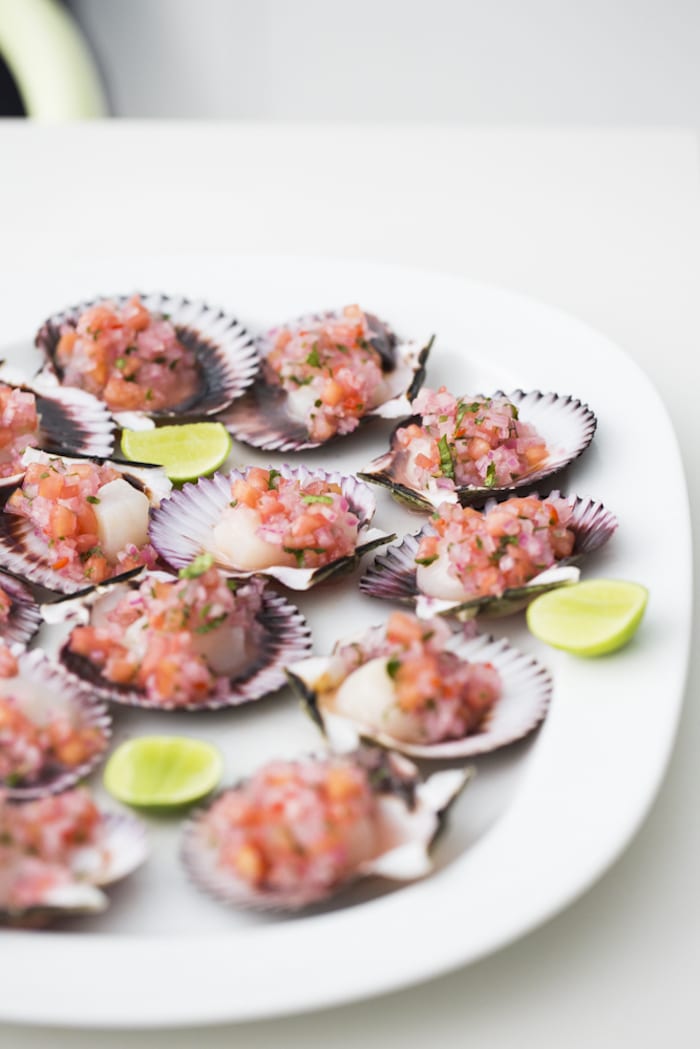 So when a dish is prepared "a la Chalaca", it means it is prepared with this mix of fresh, finely chopped ingredients, lending a vibrant and tangy flavor to the dish. This style of preparation is a testament to the Peruvian coast's love for fresh produce and seafood.
Scallops A La Chalaca is a simple and elegant way to serve super fresh scallops — we're talking sushi grade. In our recipe, we are adding a little kick from Peruvian Aji Amarillo – a wonderfully sweet chili that adds just the right amount of heat to fresh seafood. If you can't find fresh fruits, you can buy Aji Amarillo paste in most well stocked supermarkets.
If you can find scallops in the shell at your local fishmonger's, follow the below video guide for cleaning and preparing them, reserving the shells for an extra special presentation. It really looks gorgeous. However, if you cannot find scallops with shell – don't worry, you'll get a beautiful presentation out of this if you serve them on small plates, martini glasses or in serving spoons.
Print

Peruvian Scallops a La Calacha
---
Author:

Honest Cooking

Total Time:

52 minute

Yield:

6

servings

1

x
Description
For a refreshing Peruvian appetizer, serve fresh scallops with a bright onion, tomato, chili and lime juice topping that brings just the right amount of heat.
---
12

LARGE SEA SCALLOPS

1/4

cup

MINCED RED ONION

3/4

cup

DICED TOMATO (SEEDS + EXCESS JUICES REMOVED)

2

TBS FRESHLY SQUEEZED LIME JUICE

1 TSP

MINCED AJI AMARILLO (VEINS + SEEDS REMOVED)

1/2 TSP

PISCO
MALDON SALT TO TASTE
CRACKED BLACK PEPPER TO TASTE
---
Instructions
Mix together minced onions, tomatoes, chile, olive oil, lime juice, salt and pepper and refrigerate, covered, for half an hour.
Place washed and dried scallops on half shell or in individual dishes. Spoon the tomato mixture over each one. Season with finishing salt and cracked black pepper to taste and garnish with the cilantro.
Prep Time:

15 mins

Resting Time:

1 hr

Cook Time:

5 min

Category:

Appetizer

Method:

Ceviche

Cuisine:

Peruvian
Keywords: peruvian, peru, scallops, ceviche, appetizer, party food, seafood, summer food, healthy, spicy, chili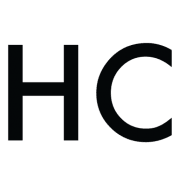 Julia Sherman
I am an artist and a photographer, but when I am not making art in my studio, I am growing my own vegetables, eating salad, and feeding salad to my creative friends. I find people whose work I admire, I cook with them, share a meal, and take their photo. Like me, all of these influencers in their respective fields use their kitchen as a creative sanctuary, a place where they can "make something" that is easily shared with others.