Partner Post: Perfection Takes Time — Cozy Beef Stew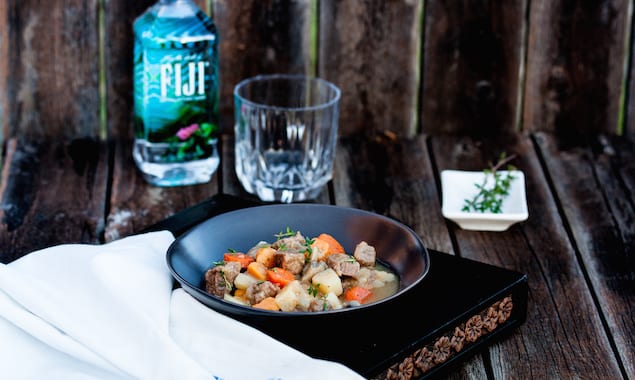 The ultimate, tender beef stew takes low temperatures and slow cooking to create. With a little patience, this recipe becomes a great alternative to the Sunday pot roast.
By Lail Hossain
Cooler weather calls for a warm, wholesome, and flavorful meal. When the days are short and the nights are long and cold, nothing is more comforting than a big bowl of nourishing stew. Healthy, hearty, homestyle! This warm, cozy, fragrant stew is one of our favorite meals to enjoy during weekdays. The beef stew is tender, rich and fragrant making it very hard to stop scooping up by the spoonful. The trick to getting extremely tender meat pieces is to cook the stew slow on low heat for a long time.
It is not hard to get the perfect fork tender meat and vegetables pieces in every bite. The cooking just takes a little time. Just as everything in life requires time and patience to achieve perfection. Speaking of perfection, the process of achieving the soft smooth taste of FIJI water also takes time and care.
Fiji artesian water comes from a protected artesian aquifer found deep underground in the remote Fiji Islands, a naturally formed underground chamber consisting of layers of permeable volcanic rock. The water trickles down through the layers of volcanic rock over time and gathers minerals and electrolytes along the way that create FIJI's signature soft, smooth taste. In a similar fashion, slow cooking the meat and vegetables brings out amazing flavors and scents as the ingredients tenderize and mingle in the stew.
Head over to Fiji Water's site for this cold weather recipe.

This post is part of "Perfection Takes Time", a partnership between Honest Cooking and FIJI Water
Lail Hossain
Lail Hossain finds cooking to be an explosion of creativity. She is enthusiastic about modifying a laborious step of an old recipe, and experimenting with different ethnic recipes by adding her own spin to it yet keeping the recipes simple, healthy, and delicious. Originally from Bangladesh, Lail shares her journey of food, creativity and family in her blog "With A Spin". She is also very passionate about highlighting Bangladeshi cooking to the international culinary space.