Pairing Wine and Korean Braised Short Ribs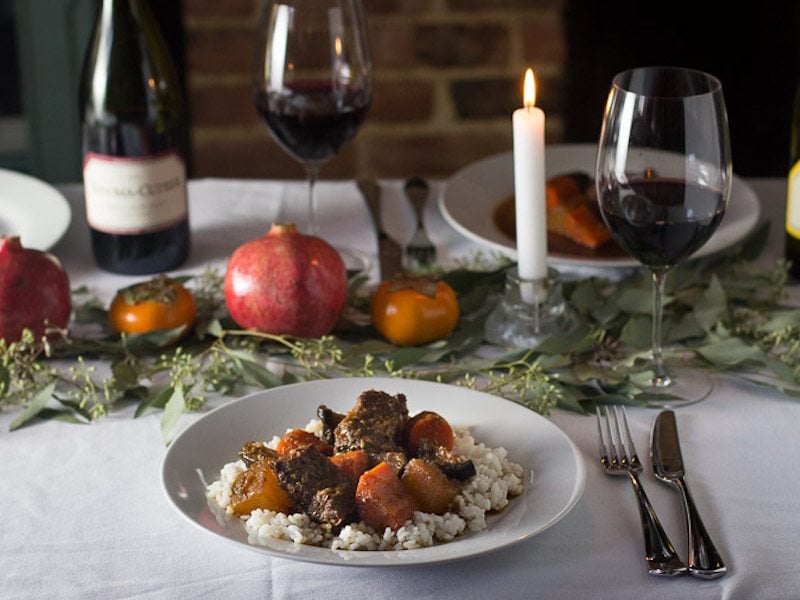 Sponsored Post: Whether you are hosting a wine party or looking for the perfect pairing for your dinner party menu, we've teamed up with Sonoma-Cutrer to provide wine inspiration for your next gathering.
Korean braised short ribs, or galbi jjim, are the perfect warm food when you are hosting a dinner party or just want to feel cozy. Plus, check out the perfect wine pairings with this dish.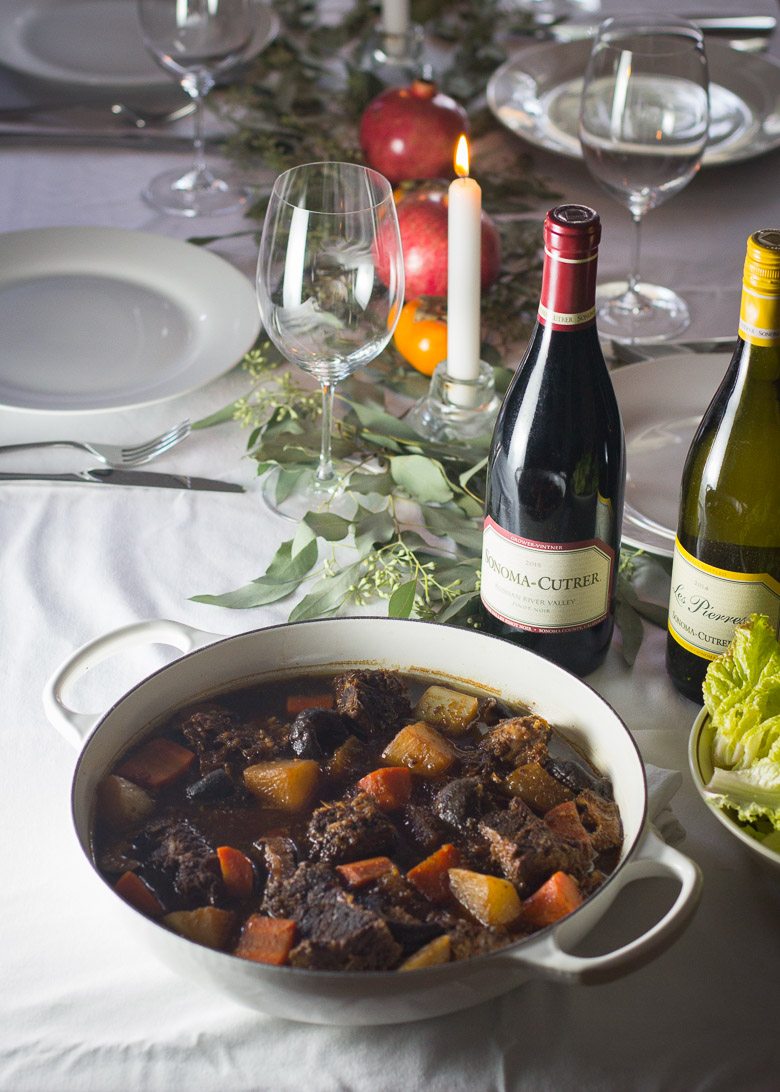 This year's holiday countdown has overlapped with the countdown to my wedding in early December. It's a little over thirty days away and I can't believe it's already here, much like how I feel at the end of every year when it's almost time to celebrate Thanksgiving!
Korean braised short ribs (or galbi jjim) are what I think of when I think of cozy, cold weather dishes for celebrations. This is not an everyday dish but something you serve during the holidays or a special occasion like lunar new year, Chuseok, or a birthday.
And speaking of special occasions, a version of this dish was actually served at my parents' wedding in Korea. My aunt cooked it for the reception for everyone to enjoy and my dad still says it was the best galbi jjim he ever had.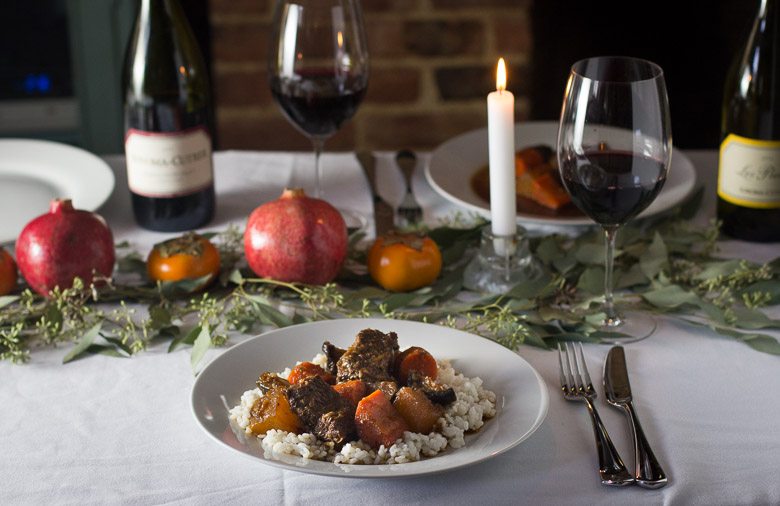 When I have gatherings at my home, I like to offer both red and white wine so that people can drink whatever they prefer. These short ribs are delicious with Sonoma-Cutrer's 2015 Russian River Valley Pinot Noir and their 2014 Les Pierres Chardonnay. The pinot noir's bright, velvety finish and aromas of cranberry, red cherry, and plum pair perfectly with the richness of the ribs. The chardonnay's bright citrus aromas and flavors cut through the richness of the beef and the hints of roasted nuts, spice, and mineral notes complement it perfectly. Both of these wines were easy to order off of Sonoma-Cutrer's website.
These beef short ribs simmer in a salty sweet mixture, mirin, sugar, garlic, ginger, onion, and apple for a few hours until tender and richly flavored. Carrots, daikon, and mushrooms are added for the last thirty minutes and the stew is ready when the vegetables are tender.
I recommend cooking the ribs a day or two before serving- braised dishes always seem better the next day. It also gives you a chance to defat the sauce by letting it cool completely and simply scooping the fat off the top. I don't mind fat in sauces but in this case the ribs are super rich and make the sauce a bit too greasy if you don't remove the fat.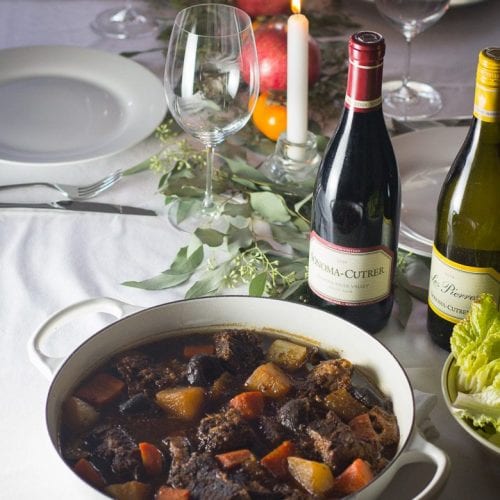 Pairing Wine and Korean Braised Short Ribs
Sonja Bradfield
Ingredients
3

pounds

of short ribs

3/4

cup

of soy sauce

1/4

cup

mirin

1/4

cup

sugar

1

small onion

chopped into big pieces

1

small apple

peeled and chopped

10

cloves

of garlic

peeled

3

inch

piece of ginger

peeled

1

large carrot

peeled and cut into 2 inch large chunks

2

cups

of daikon radish cut into 2 inch large chunks

8

oz

fresh shiitake mushrooms

stems removed and halved if large
Instructions
Soak ribs in cold water for about 30 minutes. Drain and pat dry.

Meanwhile, take the rest of the ingredients and blend it in a blender or food processor until smooth.

Put the mixture in a large dutch oven, add 3 cups of water and bring to a boil.

Add the ribs and lower to a simmer and cover with a lid for at least two hours until the ribs are tender.

Add carrots, daikon, and mushrooms and simmer for another 30 minutes.

Skim the fat off the top, or use a fat separator for the sauce. You can also cool and store in the fridge overnight and remove the fat off the top. Reheat over low heat.

Serve with steamed white rice and kimchi.
Sonja Bradfield
Hello there! My name is Sonja and I love food. I'm food obsessed, actually. I moved back to the US last year after living in Seoul, Korea for five years. I hope to share what I've learned about good eating from my time in Korea and traveling Asia. I focus on recipes that are influenced by my Korean heritage and experience as an expat in Seoul which inspired cooking recipes from home, as well as the ever changing food scene in DC and Virginia.