Sometimes, kid-friendly dishes become adult favorites as well. One of those dishes is Pad See Ew.
Text And Photo By Jessica Smith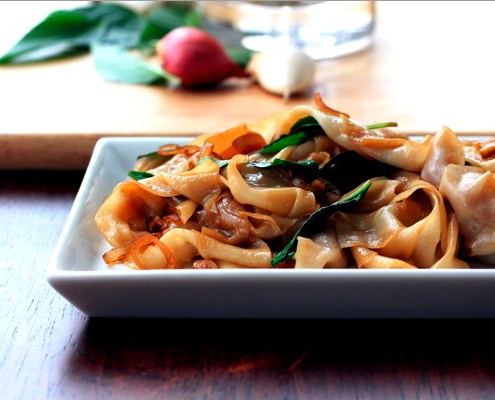 "It's kid food!" is a response I often receive from Thai friends when I profess my love for Pad See Ew.  I consider it a compliment.  True, the classic pan-fried noodle dish is not spicy or particularly complex.  It is simple, satisfying comfort food.  And after all, I rationalize, some of the most kid-friendly foods are equally (and justifiably) loved by adults.  I rank Pad See Ew among the best of them.
Many Thai recipes are not for the faint of heart. There are more than a few popular dishes that are well worth ordering from a local Thai take-out spot rather than trying to make them at home.  Often the challenge stems from the use of ingredients that are not readily available in most markets in the world.  In addition, Thai soups and curries can require an investment of time to develop flavors and bring out the signature balance of salty, sour, sweet, bitter, and spicy.  Even most Pad Thai recipes call for 15 or more ingredients.
Fortunately, Pad See Ew is not one of those dishes. In fact, it is one of the most quick and rewarding Thai meals to make at home.  At its most basic, it requires preparing a mere six ingredients (plus oil) and 5 minutes at the stove.  The most important thing to keep in mind is to crank up the heat when cooking.  A very hot wok gives the noodles a bit of caramelization and heats them all the way through before they soften.  I have watched vendors in Thailand prepare a serving of Pad See Ew in under 60 seconds over a scorchingly hot wok.
The recipe below is a basic, no-frills, vegetarian Pad See Ew, but it is endlessly variable.  Here are a few suggestions for substitutions and additions to get you started on making it your own.
Noodles
In Thailand (and in Thai restaurants around the world), Pad See Ew is typically made with fresh, wide rice noodles. However, it can easily be prepared with thin, dry noodles, commonly called "rice-stick".  If using dried noodles of any width, simply drop the noodles in boiling water until slightly tender.  Remove from the boiling water and rinse under cool water to stop the cooking process.  Drain them very well and use them as a substitute for the wide rice noodles in the recipe below.
Sauce
Soy sauce is the key element of the sauce in Pad See Ew.  In Thailand it is common to use a light soy sauce combined with a thicker, slightly sweet soy sauce (sometimes called a "seasoning soy sauce").  However, the more common Japanese soy sauces (of the type served in most sushi restaurants) will work just as well.  Palm sugar is used to add sweetness to the sauce, but granulated sugar can be used as a substitute.  Regardless of the type of soy sauce or sugar used, the sauce can be easily adjusted for your preference in balance between salty and sweet.
Protein
Pad See Ew makes an excellent vegetarian dish, but easily benefits from an addition of egg or a few slices of firm tofu, chicken or pork.  Regardless of the protein used, it should go into the hot wok after the shallot and should be fully cooked through before adding the sauce.
Vegetables/Greens
Often Pad See Ew is made with just a handful of fresh basil leaves, but other greens such as Chinese kale make an excellent addition.  More hearty vegetables like broccoli florets are also a great choice, but do best if treated like the proteins described above (cooked until tender in the hot wok before the sauce is added).
Print
Basic Pad See Ew
---
Author:

Jessica Smith

Total Time:

20 minutes

Yield:

2

1

x
Description
This basic version of a popular Thai noodle dish uses only a few ingredients and takes less than 20 minutes to prepare.
---
1

clove garlic, minced

3 tsp

. palm sugar

3 Tbsp

. light soy sauce

2 Tbsp

. vegetable oil

1

small shallot, thinly sliced

12 oz

/ 340 g fresh, wide rice noodles (about

2 cups

packed)

20

leaves fresh basil
---
Instructions
Whisk together garlic, sugar and soy sauce in a small bowl. Set aside. Heat oil in a wok over medium-high heat. Add shallot and cook just until it begins to soften, approximately 30 seconds. Add prepared sauce, heating until sauce begins to boil (if the wok is hot enough this should happen almost immediately). Add noodles and basil, stirring vigorously to coat in sauce. When basil begins to wilt and noodles have begun to brown on the bottom of the wok, 2-3 minutes, remove wok from heat. Serve immediately.
Notes
Dry rice noodles (often labeled "rice stick noodles") can be substituted for fresh noodles. Replace the 12 oz of fresh noodles with 6 oz (170 g) dry rice noodles. Boil the dry noodles in water just until they become tender. Rinse and drain the noodles well before continuing with the recipe below.
Prep Time:

10 mins

Cook Time:

10 mins
Jessica Smith
Jessica Smith is a native of the American Midwest, currently living in Thailand where she writes about food and travel throughout Southeast Asia. Jessica believes that the best way to understand a place is through its local cuisine.