Need a go-to cookie? Try this served with a refreshing ice cream after a big dinner or with a morning coffee.
Crunchy and dunkable, these rustic Almond-Orange Biscotti always turn out great, year after year. The orange zest and almonds add wonderful flavor, and melted chocolate drizzled over the tops seems like a fine idea, too. If you like ice cream (I know you do!) try this recipe for Cherry-Almond Ricotta Ice Cream. It's fab served with biscotti.
A tried-and-true recipe like this one for Orange and Almond Biscotti is critical when it comes to the holidays. I learned my lesson several years ago on Thanksgiving: do not make a new dish, untested, for a holiday meal.
My Italian parents always made biscotti – a lot of them – to enjoy for the holidays. My guess is that since they're perfect for dunking in hot coffee or tea, they made extra to enjoy as long as possible.
See Also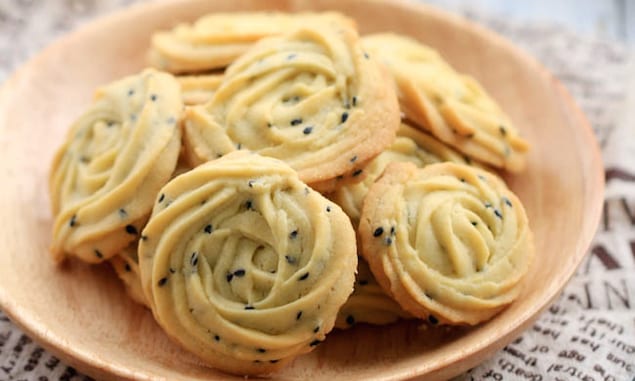 Instead of the anise-flavored version my parents made, at some point I started to make this recipe. The flavors are perfect together, and oranges are in season here in Arizona, right around Christmas. That means I can just run to the backyard and pluck one off the tree to use for these cookies (how different from an Ohio Christmas)!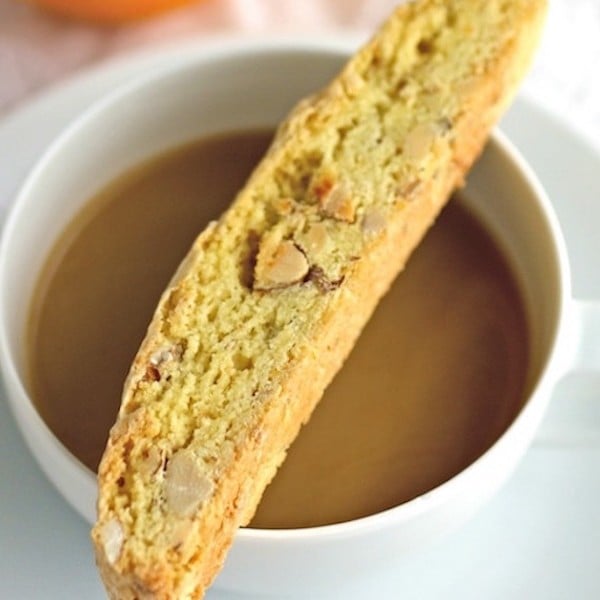 Orange and Almond Biscotti
Patricia Conte
Need a go-to cookie for the coming holidays? Try this served with a refreshing ice cream after a big dinner or with a morning coffee.
Course
Cooki, Dessert, Dolci
Ingredients
2-1/4

cups

flour

1-1/4

cups

sugar

1/4

teaspoon

baking powder

1/4

teaspoon

ground cinnamon

1/8

teaspoon

salt

3

eggs

lightly beaten

1

tablespoon

vegetable oil

1/4

teaspoon

almond extract

1-1/2

tablespoons

orange zest

1/2

cup

coarsely chopped

toasted almonds

Optional: 3 ounces melted chocolate to drizzle on cookies
Instructions
Preheat your oven to 350 degrees F. Line two baking sheets with parchment paper and set aside.

In a large bowl, sift the flour, sugar, baking powder, cinnamon, and salt.

In a small bowl, mix together the eggs, vegetable oil, almond extract, and orange zest.

Add the egg mixture to the center of the dry ingredients. Use a wooden spoon to stir and begin to mix the ingredients. Add the almonds, then use your hands to work the mixture until a dough forms and all the ingredients are incorporated.

Divide the dough in half, and on a lightly floured work surface, shape the dough into two rectangular loaves that are about 1 inch high, 3-4 inches wide, and 8 inches long.

Place one loaf on each of the baking sheets, and bake for 25-30 minutes.

Remove the loaves and let them cool slightly. Start at the short end of the loaves and use a sharp knife to cut 3/4-inch slices.

Place the slices on the baking sheets with the cut side down, and return to the oven for 9-12 minutes. Remove the cookies from the oven and let them cool completely.

If you'd like to drizzle chocolate over them, melt the chocolate chips in the microwave in 10-second increments. When they're melted thoroughly, use a fork or teaspoon to drizzle over completely cooled cookies. Allow the chocolate to set, then store them in an airtight container.
Patricia Conte
Patricia Conte is the writer, recipe developer, and photographer behind Grab a Plate. She credits her love of cooking, baking, and entertaining to her Italian immigrant family who is also passionate about all things food! Visit her at Grab a Plate where she shares her love of food, recipes, and bites in between. Follow Patricia on Twitter, Facebook, and Instagram.