Explore Dublin with this delicious culinary walking tour featuring hidden gems and local favorites.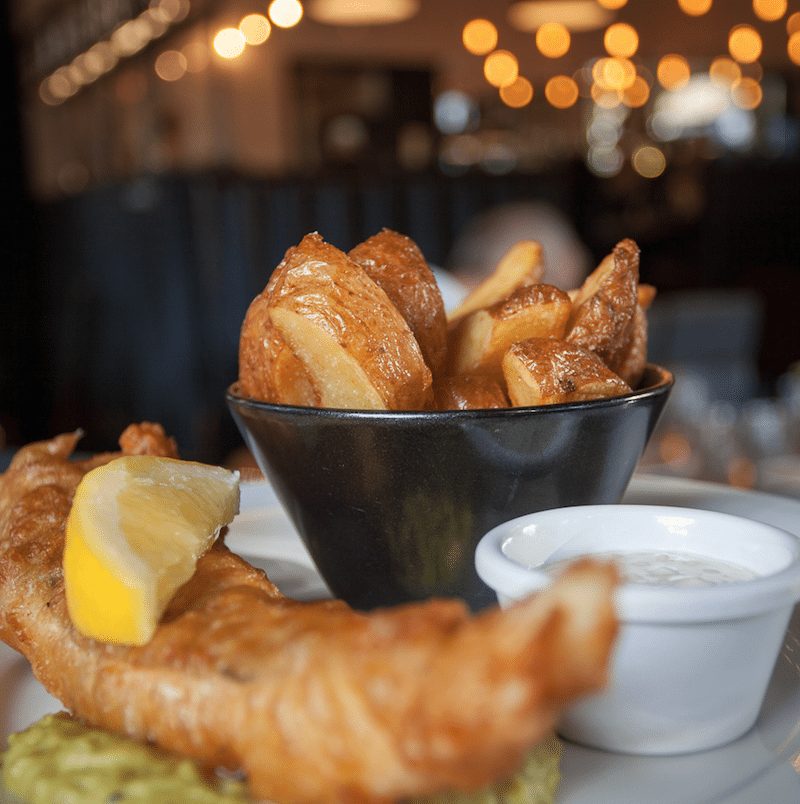 My favorite way to explore a new city is to join a culinary walking tour. Over the years I've found out that this is the best way to fight jetlag and get a 'lay-of-the-land'. An expert guide will throw in just the right amount (for day one) of basic culture, geography and history as well as some insider recs for hidden food spots, local favorite restaurants/ pubs to try during your stay.
As you go from one place to another, you soon discover that Irish food is both rustic and filling—the kind of food that helps you through a blizzard in the dead of winter. With Irish stew, colcannon, beef and Guinness pie, and a taste of Irish craft beer, you can indulge in the delicious side of Irish culture
Which is why, although barely awake, I joined Irish Food Trail for a foodie tour of downtown Dublin, where I totally lucked out by scoring the incredible, uber-fun, Grainne Lawlor, for my guide.
But I need to backtrack a bit before hitting the food trail tour. Since the tour didn't start until 2 PM I needed a lil' something to fill my growling tummy.
A stop at Brother Hubbard North provided the perfect answer. This cool little indie café turns out some miraculous high-end home baking. It's also a perfect brunch spot for when you can't decide if you're in a brekkie or lunch mood since their scrumptious, 12-hour roast pulled pork, followed by a crunchy, squishy, S'more answers all needs. If you're looking for something healthier try their homemade granola with organic yogurt and berry compote.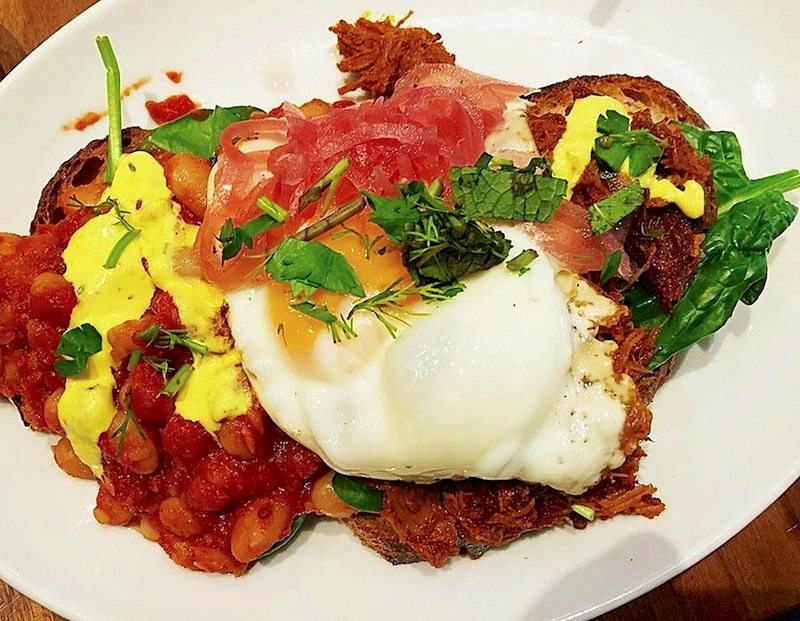 Now I was ready to tackle my 3-hour food tour;) At first I wasn't thrilled that we were only going to make three restaurant stops since most other tours I've been on take you to at least twice that. I admit that those often consist of standing uncomfortably in a corner, awkwardly balancing your paper plate and cup so as not to spill anything, trying to take notes while listening to the guide talk over the crowd, until eventually, it all becomes one big blur.
Instead, our little group would sit at a comfy, quiet table (much more civilized) where we were usually given our choice of items off the menu. I did a little negotiating and managed to get the others on board for ordering a bunch of different items to share.
While we ate, Grainne (say Gran-yah) who is a wealth of fascinating info, kept us entertained by explaining the intriguing history of Dublin, peppered with interesting food facts and customs. She explained that while historically, Irish food was mostly warm, filling stews (not including corned beef and cabbage– which is only served to tourists) that there is a new breed of dynamic chefs cooking up a food scene that focuses on their fabulous local produce mixed with a big scoop of creativity. Due to the fact that there is top-notch grass in Ireland, they some extremely happy cows which equal yummy milk, butter and cheese as well as superb beef.
She happily shared which pubs were the best and which were touristy rip-offs, how to tell who serves the best Guinness, and where to go for a top-notch whiskey tasting.
Here is a recap of some of our stops, but be prepared for an additional surprise or two.
1.BOXTY- an ode to the humble spud which we sampled in three tasty renditions, dumplings in honey & chili, crispy fries with garlic mayo, and a Botxy bread a goat cheese toast. These paired perfectly with their home-crafted beers: red ale, golden ale and a stout. When I couldn't decide which one to choose, Grainne graciously asked them to bring me a taster flight of all three, which was the perfect way to go.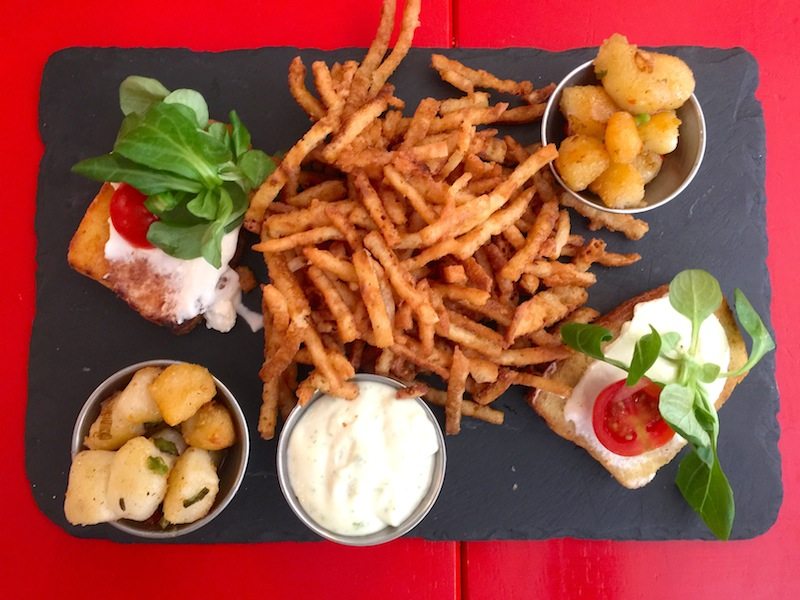 While waiting for out food Grainne explained to us that when we were on our own and wanted to visit some neighborhood pubs, and wanted to fit in with the locals, we should nab a seat at the bar, order a pint, turn to our nabe and ask "What's the craic?" which translates to "What's happening?" and then wait for a story to come.
If the roles are reversed and you are asked, "What's the craic?", respond with great enthusiasm and exaggeration. When I asked for an example, she told us that her boyfriend is also a guide and at the end of the day they always try and one-up the other as to who led the best group, which often included some major stretching of the truth.
"So," I replied with a wink, "Will you tell him that I am a Victoria Secret Model, here for a shoot?"
Exactly, she said, 'That's the craic!"
Inside tip: Their Boxty Potato Pancake mix makes the perf gift to bring home.
2. Gallaher & Co- for quite possibly the best fish and chips I've ever tasted, due to the perfect proportion of large pieces of fresh cod with just a millimeter of greaseless crispy coating surrounding it though the others went for the stew or the more delicate goat cheese salad. They also have a nice selection of international wines, which we took full advantage of when practicing our newly learned "Sláinte" (pronounced So-lawn-chay) which is "Cheers' In Irish Gaelic.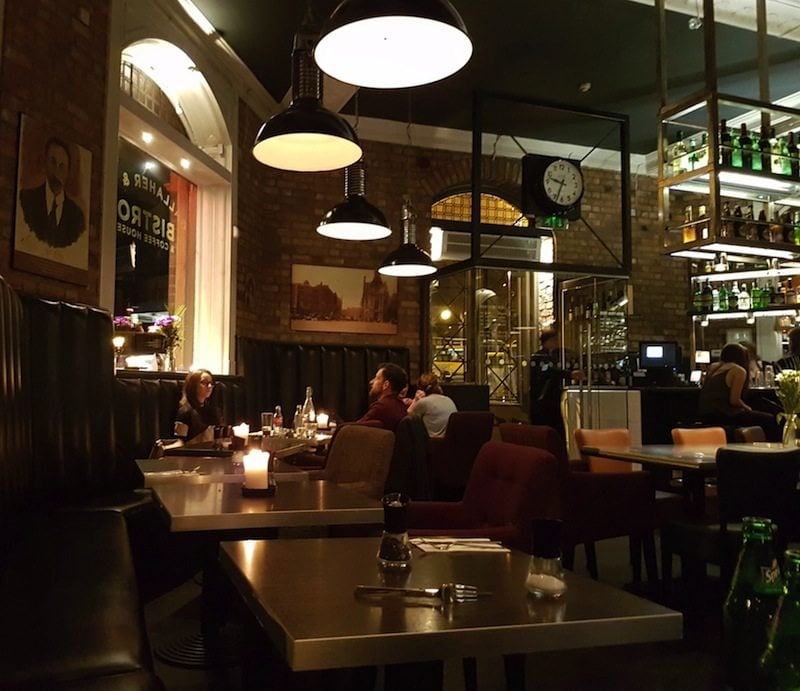 3. Mary's Hardware- wins for sheer quirk appeal, since this old-timey pub also sells assorted hardware (think hardhats, hammers and handsaws) old-fashioned candy, and just to gild the lily, there's a justifiably famous WOWBURGERS bar downstairs providing excellent soakage. For most guys, this is one stop shopping at its' finest.
(A little Mary's joke: What did the brick say to the other bricks? Great news lads, we are all getting laid!)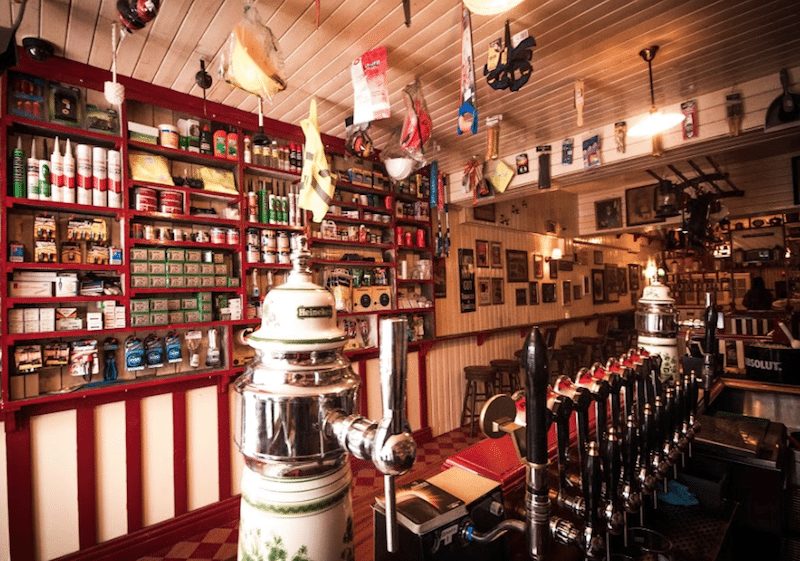 Inside tip: If it's not too busy and Ronan (who gets my vote for Ireland's Best Bartender) is there, ask for a tutelage on how to pull the perfect Guinness. This is one class I completely aced!
4. Peruke & Periwig- our last stop was quite a bit more "girlie" since P&P (once a high-end, wig making store) is decked out in flaming hot-pink velvet, gold-framed portraits, tasseled pillows and ornate chandeliers with equally flamboyant desserts to match!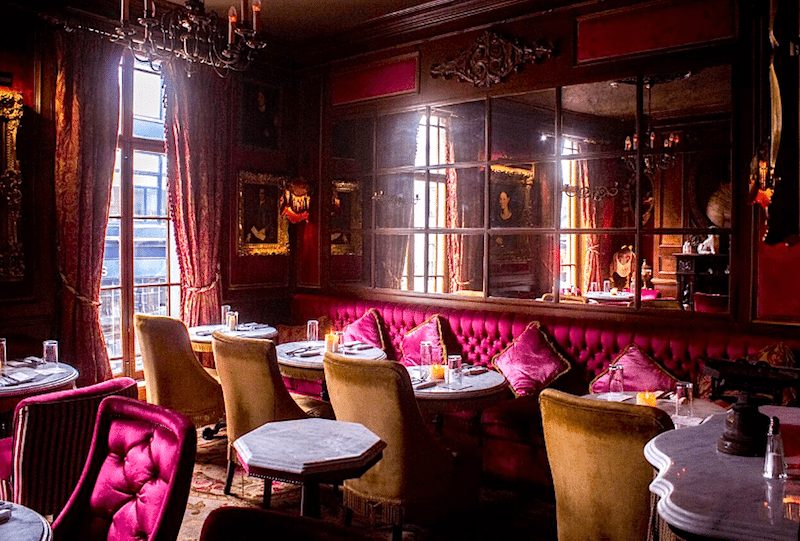 They also have an amazing selection of craft cocktails created by some seriously knowledgeable mixologists. Check out the bio page on them for a fun read. We had Andrew, a.k.a. 'The Clark Kent of cocktails! Dubliner, bartender, and considerate lover'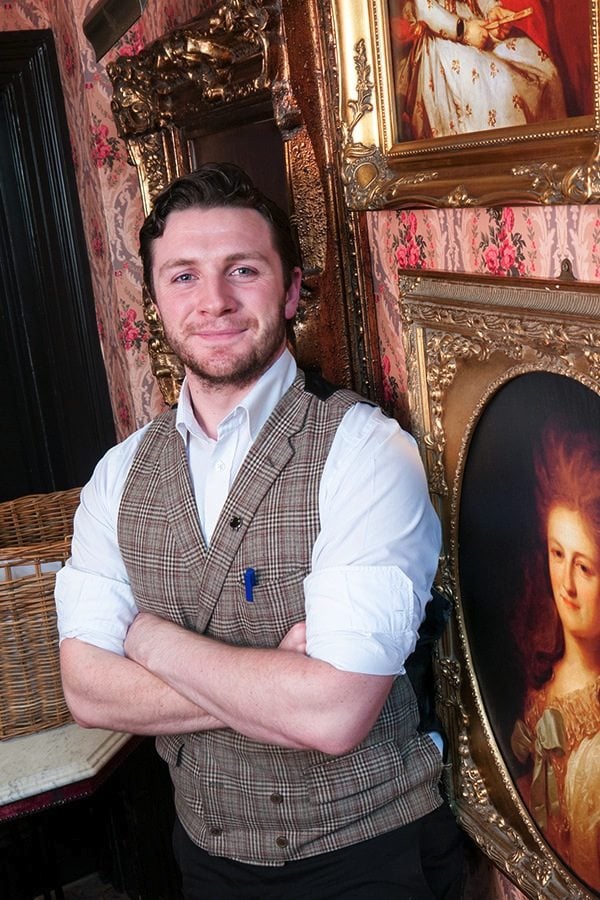 Insider Tip: If you're not sure what to order, the helpful staff will question you on your preferred flavor profile (sweet, bitter, love/hate gin, whatever….) to come up with the perfect drink, be it a hand-smoked whiskey drink or an exotic S'mores cocktail complete with a dusting of cake crumbs around the rim and mini-roasted marshmallows. Desserts are equally mind-blowing with The Snake Bite, a chocolate & Guinness tart, black currant sorbets topped with a sprinkle of chocolate soil, being the standout.
Completely, happily, stuffed to the brim, I sadly bid Grainne a fond slán (goodbye). After glancing at my watch I was astonished to learn that we had been chatting, drinking and eating for almost four hours. OMG, that meant that I only had 2 hours until my dinner rezzie at Trocadero. No way would I be hungry by then. Yet, will wonders never cease, after briskly walking back to explore Trinity College, popping into the art show at the Royal Hibernia , and finishing up with some power shopping at The Kilkenny Shop which supports Irish artisans, I have to admit that I felt the wee stirrings of a little hunger pang.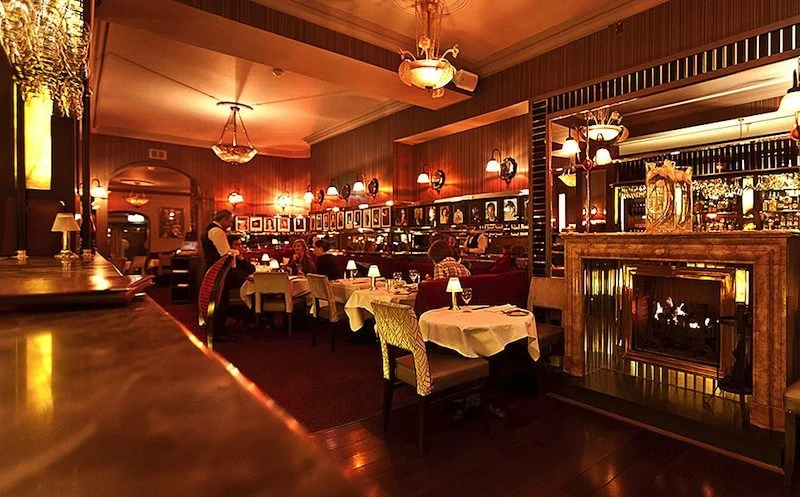 Trocadero-beloved by theater goers, actors and whatever they called foodies back when it opened over 60 years ago, Trocadero has become a veritable institution that has only improved with age.
It's warm, welcoming atmosphere (once you enter the Art-Deco, 18th century red-brick houses, you are nestled into plush banquette seating, surrounded by rich fabrics, flattering lighting , and red walls adorned with photos of the various celebs that have dined there) and stellar service ( wonderfully attentive without being invasive) is only surpassed by its food, a most welcome modern presentation of Irish classics utilizing the finest local products.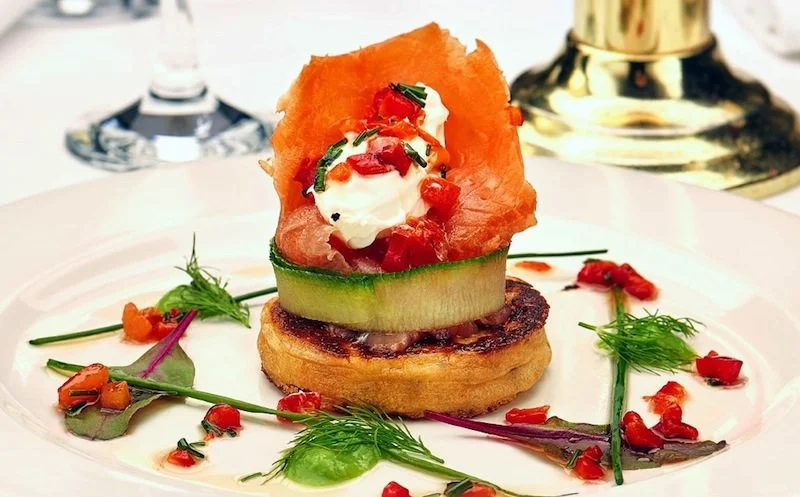 I swear that after reading the menu my stomach was actually growling, and after a quick conference with my gracious server I chose a "light" repast of a gorgeously plated beet-cured smoked salmon to begin, followed by a beautifully fresh piece of Kilmore Quay black sole with dill butter, and a little creamed spinach, perked up with a little garlic, chili and cumin. A delicate Rhubarb & Almond tart provided an excellent finish to my perfect day of eating.
Janice Nieder
Janice could be the love child of Indiana Jones and Julia Child. She was a specialty food consultant in NYC with a client list that included Tavern on the Green and Dean & Deluca. A culinary trendsetter, Janice has visited almost 100 countries searching out gastronomic adventures. She might be found sharing a smoked monkey dinner with Shuar Indians in the Amazon jungle or "running with the dogs" while truffle hunting in Marche, Italy. To keep things in balance, Janice also writes about her Girlfriend Getaways, including everything from luxurious city penthouses and Michelin starred meals to bespoke travel in remote destinations. You can follow her travels at www.janicenieder.com