A salted dark chocolate fudge is dotted with macadamia nuts for a delicious, rich combination that is not too sweet. It comes together in minutes, with only five ingredients, and satisfies your chocolate cravings.
By Marcie Bidou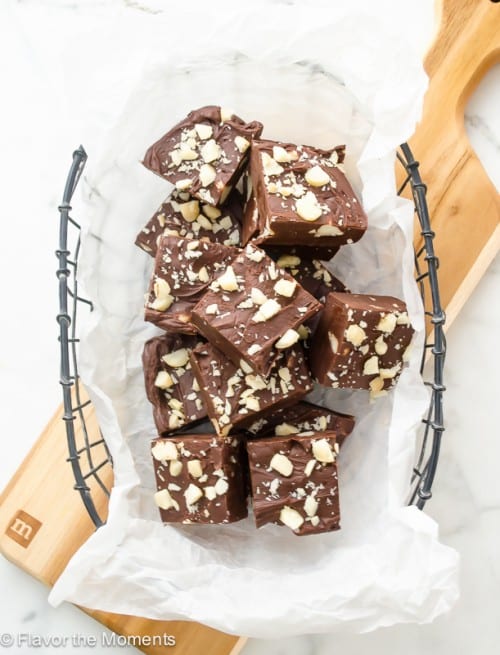 This fudge happened because of my recent trip to Maui, pure. It all started on our flight. We received a small package of chocolate covered macadamia nuts with our meal, which was light on the chocolate flavor (milk chocolate), and very light on the macadamia nuts (only 2 small ones!). I definitely didn't get my fill of the delicious combo.
Last year I created a Salted Dark Chocolate Toffee Fudge (try the recipe here). I normally find fudge to be much too sweet, but I found a happy medium by using only dark chocolate, and adding salt to balance things out. It was so good, it had to be done again, albeit a bit differently this time.
I didn't skimp on the macadamia nuts in this fudge– there's one full cup of them!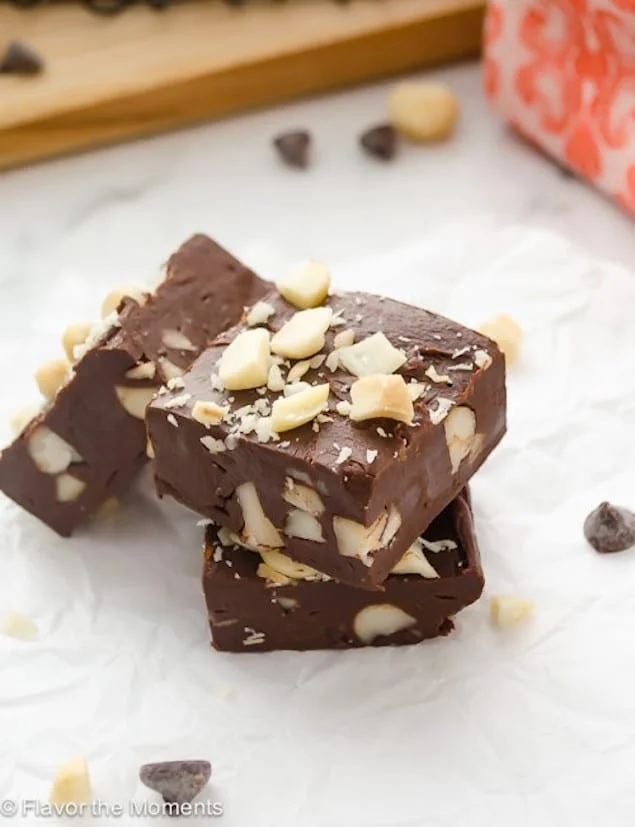 This fudge is the epitome of chocolate covered macadamia nuts but better…so much better. Dark chocolate! Loads of macadamia nuts! And it's salted!

Nutty Salted Dark Chocolate Fudge
Salted dark chocolate fudge with macadamia nuts is a rich combo, not too sweet. Make in minutes with only 5 ingredients, and satisfies chocolate cravings.
Recipe Type:
Dessert, Chocolate
Serves:
about 16 squares of fudge
Ingredients
1 tablespoon unsalted butter
(1) 14 ounce can sweetened condensed milk
(1) 11.5 ounce bag of dark chocolate chips (I used Guittard Extra Dark)
1 teaspoon flaky sea salt, plus more for garnish (I used Maldon)*
1 cup coarsely chopped macadamia nuts, divided
Instructions
Line an 8x8" baking dish with waxed paper and spray lightly with cooking spray. Set aside.
Place the butter and sweetened condensed milk in a medium saucepan. Heat over medium low heat until combined, stirring occasionally. Remove from heat and add the chocolate and teaspoon of sea salt, stirring until smooth. Add ¾ cup macadamia nuts and stir until combined. Pour the mixture into the prepared pan and spread evenly. Gently press in the remaining macadamia nuts on top, and sprinkle a bit more flaky sea salt.
Chill 2 hours or overnight until set. Once set, remove from the pan and place on a cutting board. Cut into 16 squares with a very sharp knife, and store in an airtight container in the refrigerator. Enjoy!
Notes
Maldon flaky sea salt is less potent than regular salt. If you don't have Maldon, use about ½ teaspoon regular sea salt in your fudge.
I used whole, dry toasted macadamia nuts. If you buy pre-chopped nuts, it will save you a few minutes' time.