These soft chocolate muffins are LOADED with dark chocolate chips, milk chocolate chips, and stuffed with Nutella!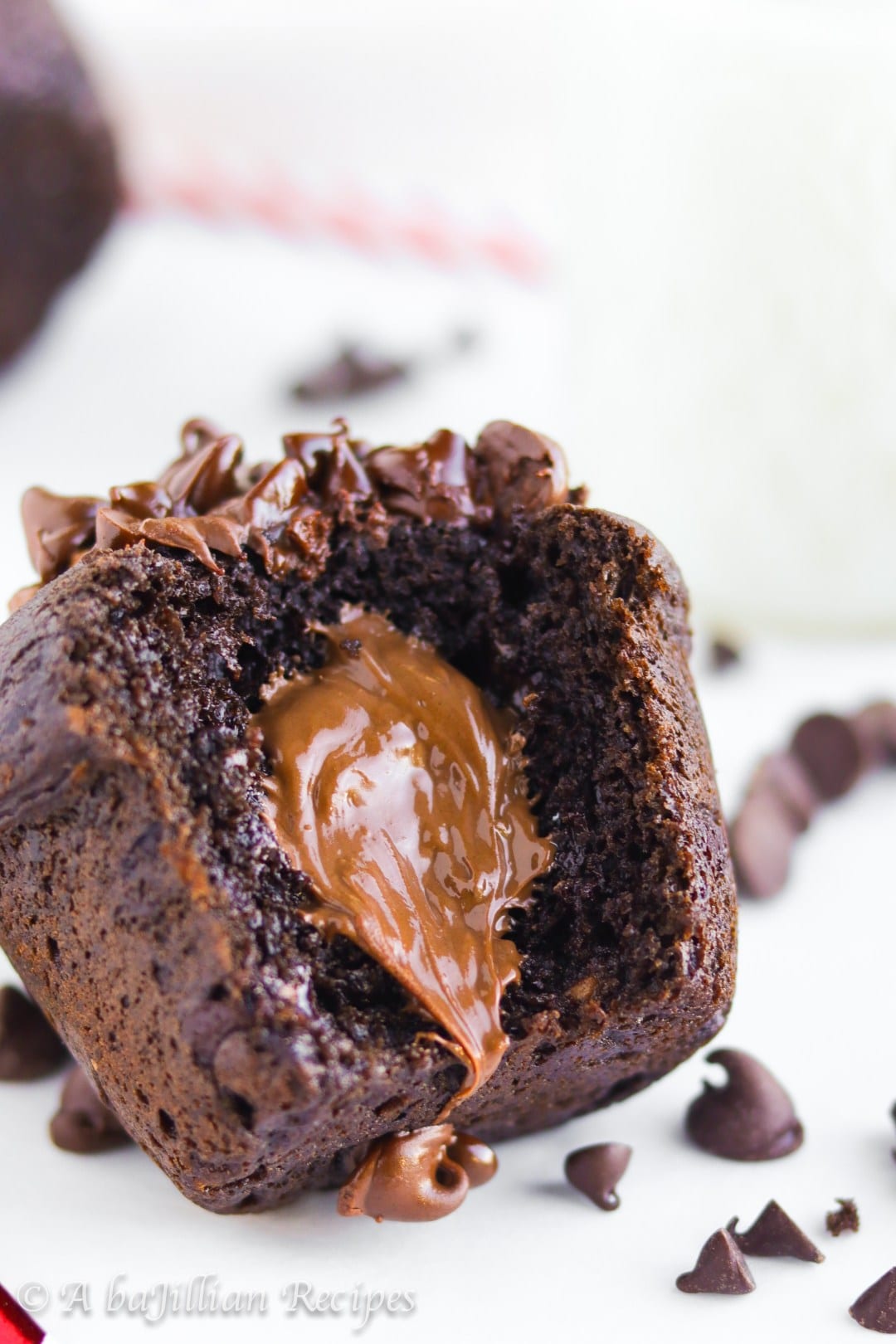 To say that these muffins are full of chocolate would be an understatement…
They're jam-packed, overflowing, and absolutely EXPLODING with chocolate.
Thus the reason why I called them Death By Chocolate Muffins rather than just Chocolate Muffins. You see, these muffins don't just have three times the chocolate. Not even four…they have FIVE times the chocolate!!!
How is this possible?
Well allow me to go into detail…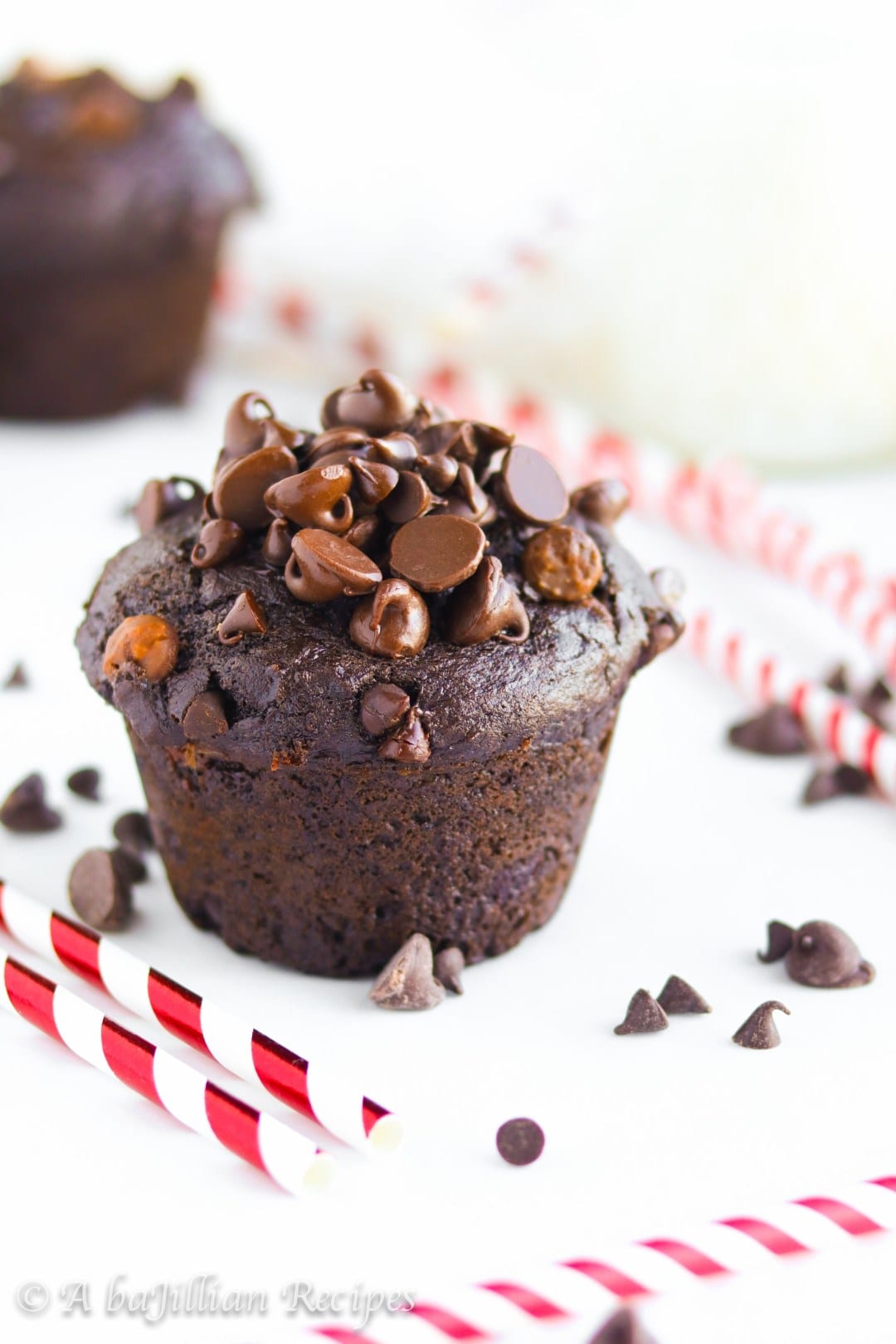 Starting with the batter itself, not only is cocoa powder added, but hot chocolate powder is added as well. The hot chocolate powder might sound like an odd or redundant ingredient to incorporate into the batter, but I just figured it couldn't hurt. If anything, it would just add more sweetness and intensify the cocoa flavor.
Another ingredient worth mentioning is the instant espresso powder. I use this ingredient almost all the time when it comes to chocolate desserts. It just adds a deeper richness to chocolate, making the overall flavor even more intense. A little goes a long way too! Only a teaspoon is added to the batter. Just enough to enhance the chocolate, yet not too much to actually notice any real coffee flavor.
Once the batter is all combined, the chocolate chips get folded in. I went with two different kinds–semi-sweet and milk chocolate. Although if you want to get technical, I used three different kinds of chips since I used both mini and regular-sized semi-sweet chocolate chips. I just like having a variety of different-sized chips in muffins. The mini chips spread throughout the batter more evenly, but the regular chips give you larger pockets of melty chocolatey goodness.
While there might be enough chocolate in the muffin batter itself, I of course couldn't help myself. I mean, if you're going to call these "Death By Chocolate Muffins" they have to be at least a little over-the-top, don't ya think?
Enter, Nutella!!!
See Also
Because why NOT stuff a dollop of Nutella into the center of an already chocolate-engorged muffin?
Sounds like the best idea ever, doesn't it?
Yes…yes, it was.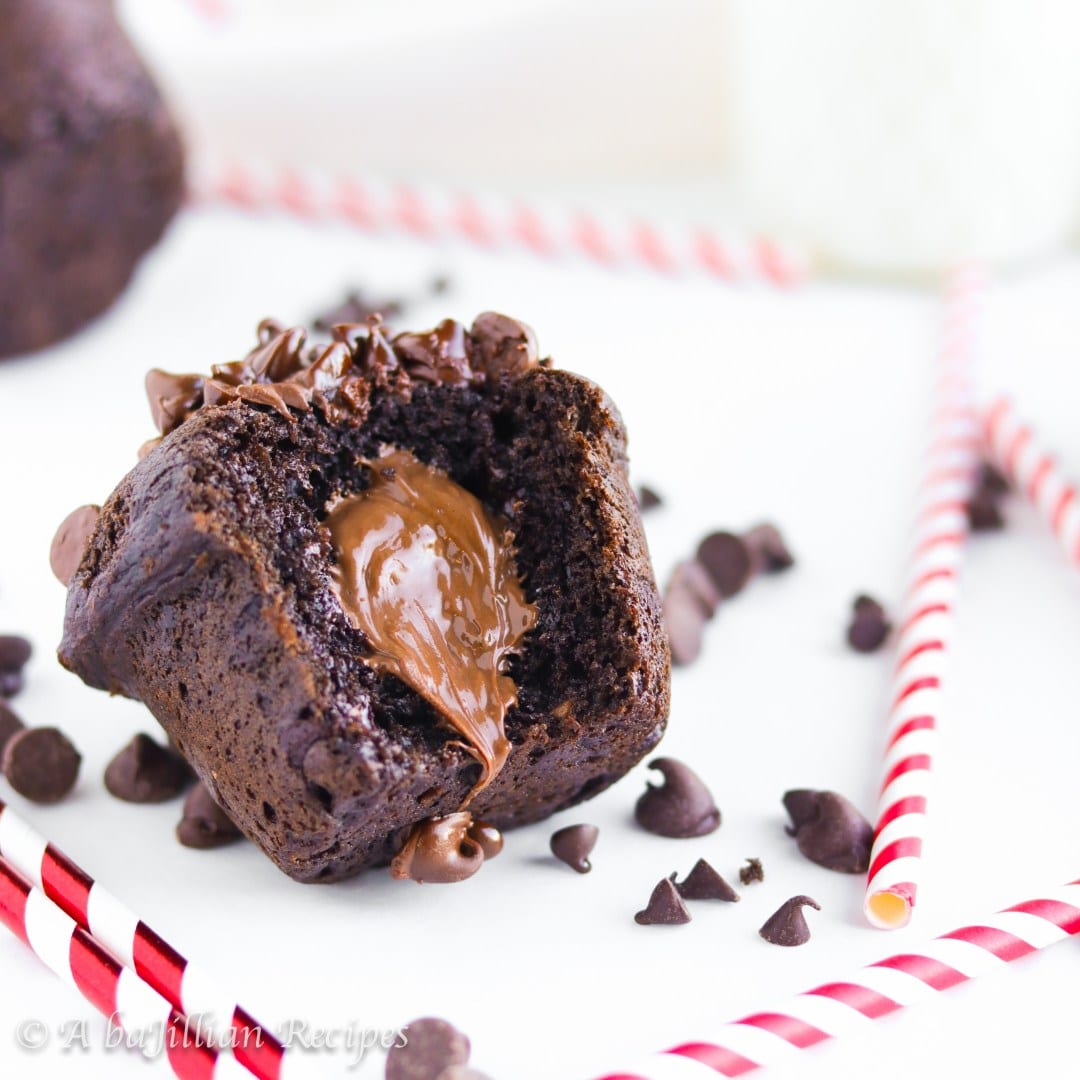 To stuff the muffins, all I did was scoop about 2 Tablespoons of the batter into the bottom of each muffin well and created a little indent in the center for the Nutella to sit in. Then I placed about 1-1/2 – 2 teaspoons of Nutella into the indent. Finally, I scooped some more batter on top and assured that the Nutella was surrounded by the batter.
For appearance purposes (but mostly because I can't get enough chocolate), I sprinkled a few more chocolate chips on top of each muffin before placing them into the oven.
Click HERE for the recipe.
Jillian Hatsumi
I'm Jillian, the writer, baker, chef, recipe creator, and amateur (very amateur) photographer of A baJillian Recipes. Though I'm not a classically trained chef, I like to think I know my way around a kitchen pretty well. Aside from baking, cooking, and EATING, I also enjoy acting, couponing (I LOVE saving money!!), running, working out, photography, and playing with my little fluffernutter, Olivia. She's a dog, if you're wondering...