Veronica Gonzales-Smith from The Muy Bueno Cookbook shares one of her secret family recipes. We say Muchas Gracias.
By Veronica Gonzales-Smith – Photo By by Jeanine Thurston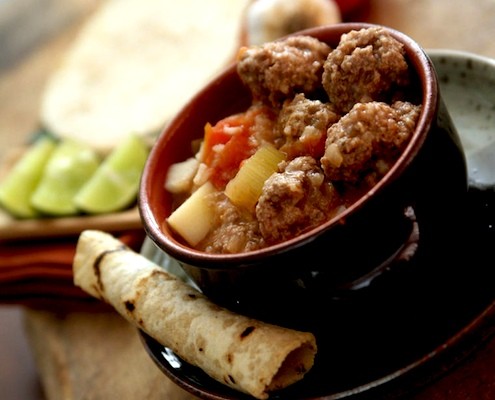 Albondigas…doesn't it sound majestic? What is an albondiga? Albondigas originated in Spain and means a spicy tomato meatball soup. In my book albondiga soup is the ultimate comfort food.
I love soup and this one has a special memory attached to it. The unique balance of fresh herbs, tomato broth and unique spices gives this recipe its delicate flavor. When my grandmother made this soup I remember staring at the vibrant red specks of the safflower in the broth and wondered what they were. We had a lot of soup growing up and my grandmother and mother always made sure it was kid friendly. Beautiful bowls of homemade salsa always graced the table and adults took the liberty of adding spice to their individual bowl of albondiga soup.
My fondest memory is that of my grandmother rolling out the miniature and perfectly sized meatballs. I always wondered how she managed to make every meatball the exact same size and with such ease. Kids think of the quirkiest things.
The essence of the spice in this soup comes from an exotic trio of fresh cilantro, crushed coriander, and whole safflower petals. When I make this soup I am flooded with memories of being in my grandmother's kitchen and being that little kid again.
Makes 6-8 servings
Ingredients
1 lb ground beef
1 teaspoon garlic powder
1 teaspoon salt
1 teaspoon peppercorns, crushed
2 tablespoons masa harina
1 cup onions, diced and divided
¼ cup long grained rice, divided
7 cups water
32 ounces chicken broth
4 garlic cloves, minced
1 tablespoon olive oil
2 roma tomatoes, diced
3 large tomatoes, roasted and blended
2 small russet potatoes, cubed
1 large carrot, peeled and diced
2 celery stalks, chopped
¼ teaspoon coriander, crushed
3 tablespoons cilantro, chopped
¼ teaspoon whole safflower
Directions
In a large mixing bowl combine ground beef with garlic powder, salt, crushed peppecorns, 2 tablespoons of onions, masa harina, and 1/8 cup of rice. Mix all ingredients together and roll out about 36-40 1-inch meatballs.
See Also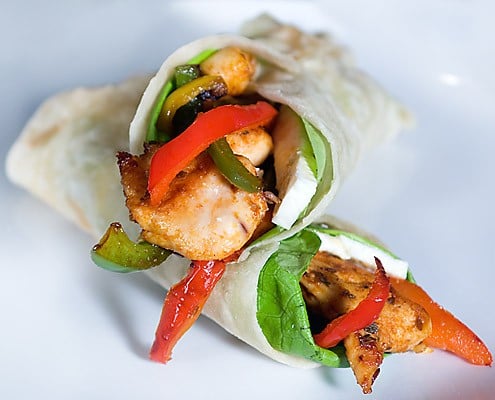 Arrange three tomatoes on a baking sheet. Place your oven rack as close to the broiler as possible. Broil the tomatoes for about 20 minutes until softened, turning over after 10 minutes. If the skin has blackened remove it. In a blender or food processor, puree the tomatoes until smooth. Set aside.
In a large pot boil water, chicken broth, and minced garlic. Lower heat to medium and carefully add meatballs to the liquid. Cook meatballs for about 10-15 minutes or until the meatballs float to the surface and lower heat to simmer.
In a medium skillet sauté the remaining onions and diced roma tomatoes in olive oil.
To the pot of broth add the sautéed onions, tomatoes, fresh tomato sauce, remaining rice, potatoes, carrots, celery, coriander, cilantro, and safflower.
Cook over medium heat for an additional 30 minutes. Ladle soup with about 5 albondigas per bowl. Garnish with cilantro sprigs, lime wedges, and serve with warn corn tortillas. If you would like your soup spicy add a spoonful of your favorite homemade salsa.
Veronica Gonzales-Smith
Texas native Veronica Gonzalez-Smith resides in Los Angeles, where she is one of the creators (the others being her sister and her mother) behind The Muy Bueno Cookbook blog and the upcoming family cookbook Muy Bueno: Three-Generations of Authentic Mexican Flavor.