This yeast bread isn't overwhelmingly pumpkiny or sweet, but the seasonal ingredient does keep the loaf moist and tender.
By Swathi Iyer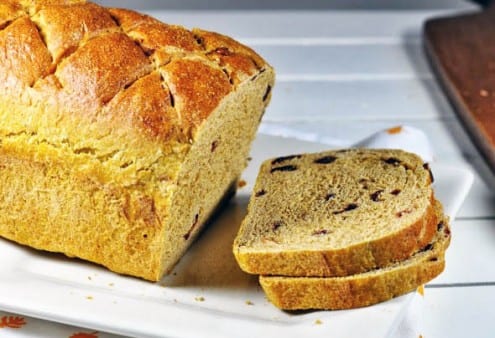 Print
Multigrain Pumpkin Cranberry Bread
This yeast bread isn't overwhelmingly pumpkiny or sweet, but the seasonal ingredient does keep the loaf moist and tender.
Author:

Swathi Iyer

Prep Time:

15 mins

Cook Time:

4 hours

Total Time:

4 hours 15 mins

Category:

Baking
1 cup

/ 160g bread flour

½ cup

/79g rye flour

2 cup

/300g white whole wheat flour

11/4 teaspoon

/6g instant yeast

1/2 teaspoon

cinnamon

1/4teaspoon

ground ginger

1 1/2 teaspoon

/10g salt

1 cup

Canned pumpkin puree

1 tablespoon

/15g brown sugar

2tablespoon

/17g olive oil

1/2cup

/77g sweetened cranberries

½ cup

butter milk ( you can make your own by adding

½ tablespoon

vinegar in

½ cup

milk and stand for 5 minutes)

2tablespoon

water
Instructions
In the bowl of kitchen aid stand mixer attached with paddle attachment add yeast, rye, bread and white whole wheat flour mixture, buttermilk, pumpkin, sugar, salt and rest of ingredients and mix everything for 3 minutes. Then add cranberries and mix very well to incorporate into the dough. Then change to dough hook and knead the dough for about 8 minutes or until the dough starts leaves from the sides and form a ball. Then transfer the dough to well floured area and knead for another 5 minutes or until they become shiny, supple, non sticky dough. The dough should pass the window pane test and register 77 to 81 F. If you are kneading by hand it takes about 15 minutes of kneading.
Place the dough in a lightly greased bowl, cover the bowl, and allow it to rise till it's expanded and looks somewhat puffy, about 90 minutes.
Lightly grease a 9x4x3, 1.5 lb. commercial loaf pan Transfer the dough into a board and gently shape the dough into a smooth log, and settle it into the pan, smooth side up.
Cover the pan with lightly greased plastic wrap, and allow the loaf to rise till it's crowned over the rim of the pan by about 3/4?, about 90 minutes. Don't let it rise too high; it'll continue to rise as it bakes. Towards the end of the rising time, preheat the oven to 350°F. When you are ready for baking the score the bread and lightly apply the egg wash on the loaf so that you get shiny color after baking.
Bake the bread for 60 minutes. Lightly tent it with aluminum foil, and bake for an additional15 minutes, or until the center registers 200F on an instant-read thermometer. Remove it from the oven, and turn it out of the pan onto a rack.
Slice and serve when the bread cools down to room temperature.
Swathi Iyer
Swathi ( Ambujom Saraswathy) loves to explore cuisines from all over the world, and write about the ones that she and her family enjoyed on her blog Zesty South Indian kitchen. She loves to gives an Indian touch to several of the world cuisine, and has weakness for freshly baked bread. She is also a mom to two wonderful young kids who gives a up or down vote to the food she creates.