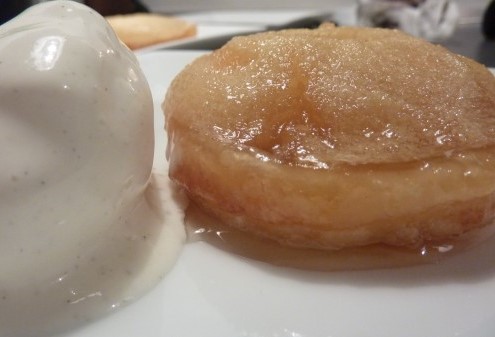 Author:
Brian Lambæk Hansen
Ingredients
4 apples
3 cups (600g) of sugar
7 oz (200ml) apple juice
A little butter
A little cream
A little apple vinegar
Olive oil
1 star anise
A little rosemary
Two sheets of puff pastry
Other
Instructions
Baked apple
Brown 2 / 3 of the sugar in a saucepan and then add juice, star anise and rosemary and simmer until the consistency is like molasses.
Peel apples and cut a large slice that fits into the ramekins. Let the center of the apple sit, as this helps to keep the shape of the apple during cooking.
Put apples in a roasting pan and pour the syrup over (even better - use sous know bags and a bath!)
Place in a 285°F (140°C) degrees oven and pour syrup over the apples regularly.
Bake for a little hour or until well cooked. Set aside.
Apple Puree
Meanwhile, cut the rest of the apples (cored) finely and steam with a little apple vinegar, until tender (in casserole with cling film on top) – add a little water if it dries out
Blend the apples, while adding a dash of olive oil until the right texture and taste
Caramel Mass
Brown the rest of the sugar
Add a little butter and cream
Let simmer on low heat until a suitable consistency is reached
Assembly
Remove the centre from the baked apples
Add a little caramel mass in the bottom of ramekins
Place apple in ramekins with cut surface facing up
Fill the hole from the core of apple with the puree
Cut the puff pastry to fit the ramekins and place as lid
Bake for approx. 14 minutes at 355°F (180°C) or until the pastry is crisp
Serving
Remove pie from ramekin and place on plate (pastry down)
Pour over the rest of the caramel.
Serve with vanilla ice cream or Crème Chantilly