Kristina Wiley makes a batch of Cook's Illustrated oven baked fries with a deep fried fries drool factor.
Text And Photo By Kristina Wiley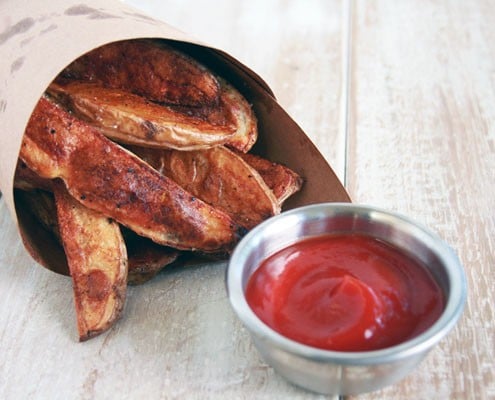 Hello new favorite side dish! Oven baked fries normally don't have the drool factor that deep fried fries have, do they? Well, these fries are different, friends! These fries are crisp and salty and well, wonderful. The hubs couldn't get over the fact that I made them in the oven. "These really aren't fried?!"
Nope. They are oven baked. Yes, Oven. Baked.
You know what the best thing about oven baked fries? They are uber healthy and you can eat twice as many. Okay, that's just what I tell myself! YOU try eating only one serving of these. I challenge you!
Memorial Day is here and these fries make an excellent side dish to go with your grilled burgers or hot dogs! But let's face it, you definitely don't need a holiday as an excuse to make these! We made them twice this week. Just keepin' it real! They were THAT good.
Now, go on, get out of here! Go to the store, pick up some potatoes, and hurry up and make these already!
Happy Memorial Day!
Print
Crispy Oven Baked Fries
Crispy Oven Baked Fries prepared with a method developed by the infamous Cook's Illustrated
Author:

Kristina Wiley, Adapted From Cook's Illustrated

Prep Time:

15 mins

Cook Time:

40 mins

Total Time:

55 minutes
3

medium sized russet or idaho potatoes (roughly

24 oz

total), peeled and sliced into wedges

5 tablespoons

canola oil, divided

1 1/2 teaspoons

salt

1/4 teaspoon

black pepper
Instructions
Preheat oven to 475º. Place evenly sliced potato wedges into a large bowl and cover with hot water. Allow to sit for at least 10 minutes.
Evenly coat a large baking sheet with 4 tablespoons of the canola oil and set aside. Drain potatoes and place in one even layer on a kitchen towel. Using another towel (or paper towels), blot the potatoes dry. Dry out bowl as well. Place potatoes back into the bowl and add the remaining tablespoon of canola oil along with the salt and pepper. Using your hands, toss the potatoes until coated with the oil, salt, and pepper.
Arrange the wedges in a single layer onto the prepared baking sheet (being sure that they do not overlap). Cover with foil and bake for 5 minutes. Remove the foil and continue to bake until potatoes begin to turn golden brown and start to crisp up (15-20 minutes). Using tongs, flip each potato wedge over and continue to bake for an additional 10-15 minutes until they are a nice golden brown and are crisp.
Transfer fries to a paper towel lined plate to allow excess oil to drain off. Season with additional salt & pepper if desired and serve.
Kristina Wiley
Kristina Wiley is the South Florida blogger behind the blog My Life as a Mrs. She is passionate about food, entertaining, and life. She writes about cooking as a joy that can be used to bring friends and family back together around the dinner table; be it quick and easy weeknight meals or full on multi course dinner parties.