The best part of making a bbq dry rub yourself is that you can control the ingredients that go into it and make it taste the way you like.
By Pamela Braun
Labor Day Weekend is upon us and that means the official barbecue season is coming to a close. Put together this homemade dry rub and your grill can go out with a bang.
If you've never fired up your grill before, what have you been waiting for? Cooking on an open flame grill isn't that much different than cooking on a gas stove. Okay it's a little bit different, but totally manageable. Mastering the grill is something your guy will sort of love. I say sort of, because guys really love their grills (in their minds: women cook and men grill). But won't he be surprised when you serve up a delicious tasting cut of meat you cooked yourself on the grill once in a while?
But let's say you don't have a grill, or really have an aversion to the flame spewing monster. Have no fear…that's where the bbq dry rub comes in handy. A barbecue rub is something that adds lots of flavor to meat or fish as well as adds a nice crunchy texture to the exterior.
A dry rub can be added to meats that are grilled, get a pan sear or even go into the oven for a long slow braise. Whatever the cooking method, a dry rub will give your meat that bbq flavor.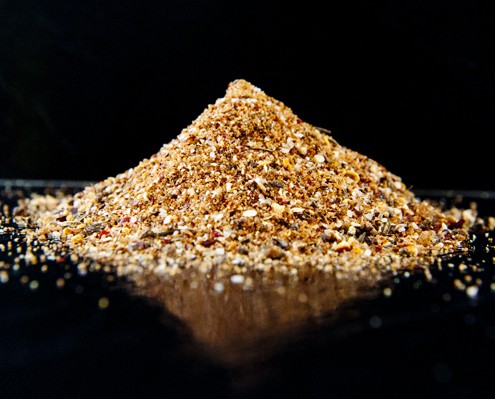 A bbq dry rub gets massaged into meat, seafood (dry rubs should be sprinkled onto seafood and not rubbed), winged animal or vegetables either immediately before cooking or a few hours before grilling or cooking. A barbecue rub is similar to any packaged seasoning mix that you might use to make ramen noodles taste better, add more flavor to a low sodium dish or to make tacos taste like tacos. But the best part of making a bbq dry rub yourself is that you can control the ingredients that go into it and make it taste the way you like.
Remember, dry rubs do not add subtle flavor they have big intense flavors that you experience as soon as you bite into the meat. The amount of flavor that gets into the meat is determined by the amount of time the dry rub is allowed contact with the meat before cooking. Because there is some salt in the barbecue rub,there may be a small amount of water that is pulled out of the meat, especially if the rub is applied to the meat and refrigerated overnight, but you won't lose enough moisture to affect the juiciness of the cooked meat. This barbecue rub recipe will give your meat great flavor and keep everything juicy.

Labor Day Barbecue: The BBQ Dry Rub
A Labor Day barbecue rub recipe for pork, beef, chicken or fish.
Ingredients
1 Teaspoon (4.745 grams) Coriander (toasted)
1 Teaspoon Cumin (4.745 grams) (toasted)
1 Tablespoon (14.235 grams) Dried Chopped Onion
1 Teaspoon (4.745 grams) Whole Black Peppercorn
2 Teaspoons (9.49 grams) Celery Seed
2 Whole Dried Guajillo Peppers (stem removed)
2 Teaspoons (9.49 grams) Kosher Salt
1 Teaspoon (4.745 grams) Smoked Salt (I used black Hawaiian smoked salt)
2 Teaspoons (9.49 grams) Sweet Paprika
2 Teaspoons (9.49 grams) Garlic Powder
1½ Teaspoons (7.12 grams) Mustard Powder
1 Teaspoon (4.745 grams) Dried Thyme
1½ Tablespoons (21.353 grams) Dried Lemon Peel
2 Tablespoons (28.47 grams) Brown Sugar
Instructions
Toss the coriander and cumin seeds into a small dry pan. Over medium high heat toast the seeds until you begin to smell a slightly nutty aroma and they begin to brown. Remove from heat.
In a spice grinder (or coffee grinder used only for grinding spices) add the cumin and coriander seeds and grind until fine.
Pour ground spices into a container.
Add the dried onion, peppercorns and celery seed to the grinder and process into a fine powder. Add to the container of other ground spices.
Tear the guajillo peppers into pieces and add to the grinder. Process into very small pieces. Pour pulverized peppers into container with other spices.
Add remaining ingredients to container and stir to thoroughly combine all ingredients.
Use 1 to 2 Tablespoons (14.235 - 28.47 grams) of rub per 1 pound (.454 kg) of meat.
You can use this rub on chicken, pork or beef.
I generally let the rub sit on the meat for 1 - 4 hours (in the refrigerator) before cooking.
Notes
Once you get familiar with how flavors taste together you can mix up your own combinations of spices and seasonings.
Pamela Braun
Pamela writes the blog My Man's Belly to help women get the upper hand in the dating world. You can be a saint on the street & a sinner in the bed, put up with his friends and rock six inch stilettos like a pro. But if you can cook, you've got the entire package. If you can chew gum and walk at the same time, you can cook. After all, the best way to a man's heart is still through his stomach.