[adrotate banner="44"]
A twist on the popular Patatas Bravas and aioli with crispy roasted potatoes instead of fried potatoes.
By
Shannon Lim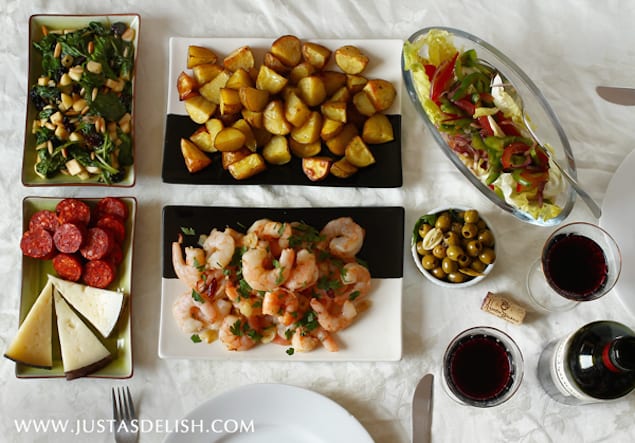 When hosting a dinner party, who does not want to prepare a simple meal with little planning and yet look impressive? Definitely me! I'm still dreaming about Spanish cuisine and my vacation.. hence a tapas party. Hosting a Spanish tapas feast is a fun way to let your family or guests mingle and "graze". If you love Spanish tapas; have had plenty of these small appetizers on your travels or in local restaurants, don't be intimidated by the number of dishes to prep.
A tapas party is actually pretty easy to throw together. Tapas are Spain's appetizers and are eaten anytime of the day or night. Most of the dishes can be prepared earlier and kept chilled until ready to serve. Making bigger portions of these tapas can make a meal on their own.
Choosing Dishes
It's important to serve a variety of hot and cold dishes, as well as different flavors and textures – from crunchy or soft to salty or marinated.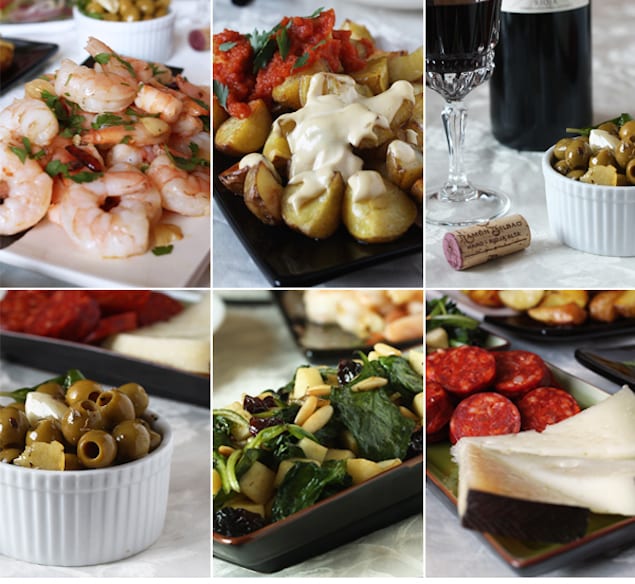 Choosing 3 cold tapas that only need slicing or to be arranged on a serving dish will minimise preparation time.
– Assorted Spanish cheese
– Assorted Spanish cured meats
– Marinated olives (store bought or make your own in just 5 minutes)
– Marinated anchovies
– Stuffed roasted red peppers (store bought or stuff plain peppers yourself with tuna or anchovies)
– Salad dressed in vinegar and olive oil (simple green salad is always served on a Spanish table)
For the hot dishes, I chose 2 very popular tapas – Patatas 2 ways (potatoes in brava sauce and allioli) and Gambas al Ajillo (garlic shrimp). I added a side dish of Catalan style spinach. These 3 dishes are quick and easy. Other great tapas dishes:
– Grilled Prawns / Squid / Sardines
– Croquettes
– Fried Padrón peppers
– Spanish Omelette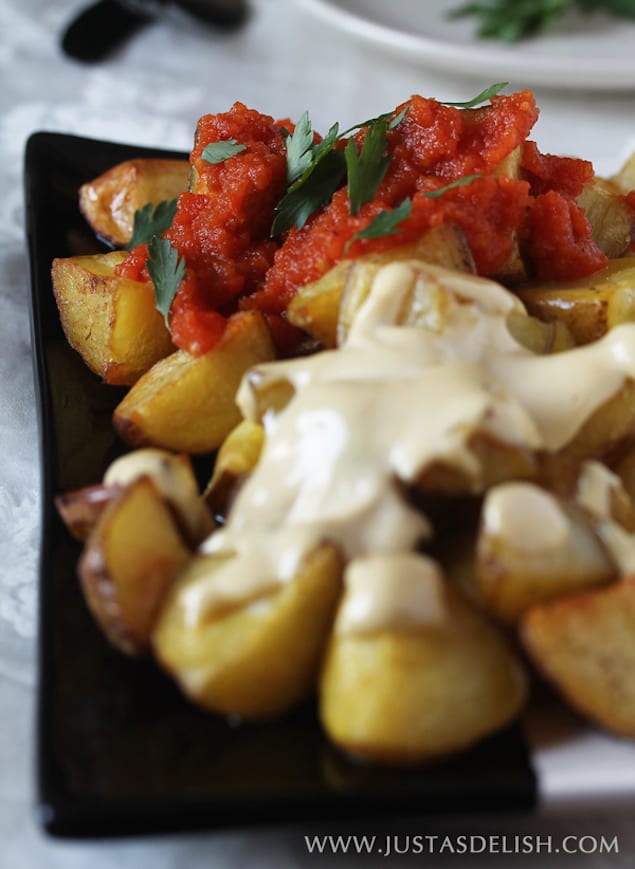 Preparation
I nailed 3 hot dishes within one hour and the cold dishes just need to be arranged on the serving dish. Instead of the traditional recipe of frying potatoes, I roast them instead. To make the potato crispy, I learnt the trick to steam the potatoes till fork tender, then roast them on pre-heated the baking tray with olive oil. While the potatoes are steaming, cook tomato sauce for 10 mins. Make allioli and prepare salad. After potatoes are ready, place them onto hot tray, bake for 10mins and flip them over for another 10mins. Cook the shrimp and spinach just before serving dinner as they only take 5-10mins each.
See Also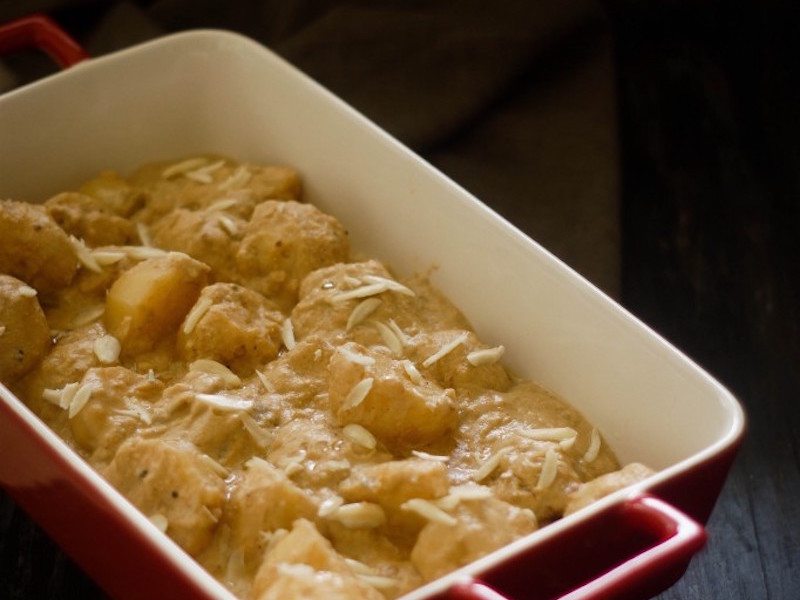 Serving
Cold dishes can be served first while the guests chat and later add the 3 hot dishes, or serve them all at once when everyone is seated.
To Complete the Meal
In Spain, wine is commonly served at midday meal, dinner and while tasting tapas at bars. Spanish wine has become very popular around the world in the last 15 years, so finding a bottle of good quality, reasonably-priced Spanish wine, especially from Rioja, should be an easy task and no Spanish meal is complete without it. Rioja is the richest region in production of "food" wines in Spain, with a unique personality and an exceptional aptitude for aging.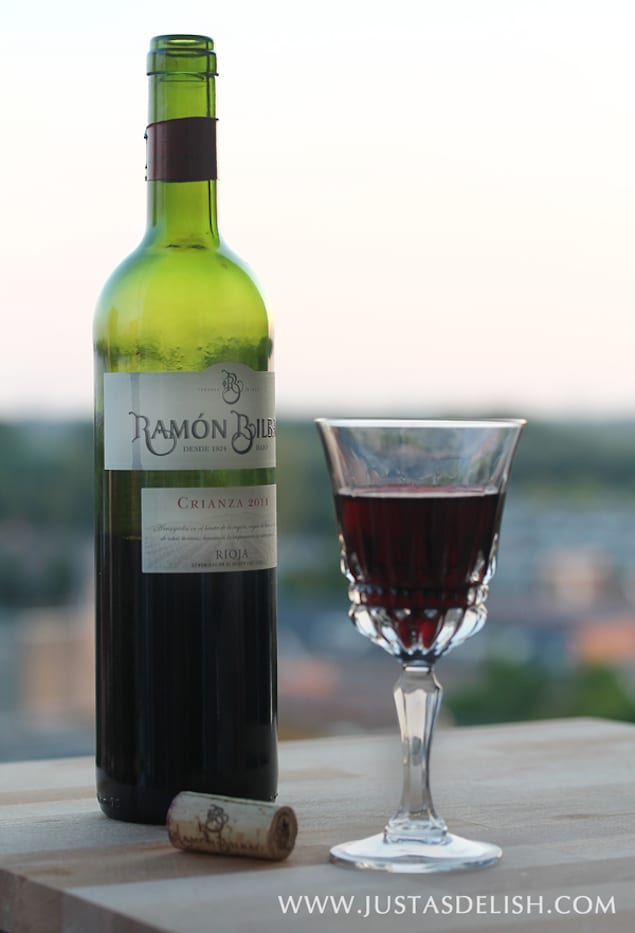 Like most people, I don't know much about which wine to choose and am quite intimidated when buying wine. The beauty of Rioja wines is that they pair well with everything from fish to veggies to meats and cheeses, are an excellent choice for a day-to-day wine. So you don't have to worry over what type of wine to get when you serve a bunch of different dishes ranging from fish to meats. The Crianza (young) red wine from Rioja that I chose was a great choice because it complimented all the tastes and textures of our tapas feast perfectly. I'm sure you'll be as delighted as I was, to discover that many good quality Rioja wines are at exceptional prices.
Print
A Match Made in Heaven — Patatas Bravas and Aioli Tapas
A twist to the popular Patatas Bravas and aioli – Crispy Roasted Potatoes instead of Fried Potatoes
Author:

Shannon Lim

Yield:

6

1

x
Category:

Appetizer

Cuisine:

Spanish
Roast Potatoes
4 tablespoon

Extra Virgin Olive Oil

1

kg Potatoes – scrubbed and cut into

2

-inch cubes
Salt to taste

½ teaspoon

Pimentón (Sweet Paprika)
Brava sauce
4

large ripe Tomatoes – skin removed, deseeded and chopped

2 tablespoon

Extra Virgin Olive Oil

1

Bay Leaf

½ teaspoon

Pimentón (Spanish Sweet Paprika)

1

Dried Bird's Eye Chili or

½ teaspoon

Cayenne Pepper

1 teaspoon

Balsamic Vinegar
Salt to taste
Allioli
1

Egg Yolk

4

cloves Roasted Garlic (or

2

clove Garlic)
Pinch of Salt

½ teaspoon

Lemon Juice

1 cup

(250ml) Extra Virgin Olive Oil
Instructions
Steam potatoes for about 15mins, until fork tender, don't overcook it. If you don't have a steamer, boil potatoes until fork tender.
Meanwhile, pour olive oil onto a baking tray and place into the oven to pre-heat it to 250C (500F).
To prepare tomato sauce, slit tomato skin like a cross and drop into a pot boiling water for 1 min. Peel off the skin, remove the seeds and blend them in a food processor.
Heat 2 tablespoons of olive oil into a small pan over medium heat. Add the tomato, sugar, bay leaf, pimentón and cayenne. Cook until the mixture reduces by ¼ and becomes a deep red color, about 10 minutes. Remove from the heat, add the vinegar, season to taste with salt and set aside.
To make the allioli, place garlic, egg yolk, salt and lemon juice in the container and blend with handheld blender. Drip olive oil in a very slow and steady stream, while keeping the blender running. It will turn into a thick paste initially, make sure the paste incorporate the olive oil as you go before adding more oil.
Continue adding the oil slowly until you have the consistency of a very thick mayonnaise. If your allioli gets too thick, add a little water, about ½ teaspoon to thin it out. This takes about 5-10 minutes.
After the potatoes are steamed, carefully removed the heated baking tray and transfer the potatoes onto the tray. You will hear a sizzling sounds when the potatoes touch the tray, be careful as the oil might splatter a little. Roast potatoes for 15mins, then remove to flip over the potatoes onto a different side and roast for another 10mins. This method will give you golden crispy and soft potatoes.
To serve, sprinkle paprika over the potatoes, Serve half with warm tomato sauce garnished with parsley and the other half with dollops of allioli.
Notes
Tomato sauce and allioli can be kept in refrigerator, tightly covered, for two days.

[adrotate banner="43″]
Shannon Lim-de Rooy
Shannon's kitchen is her playground and creative outlet, where she loves to experiment with recipes. As a Malaysian, her food influences are mainly Malay, Chinese and Indian cuisine but her curiousity in other culture lead to cross cultural cooking. On her blog JustAsDelish.com, she pursue her mission in creating healthy and delish food.