Said to have been invented by Antoine's Restaurant in New Orleans in 1840, this classic oysters Rockefeller recipes is rich and one of our favorite seafood dishes.
Jules Alciatore, the inventor of Oysters Rockefeller is said to have requested his orignal recipe stay secret forever. Read more at What's Cooking America. For this reason, the "real recipe" is not known. There are so many different versions of this dish, so we decided to try 2 different versions. I love researching antique recipes! It is fascinating to discover the history of our favorite foods.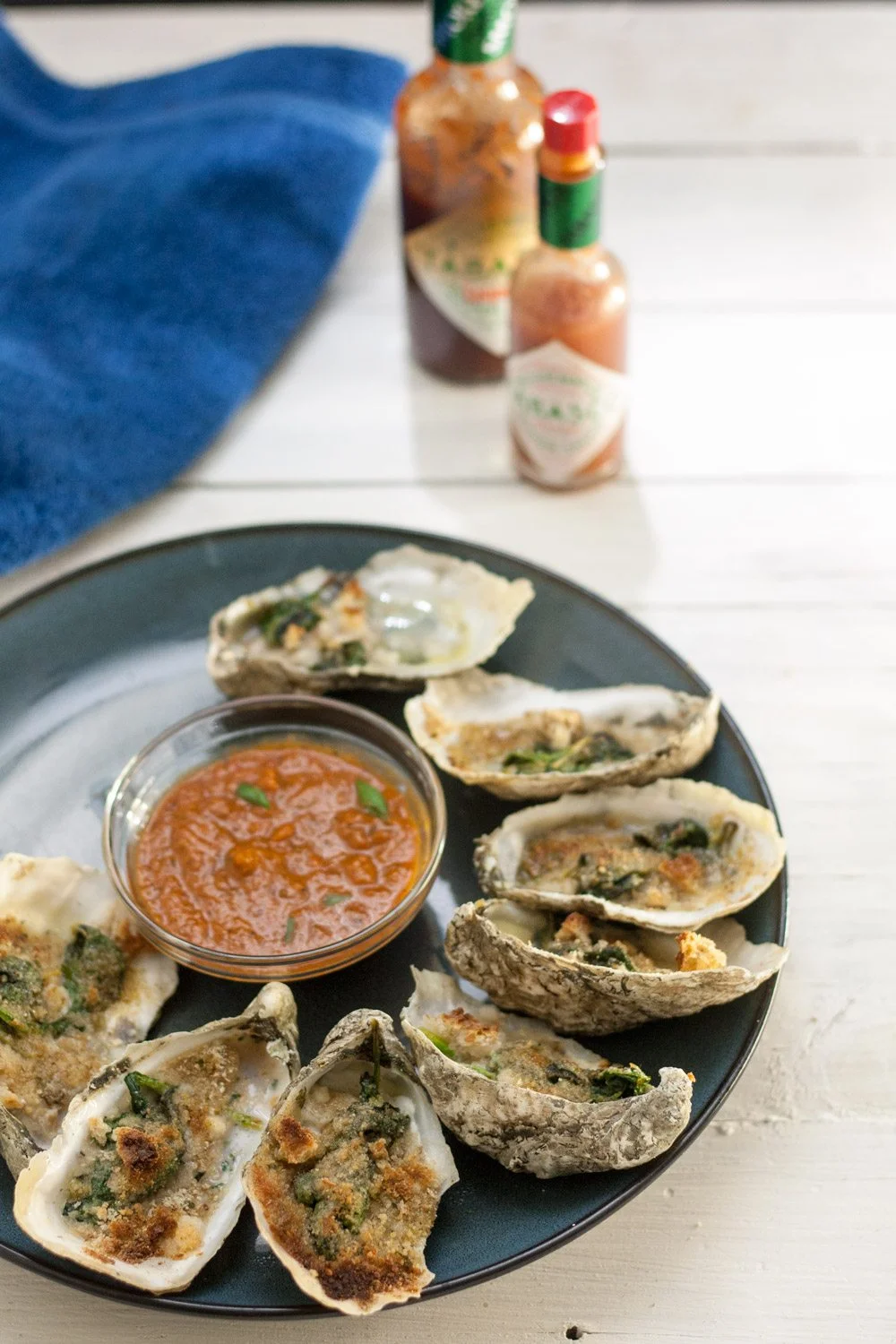 Oysters are a new-found love for my family. None of us have ever had them. Why? I can not imagine. We love seafood of all shape and color, like these Strawberry Infused Scallops. They really are simply divine! Tender and juicy! When researching an Oysters Rockefeller Recipe we came across a video with Scott Conant from The Grand Central Oyster bar in New York City who are famous for their Oysters Rockefeller Recipe. This version had a white wine cream mixed with the spinach and Hollandaise sauce on the top! Always looking for excuse to eat Hollandaise sauce, we opted for this version!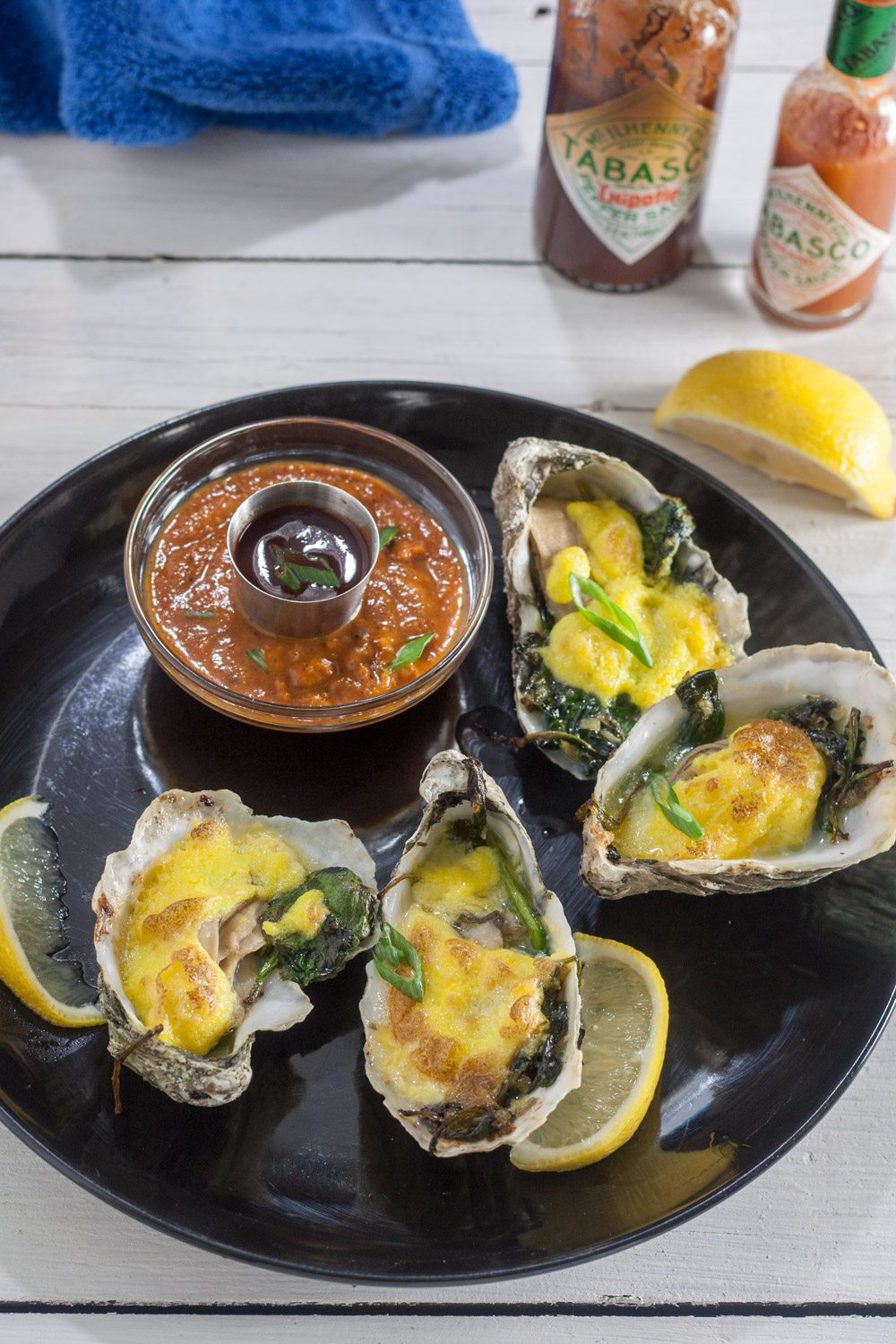 This version, we just used bread crumbs and parmesan cheese. Both were very good because the oysters are so good. Of course, we preferred the ones with the Hollandaise! Big surprise, right?
Click here for my homemade hollandaise recipe.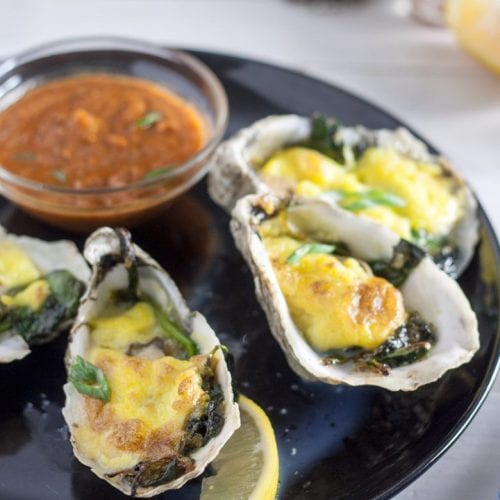 How to Make Oysters Rockefeller
Beth Neels
Ingredients
For Oysters
12

oysters

we use Barrier Island Oysters
For Spinach Layer
2

tsp

olive oil

3

Tbsp

shallot

minced

2

cloves

garlic

minced

6

oz

baby spinach leaves

washed and dried
Hollandaise Sauce
Click the link above for the recipe.
Instructions
For Oysters
Shuck oysters and remove the small shell (lid) and discard. Remove oyster from shell, set aside.
For Spinach Layer
Add oil to large sauté pan, over medium heat. Add onion to soften. Add garlic and sauté another few minutes, until they soften.

Add spinach all at once. Let it wilt for about 30 seconds and then turn over with spatula. Continue cooking and turning until just wilted. Remove from heat, set aside.
For oysters
Preheat oven to high broil. Lay about 1 heaping tablespoon spinach mixture on the bottom oyster shell. Then lay 1 oyster one top of each. Continue with Hollandaise.
For Hollandaise Sauce
Click the link above for the recipe.