Loaded Baked Potato Skins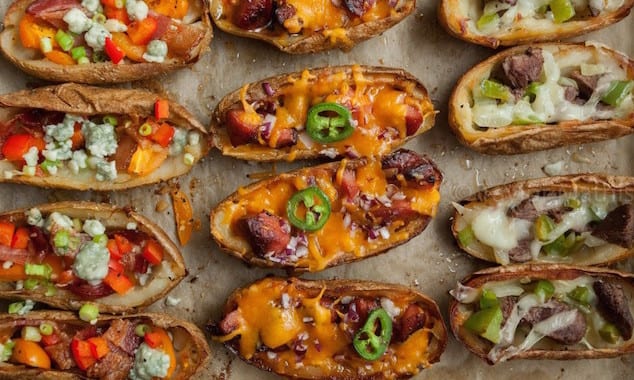 Filled with delicious flavors, these loaded potato skins are the life of the party. Crispy skin on the outside and a customizable combination on the inside.
By Taylor Mathis and Sally James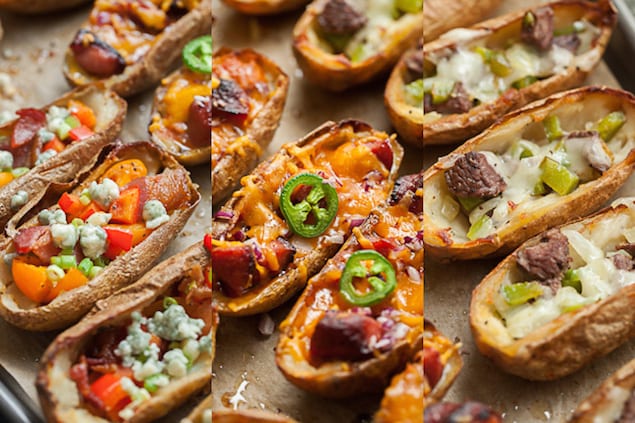 I am a fan of Stuffed Potato Skins. Bring them to a gathering and you become everyone's new BFF. Serve them at the pre-game tailgate to get your friends fueled up and fired up for the game.
Making your own Potato Skins at home is a pretty straight forward process. Just grab some good quality Russet potatoes (firm, no blemishes or roots growing, no green spots) and fire up a reliable heat source. The fun begins when you start to customize this recipe to suit your tastes and preferences. Flavor the butter or substitute your favorite oil. Dunk Potato Skins straight up into a spicy and/or creamy dipping sauce. Stuff them to the brim with all manner of fresh ingredients and cheesy, bacon-like toppings. You can even augment the scooped out potato flesh with cream, seasonings, and fresh herbs and fill the skins for an elegant version of twice baked potatoes! What is your favorite way to stuff a Potato Skin?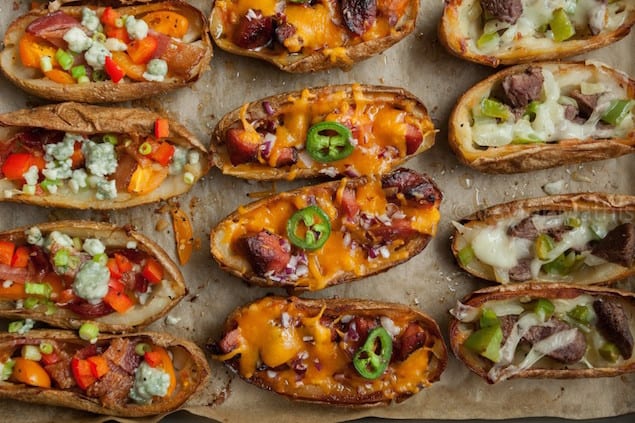 Check out the video to make the potatoes here.

Loaded Baked Potato Skins
Filled with delicious flavors, these loaded potato skins are the life of the party. Crispy skin on the outside and a customizable combination on the inside.
Author:
Taylor Mathis and Sally James
Recipe Type:
Appetizer, Side
Ingredients
12 medium Russet potatoes (about 5 pounds)
8 Tablespoons unsalted butter
½ teaspoon salt
¼ teaspoon fresh cracked black pepper (or use coarse ground pepper)
Assorted Toppings:
Chili Cheese Dog (chili, butter cooked hot dogs, cheddar cheese, red onions, jalapeño)
Steak and Pepper (rare cooked steak, sautéed onions and green peppers, provolone cheese)
Bacon Blue and Grape Tomato (cooked bacon, blue cheese, seasoned yellow and red grape tomato halves, red bell pepper and scallions)
Instructions
Preheat the oven to 400 degrees. Wash and dry potatoes. Prick each potato in several places with a fork or tip of a paring knife. Put the potatoes on a baking sheet fitted with a wire rack or directly onto an oven rack that is in the center of the oven. Bake potatoes for 55 to 75 minutes or until they are soft when gently squeezed. Remove the potatoes from the oven and let cool for 10 or 15 minutes or until they are cool enough to handle.
Split each potato lengthwise. Using a spoon or scoop, remove the flesh from the inside of each potato half, leaving about a ¼ inch border of flesh on each potato skin. Set scooped potato insides aside for another use.
Melt the butter and add the salt and pepper. Stir. Brush the insides of each potato skin with the butter mixture. Turn the potatoes over, skin side up and place on a baking sheet lined with a rack or parchment paper. Brush the potato skins with the butter mixture. Return the skins to the 400 degree oven and bake 5 to 7 minutes, or until the butter is foamy and the edges of the skins begin to brown. Remove the skins from the oven. Turn the skins over, flesh side up. Brush with any remaining butter mixture. Return the skins to the oven. Bake for 5 to 7 minutes until the edges of the potato are beginning to brown. Remove the skins from the oven. Let cool for about 5 to 10 minutes (you can refrigerate or freeze potato skins at this point. Bring skins back to room temperature before filling). Fill with desired toppings and return to the 400 degree oven to warm filling, about 3 to 5 minutes. Serve skins warm or room temperature.
Taylor Mathis and Sally James
Sally James and Taylor Mathis are a mother and son duo from Charlotte, NC. Sally, a professional recipe developer, and Taylor, a professional Food and Lifestyle photographer, work together to create beautiful and delicious recipes designed to be eaten anywhere! Together they are the creators and authors of the food Blog Taylor Takes A Taste and worked together on The Southern Tailgating Cookbook.