For those of us who are impatient to visit Rider located in Williamsburg for brunch, read this post to see how you can create the Lemon + Fennel Doughnuts recipe featured on the menu.
There is no questioning the popularity of lemons  when it comes to adding them to the human diet. In fact lemons come with a chock fill or nutritional benefits which include vitamin C, citric acid, flavonoids, B-complex vitamins, calcium, copper, iron, magnesium, phosphorus, potassium, and fiber. So why aren't they included in another staple of the human diet… doughnuts? Coming to our rescue from the heart of Williamsburg is the James Beard Award-winning chef; Patrick Connolly. Also recognized as the dough master who created the Lemon + Fennel Doughnuts, featured at Rider.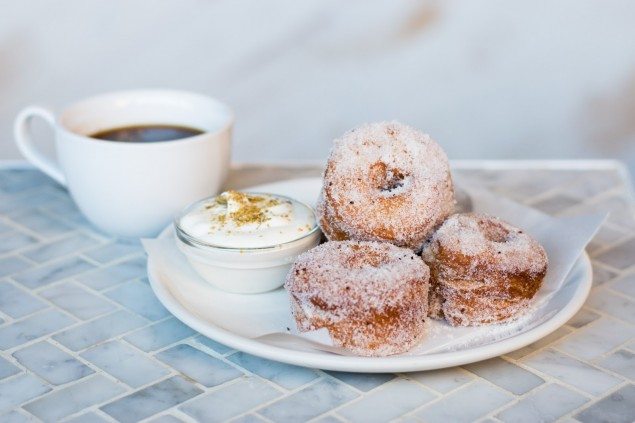 A New American bistro and bar, Rider not only offers Connolly's delicious doughnuts but other interestingly mouth savoring eats too. Using techniques influenced by French and Italian culinary traditions with a bit of an Asian flair, Connolly's creations have resulted in a multi-cultural and unique menu  at Rider. Yes there is a brunch menu too.
For those of us who are impatient to visit Rider for brunch, see below on how to create the Lemon + Fennel Doughnuts recipe.
Lemon + Fennel Doughnuts
Made with earthy ground fennel and served alongside a bright and zesty lemon creme fraiche, these satisfying doughnuts offer all the motivation needed to get out of bed on a cold winter's morning and seize the day.
Ingredients
33 grams active dry yeast
2 cups milk, slightly warm
¾ cup sugar
4 egg yolks
5½ cup all-purpose flour
1 ½ t salt
5 oz butter, room temperature
2 tsp ground fennel
Oil for frying
Whipped Lemon Creme Fraiche
1 pint creme fraiche
1 lemon, zested
Instructions
Place the milk in the bowl of a standing mixer.
Sprinkle the yeast over the milk and let sit for 5 minutes, then whisk to combine.
Whisk in the egg yolks and the sugar.
Add the flour, salt and fennel. Use the mixer's hook to combine for one minute until a rough dough forms, and then add the butter.
Beat until combined and uniform and round into a single large ball.
Place in a greased bowl and let rise for about an hour.
Roll out until the dough is 1 inch thick and cut using a doughnut cutter (or glass, jar, etc.)
Let rise again.
Fry in oil at 350 degrees for about 2 minutes on each side
Roll finished doughnuts in sugar (optional)
Whipped Lemon Creme Fraiche
Place the creme fraiche and zest in the bowl of a stand mixer with whisk attachment and whip until medium peaks are achieved.
Not into recipe making but are eager to try Rider's eats? Head to Williamsburg at 80 N 6th Street Brooklyn, NY 11249 718-210-3152