Key Lime Tarts with a Coconut Pecan Crust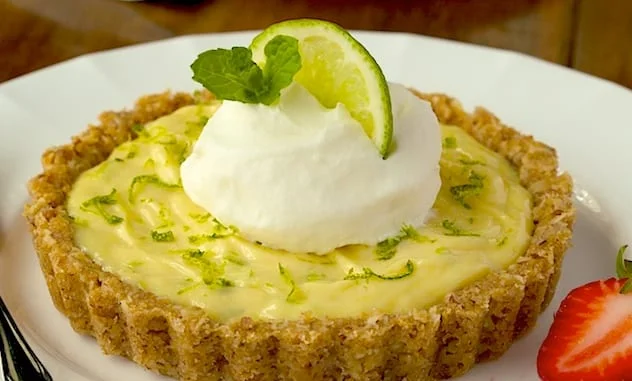 This dessert is easy to make ahead and bring to a gathering or to stash in the freezer for an unexpected guest. The salty, sweet crust combines coconut and pecans to hold the smooth, tart key lime filling.
By Chris Scheuer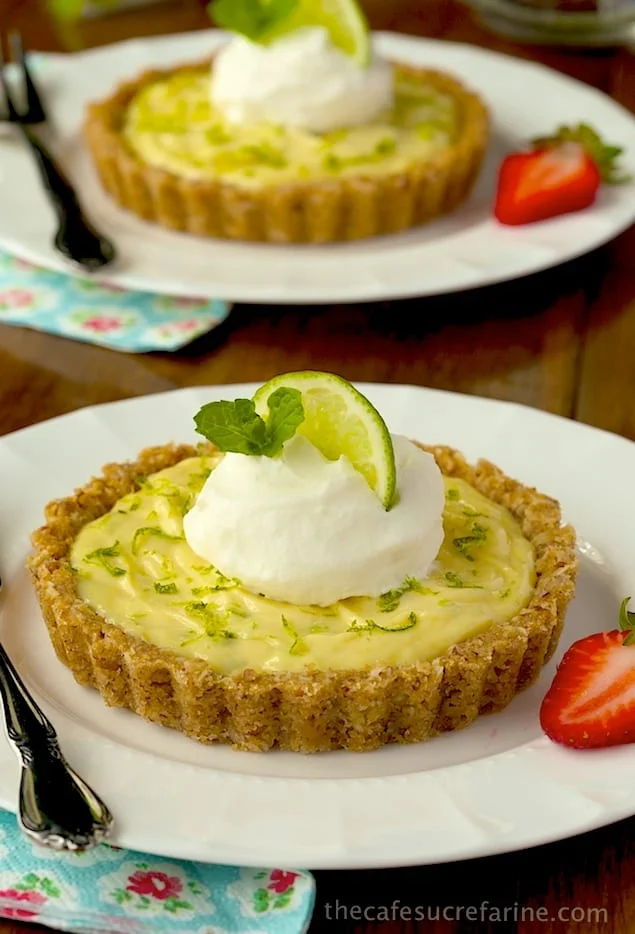 This is the perfect dessert to celebrate special occasions, to take to picnics, potlucks and parties and to have stashed away in your freezer for those emergency sweet tooth attacks.

Key Lime Tarts with a Coconut Pecan Crust
This dessert is easy to make ahead and bring to a gathering or to stash in the freezer for an unexpected guest. The salty, sweet crust combines coconut and pecans to hold the smooth, tart key lime filling.
Ingredients
8 whole graham crackers, about 4 ounces
¼ cup sugar
8 tablespoons butter, (1 stick) melted
1 cup pecans
½ cup flaked shredded coconut
5 large egg yolks
¼ cup sugar
lime zest from 4 limes
½ cup lime juice (from about 4-5 limes, depending on juiciness of limes)
1 can sweetened condensed milk
½ cup Greek yogurt
Instructions
Preheat oven to 350?F. Spray 6 – 4½-inch removable bottom tart pans with baking spray. Rub with a paper towel to evenly distribute spray. Line bottoms with parchment paper, if desired.
Process graham crackers till finely ground. Add butter and sugar and process till combined. Add pecans and pulse 6-10 times or until coarsely ground. Add coconut and pulse 3-4 times, just till incorporated.
Divide between 6 tart pans with removable bottoms. About ? generous cup per pan. Press graham cracker mixture firmly up sides and into bottom of pans. Place tart pans on a sheet pan. Bake for 10 minutes. Remove from oven and cool completely.
For the filling – in a medium heatproof bowl, whisk together the egg yolks and sugar until smooth and combined. Add lime juice and stir. Place bowl over a pan of simmering water and cook for 4-5 minutes, stirring frequently until mixture thickens. Remove from heat and add condensed milk, Greek yogurt and all but 1 teaspoon of the lime zest.
Divide evenly between the baked crusts and sprinkle with the reserved lime zest. Freeze, uncovered for at least 2 hours. If not serving after this initial freezing, cover tightly with foil. Will keep for several weeks in the freezer. Remove from freezer 10-20 minutes before serving. Add a dollop of freshly whipped cream, if desired.
Chris Scheuer
Crescentia "Chris" Scheuer is the creator of The Café Sucré Farine food blog, which has been hugely successful since its inception in March 2011. Her recipes are seen on Foodgawker, TasteSpotting, Gourmet Live, Bon Appétit Bloggers, Foodista and other international food sites. Her inspiration for creating new, innovative cuisine comes from an insatiable curiosity, a love of travel and family connections in the UK. She has taught cooking classes in Raleigh, NC, USA.