Joy Wilson, aka Joy the Baker, serves up some delicious roasted almond focaccia for a holiday dinner with friends.
By Joy Wilson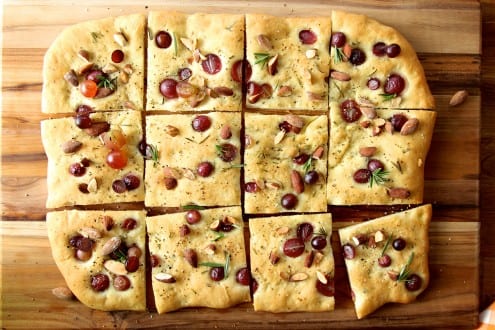 For the holidays this year, I want to start a new tradition. I want to have a holiday dinner with my friends. There is no better way to welcome people to a party than with focaccia because I love the way that fresh bread makes the house smell. So I made a focaccia dough and I topped it with roasted almonds, fresh grapes and fresh rosemary, so when it came out of the oven, the grapes were beautifully roasted, the almonds were extra toasty and the rosemary scented the whole bread. Enjoy!

Roasted Almond Focaccia with Grapes and Rosemary
This lovely focaccia recipe from Joy the Baker, is the perfect party bread
Author:
Joy Wilson, aka Joy the Baker
Ingredients
4 ½ teaspoons active dry yeast
1 cup warm water (between 110 and 115 degrees F)
3 cups all-purpose flour, more as needed
3 tablespoons olive oil, plus more for topping
3 tablespoons sugar
1 tablespoon chopped rosemary
1 teaspoon salt
1 cup red grapes, sliced
2 tablespoons rosemary sprigs
½ cup dry roasted almonds, roughly chopped
Coarse sea salt and fresh cracked black pepper for topping
Instructions
Directions
In a large bowl, sprinkle yeast over warm water. Stir to dissolve. Add 1 cup flour and blend together until smooth. Cover with plastic wrap and set in a warm place to rise for 1 hour.
After the mixture has risen, remove the covering and stir in 3 tablespoons of olive oil, sugar, and chopped rosemary. Add one cup of flour and stir to blend. Add the remaining cup of flour and salt and work together into a shaggy dough.
Place dough on a lightly floured surface and knead for 5 minutes. If the dough is too sticky, add up to ⅓ cup more flour and knead. Dough should be slightly sticky.
Coat a large bowl with olive oil. Place dough in the bowl, and flip it around so that it's entirely coated in oil. Cover with plastic wrap again and let rise in a warm place for 1 hour, or until doubled in size.
Place a rack in the center of the oven and preheat to 375 degrees F.
Remove dough from bowl and knead for just a minute. Transfer dough to an oiled 16x9 baking sheet. Pull and stretch the dough into a rectangle to fit the pan.
Use your fingers to make random indentations in the puffed dough. Drizzle generously with olive oil. Top with grapes, rosemary sprigs, dry roasted almonds, and sprinkle with coarse sea salt and cracked pepper. Bake bread for 30 to 35 minutes, until golden, crisp and baked through. Rotate the pan once, halfway through baking.
Remove from the oven and allow to cool for 10 minutes. Remove from the baking pan, slice into generous squares, and serve warm with extra olive oil.