Italianissimo in Woodinville, Washington definitely falls under the "hidden gem" category – not heavily advertised, visitors don't know about it, and yet the parking lot is always packed full of cars.
By Denise Sakaki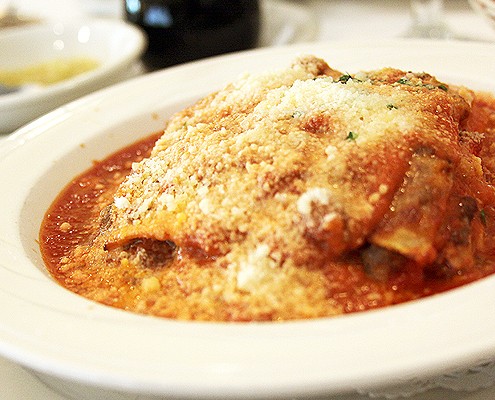 Turn in when you see the white horse… It sounds like a mysterious code phrase to access a secret hideaway, but that was the directional advice given to me when I first visited Italianissimo Ristorante in Woodinville, Washington. As you drive along the winding forested Woodinville-Duvall Road, it's a little surprising to see the statue of a giant, stark-white horse rearing back along its hind quarters. A friend who grew up in the area said that statue has been there for many years. All the while I thought it was part of Italianissimo and some referential nod to it being "The Italian Stallion." Instead, it's an easy landmark to let you know that good food and wine await – turn here!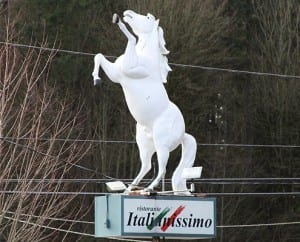 Italianissimo definitely falls under the "hidden gem" category – it's not heavily advertised, visitors to the area probably don't know about it, and yet the parking lot is always packed full of cars and the bar can often be standing room only. At the risk of letting a culinary cat out of the bag, this place is truly delicioso. They do all the favorite Italian-American and Northern Italian classics like spaghetti with meatballs, chicken picatta, eggplant parmesan; hearty dishes with flavorful, rich sauces. The items to really focus on are the ones on the menu with the little handprint, which indicates the pasta is handmade. The lasagna is like a layered cake of delicate crepe-like sheets of pasta shuffled with meat sauce and béchamel. The texture of handmade pasta is unlike anything else; soft and chewy, with an ability to soak up more of the flavor of the sauce it's been tossed in. They also serve house made sausages every Friday, served with spaghettini, but go early, they sell out fast. There's no lack of Italian restaurants in the area, but it's a genuine treat to enjoy food that is truly prepared with care and a love of rich flavors.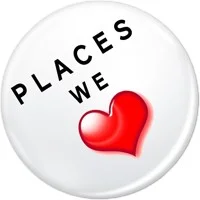 Another reason why Italianissimo is such a local favorite is that it's quite the social butterfly. It's literally the popular kid who everyone liked because they were always throwing parties at their house. Italianissimo periodically hosts special themed dinners like Wine vs Beer, challenging local winemakers against local beer brewers, pairing drinks with food and creating an edible showdown. Every week has a Wine Wednesday, where for $15 you have a tasting flight of several wines from a local winery – often with the winemakers present to host the event and answer any questions. The tastings are paired with bites of food that compliment each wine. You receive an entrance ticket for the Wine Wednesday you attended, and if you collect three of these tickets, you qualify for a free spot at one of the restaurant's Cooking 101 classes. It's as much of a social club as it is a restaurant. Their happy hours from Monday through Friday 4-6:30 pm, and live music on Saturdays make the lounge area the most active spot to enjoy. They mix up great signature cocktails like their Pineapple Side Car or the Blood Orange Martini, but when I'm enjoying my happy hour visit, I like to go with a classic, getting a glass of whatever wine they recommend and having my favorite, their carpaccio di manzo, a platter of paper-thin, aged slices of beef, sprinkled with shavings of Reggiano, red onions and capers, drizzled with truffle oil. Simple, clean flavors, and if I'm still hungry, I know I can tuck in to a big plate of Spaghetti Bolognese and fall into a delightful food coma.
Italianissimo 15608 NE Woodinville-Duvall Rd, Woodinville, WA 98072, 425-485-6888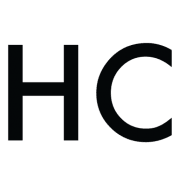 Denise Sakaki
Denise Sakaki is a freelance food writer and photographer who is always searching for the connections between food and personal experience. She is the creator of the food blog Wasabi Prime and contributor to Serious Eats, 425 Magazine and Drink Me Magazine.