Any good pilsner or blonde ale would work well in this batter. You want something with a good bit of malty sweetness to it with a light golden color.
By Maggie Cubbler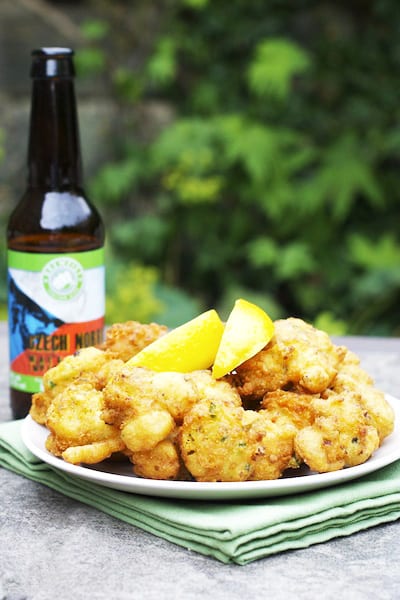 Imperial Pilsner Scallop and Clam Fritters
Any good pilsner or blonde ale would work well in this batter. You want something with a good bit of malty sweetness to it with a light golden color.
Ingredients
Vegetable oil for frying
½ cup (63g) all-purpose flour
½ cup (75g) cornmeal
2 tsp baking powder
½ tsp ground cayenne pepper
1¼ tsp salt + freshly ground black pepper
1 can chopped clams, strained and juice reserved
2 large eggs, lightly beaten
¼ cup (60ml) beer
1 jalapeno, minced (with seeds)
½ small red onion, finely chopped
½ lb (225g) sea scallops, roughly chopped
3 green/spring onions, minced
Instructions
In a medium saucepan, heat about 2 inches of vegetable oil until it reaches about 350?F/175?C
Whisk together the flour, cornmeal, baking powder, cayenne pepper, salt & black pepper in a medium bowl.
Add the clam juice, eggs, and beer. Whisk until the batter is smooth.
Stir in the scallop and clam meat, jalapeno, red onion, and spring onion. Stir until combined.
Working in batches, drop heaping teaspoons into the oil. Fry, turning occasionally, until the fritters are golden brown. About 6-7 minutes each. Remove with a slotted spoon or a spider strainer to paper towels and allow to drain. Skim the oil after each batch to remove any particles that may burn and allow the oil to heat back up to temperature.
Garnish with tartar sauce and lemon wedges.
Maggie Cubbler
Maggie Cubbler is a beer-and-food-loving Yankee living in North Yorkshire, England. When she's not pulling pints at a traditional Yorkshire pub, she devotes her time to her Labrador, husband, and working on her blog: Loaded Kitchen. She loves to pair beer with food, cook with beer, and drink a (half) pint or two with the natives. Besides blogging and drinking, Maggie is currently studying to become a certified Cicerone while trying to figure out why Yorkshire men like lime cordial syrup in their lagers. Take a swing by her blog and check out the party in her pans.