Pallavi Gupta debuts on Honest Cooking with a delicious quartet of inspiring side dishes.
By Pallavi Gupta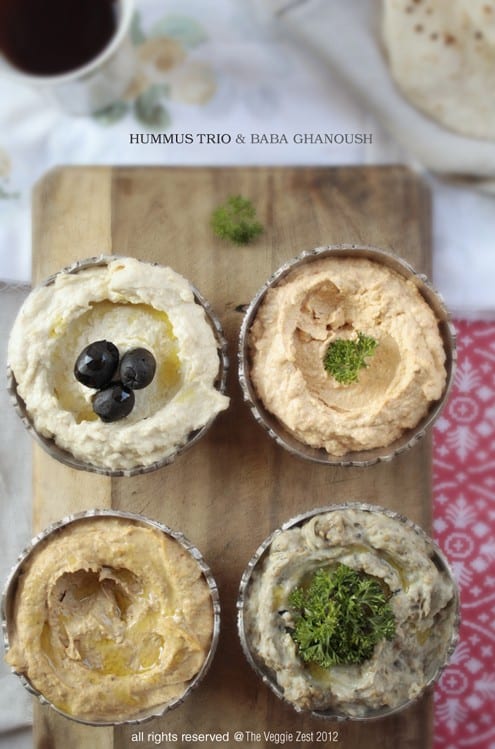 A big hello to all the Honest Cooking readers! My name is Pallavi and this is my first recipe contribution to Honest Cooking.
I made three kinds of hummus:
1. Classic hummus
2. Roasted pepper
3. Spicy black chickpeas
I experimented with the black chicpeas and the results were just fantastic! Black chickpeas are a little smaller in size than the regular garbanzo beans and are actually pretty popular in India.  I served it with fresh homemade pita bread, but it will pair great with crackers, fresh veggies or any other kind of bread or baguette.
The recipe for baba ghanoush varies from one country to the other in the Middle East, for example when I ordered it in Kuwait…what came was nothing like what I had in the US. SO the recipe that I am sharing today is that of what I have been eating in the US…and it is delicious!
I hope you like it!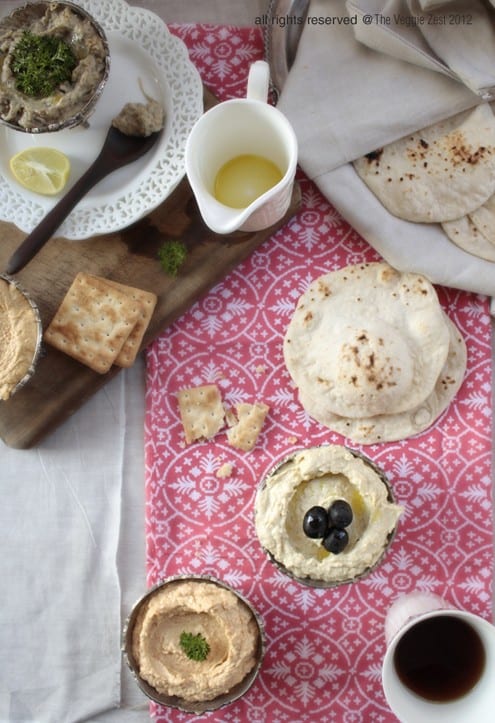 Serves a few people
Cooking time 30 to 40 min
Things You Will Need:
For Classic Hummus
1 cup chickpeas or garbanzo, cooked
3 cloves garlic
½ cup tahini
juice of ½ lemon
¼ cup Olive Oil
Salt to taste
For Roasted Pepper Hummus
1 cup chickpeas or garbanzo, cooked
1 medium red bell pepper, roasted and skin removed
2 tsp sweet paprika
3 cloves garlic
½ cup tahini
juice of ½ lemon
¼ cup Olive Oil
Salt to taste
For Spicy Black Chickpeas Hummus
1 cup black chickpeas, cooked
1 tbs harissa (see here for the recipe)
½ cup tahini
juice of ½ lemon
¼ cup Olive Oil
Salt to taste
To make the hummus (all 3 kinds): Put everything in a blender and mix well till it forms a smooth paste. If you feel that the hummus is too thick, then you can add little warm water.
 For Baba Ghanoush 
1 big eggplant
4 tbs Tahini sauce
Paste of 1 clove garlic
juice of half to one lemon
2 tbs Olive oil
2 tsp dried mint
2 tsp dried parsley
Chopped fresh parsley for garnishing
Salt
In a preheated oven at 400F roast the eggplant for about an hour… (Poke some holes in the eggplant with a fork before putting it in the over, so that it doesn't explode in there). Once the eggplant is cooked, take it out of the oven and put it in a bowl and cover it tightly with a plastic wrap and let it cool for approx. 12-15 min. This will help in peeling the skin off of the eggplant. After 15 min, peel the skin off using your hands- be careful as the eggplant is going to be very hot.
Take the peeled flesh of the eggplant and place it in a large mixing bowl. Mash the eggplant with a fork and add the garlic and salt to it while mixing it.
Once the mixture has reached the right consistency (chunky-ish paste) add the juice of half the lemon, dried herbs, and tahini sauce. Mix till all the ingredients are nicely combined with each other. Taste it at this point and adjust the salt and lemon juice as per your taste.
Pallavi Gupta
Pallavi is a vegetarian globetrotter, who currently lives in the southern part of India. Past ten years of her life includes living in six cities in three different countries. It has added to her vast exposure of cuisines from different parts of the world which is now reflected in her cooking. She shares her knowledge of vegetarian and vegan recipe from around the world via her blog Veggie Zest. When not cooking or photographing, she does graphic design.