PARTNER POST: Discover new ways to incorporate seasonal teas into your holiday cooking and desserts with Celestial Seasonings.
Want to know what goes great with a spicy dip like harissa pumpkin hummus? A warm mug of pumpkin tea. Yes, your afternoon snack just got a whole lot better.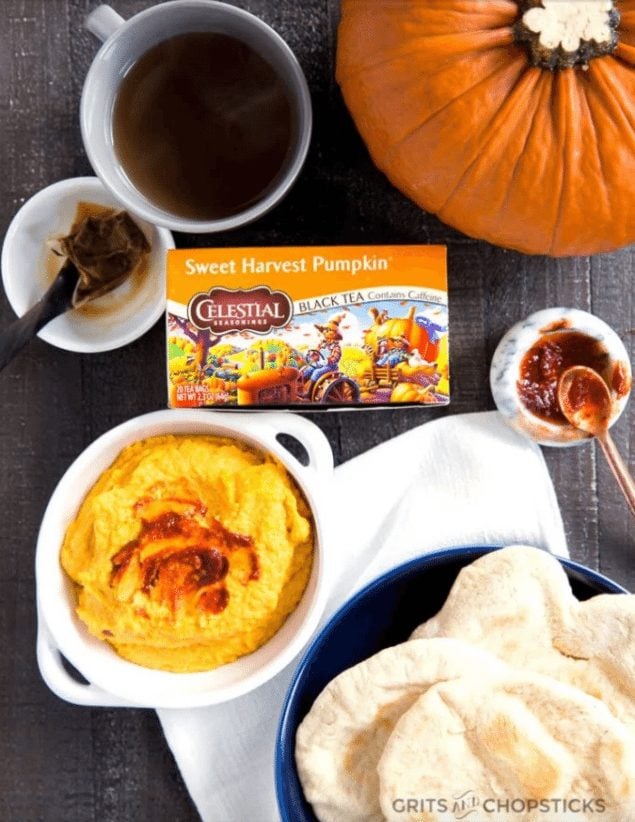 Every fall, I look forward to pumpkin season. I love taking my kids to pumpkin patches, bumping along dirt roads on hay-filled tractor rides and making pumpkin desserts.
Now that we live in London, fall looks and feels different.
To my surprise, pumpkins in today's London aren't hard to come by, even though I'm not sure I could find an actual pumpkin patch in the urban jungle we're living in. The discovery of sugar pumpkins (which are called "culinary pumpkins" here as opposed to "carving pumpkins") made my little American heart soar and sigh with relief all at the same time, especially because Celestial Seasonings Tea recently asked me to try their Sweet Harvest Pumpkin Tea and come up with a recipe to pair with it. For me, the ideal companion to their tea is this harissa pumpkin hummus with homemade pita.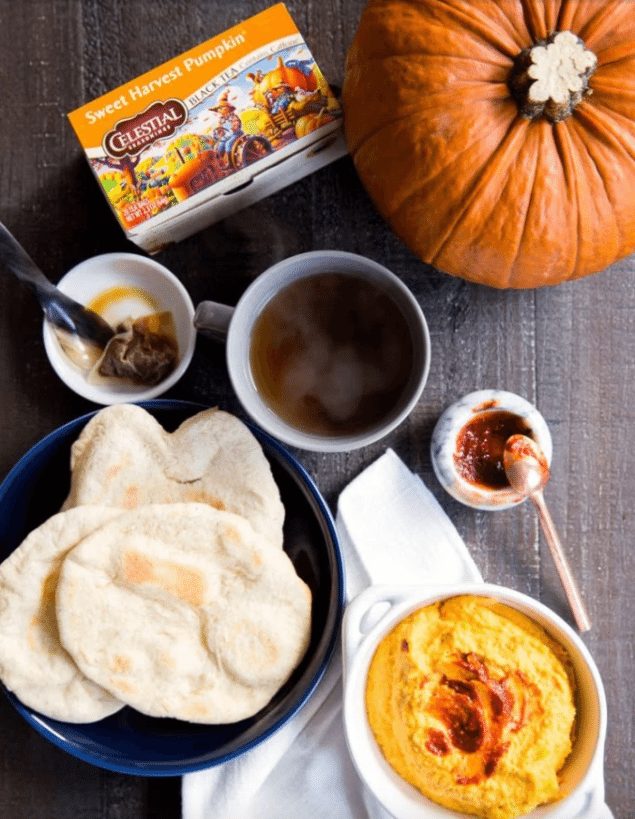 Celestial Seasoning's Sweet Harvest Pumpkin Tea isn't one of those overly saccharine, in-your-face pumpkin spiced creations that pepper the shelves from late September through Thanksgiving. It's a black tea, so there's a mellow bitterness that balances out a subtle sweetness. The spice blend of cinnamon, nutmeg and ginger in the tea adds a warmness.
For me, the sweetness of the tea would have been completely overpowered by a sweet dessert, so I went the other direction with a spicy harissa pumpkin hummus and homemade pita bread. I love the complexity of harissa, a red chili-based paste that also includes garlic, caraway, saffron and olive oil. Harissa is commonly used in Middle Eastern foods, and I've used it before to make this amazing weeknight chicken dish.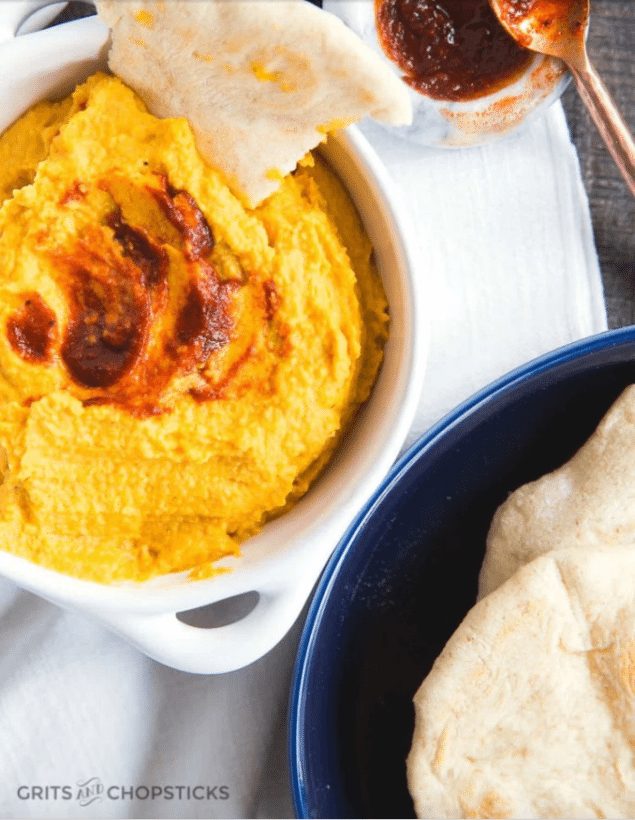 The harissa pumpkin hummus isn't any harder to make than regular hummus (with canned chickpeas, garlic, tahini, olive oil and salt and pepper), except that you need to peel and chop the pumpkin and roast it for a good hour to an hour and a half until it's super soft and mushy. After that, I just pureed the pumpkin before adding chickpeas, harissa and other ingredients to my food processor.
The real key here is to make your own pita bread. I won't say that it's particularly easy — there's a lot of kneading and resting time, but oh man, there is nothing that beats a hot, puffed up pita fresh from the oven. I ripped into my pita right when it came out of the oven, and immediately a cloud of steam wafted towards me, like a genie being released from a magic lantern. It was heaven.
See Also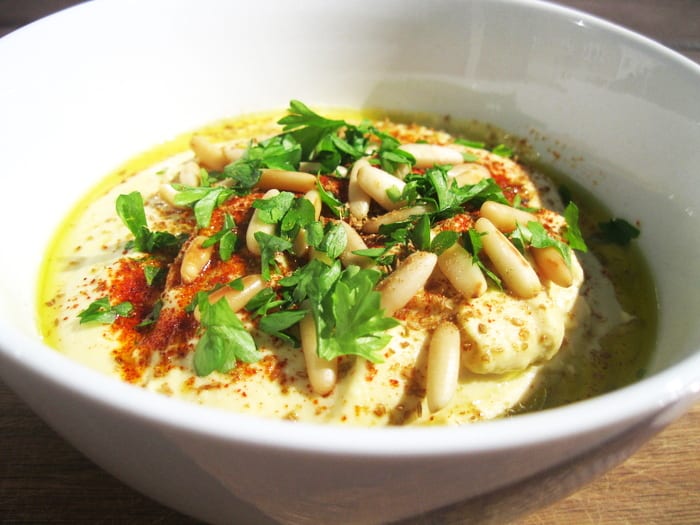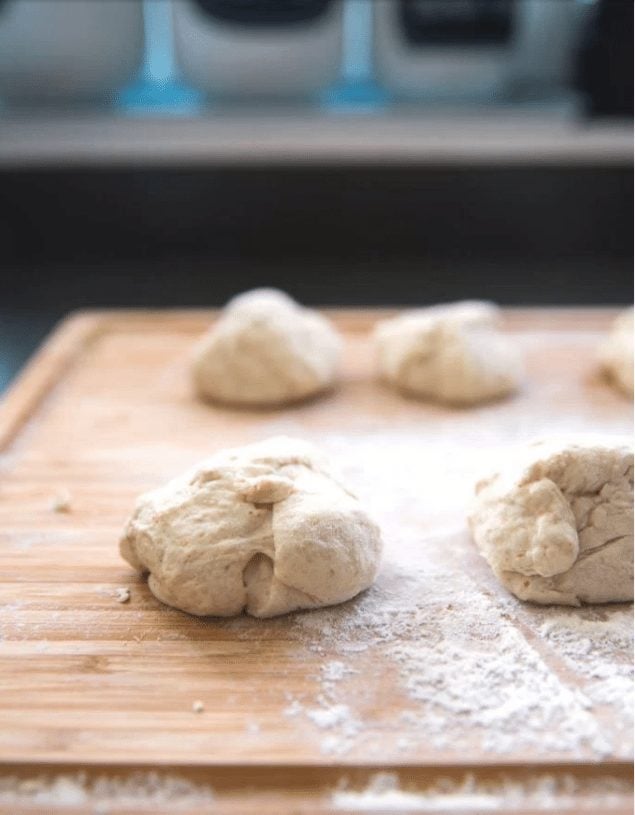 The harissa pumpkin hummus with homemade pita was the perfect accompaniment to my cozy turtleneck sweater and a piping hot cup of Celestial Seasonings Sweet Harvest Pumpkin Tea. I wish I could say that I just sat around one morning and dipped shred after torn shred of pita into my hummus while I daydreamed, but the reality is, I had a million other things going on and so I just kept on buzzing around.
Want to try another fun recipe for the season? Check out these Sugar Cookie Sleigh Ride Scones! Recipe here.
Print
Author:

Ann Kaufman

Prep Time:

20 minutes

Cook Time:

1 hour 30 minutes

Total Time:

1 hour 50 minutes

Yield:

4

servings

1

x
Category:

Appetizer, Side
1

sugar pumpkin

1

can chickpeas (rinsed and drained)

2 tablespoons

olive oil

3

garlic cloves (peeled and crushed)

3 tablespoons

tahini

1 tablespoon

harissa (plus more for drizzling)
salt and pepper (to taste)
optional: homemade pita breads (recipe here: http://cooking.nytimes.com/recipes/1016071-homemade-pita-bread)
Instructions
Preheat the oven to 425 degrees (200 degrees Celsius). Wash the sugar pumpkin and cut in half lengthwise. Using a tablespoon, scrape out the seeds and pulp. Peel the outside of the pumpkin, then cut the pumpkin into roughly equal-sized 1.5-2 inch chunks.
Arrange the pumpkin in a large roasting pan and pour in 1 cup of water. Season with salt and pepper, then wrap the pan tightly with foil. Roast for approximately 1 hour to 1 hour and 15 minutes until the pumpkin is soft enough to mash with a fork. Remove the pumpkin from the pan into a large bowl and let cool.
While the pumpkin is roasting, make the sponge for the pita bread (see link above), then make the dough to allow enough time for the dough to rest and rise according to the recipe.
When the pumpkin is cool, take 2 cups of the pumpkin (reserve the rest for a pie; pumpkin freezes beautifully) and put it in a food processor. Puree the pumpkin until it's smooth, then add the chickpeas and garlic cloves. Pulse the food processor again until the chickpeas are pureed and well-incorporated.
Add the olive oil, tahini and harissa and puree again until smooth. Season with salt and pepper.
Bake the pita according to the recipe above. Serve the hummus with warm pita and a cup of Celestial Seasoning Sweet Harvest Pumpkin Tea.
Ann Kaufman
Ann Kaufman is an emotional food enthusiast who writes about food at Grits & Chopsticks. When she's not writing about food, she's caring for her two young children, lawyering and thinking about her next meal.