Spooky recipes from sweet to savory, perfect for pairing with your favorite family Halloween films.
By Alissa Harb
This article has been posted with permission and originally appeared as 20 Halloween Recipes Inspired by Films on Relish.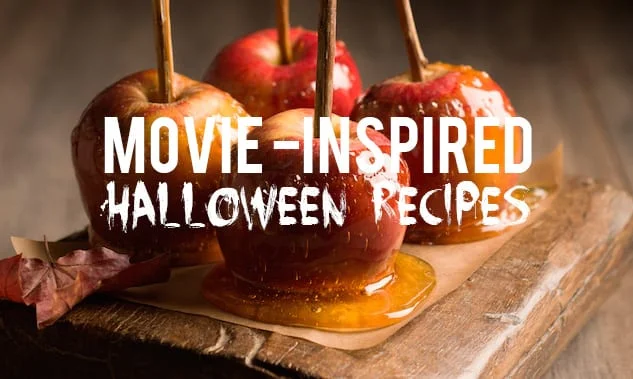 Shutterstock: Christopher Elwell
Dinner and a Movie: Halloween Edition
'Tis the season for spooky films, tasty treats and cozy nights in. This October, host a series of family Dinner and a Movie occasions, featuring this collection of family-friendly films, perfect for Halloween. Each pick comes complete with a suggested recipe for the ultimate in themed snacking.
Hocus Pocus
Disney's Hocus Pocus may just be the quintessential Halloween flick for kids—spooky, but not too spooky, and plenty hilarious. The only way to improve on a night in with the Sanderson witches is to serve up a cauldron full of hearty, comforting Beef and Black Bean Chili to keep you warm while you watch. Get the recipe here.
It's the Great Pumpkin Charlie Brown
This pairing represents the classics—in a big way. A crisp evening spent watching It's The Great Pumpkin, Charlie Brown, complete with bubbling servings of mac and cheese—made perfectly seasonal with the addition of pumpkin—is an evening well spent. Get the recipe here.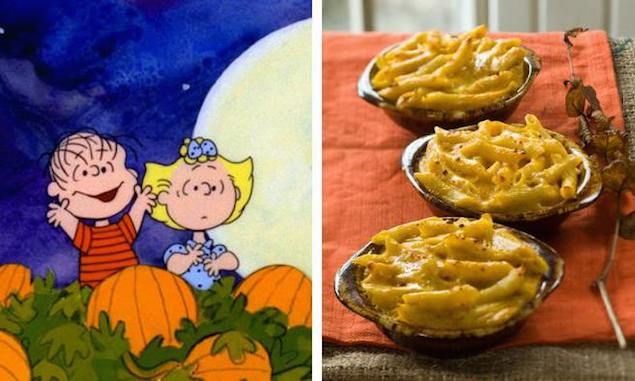 Monster House
A viewing of Monster House calls for a monster sandwich. This take on a classic Southern sandwich, the Muff-a-Lotta Muffuletta, will easily serve a family of four, and the handheld nature of this meal-on-bread makes it perfect for couch snacking. Get the recipe here.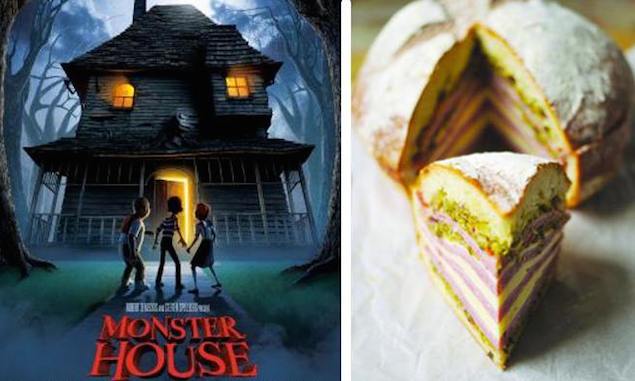 E.T.
E.T. famously followed a trail of Reese's Pieces candy into the home of an unsuspecting suburban family—and we can't say we blame him. We'd follow this Chocolate Sheet Cake with Peanut Butter Frosting just about anywhere. Get the recipe here.
Frankenweenie
This recipe for authentic State Fair Corn Dogs is perfect for fall festivities, and more specifically—a Frankenweenie viewing party. Apprehensive about deep-frying at home? Watch the recipe's how-to video, and fear not. Get the recipe here.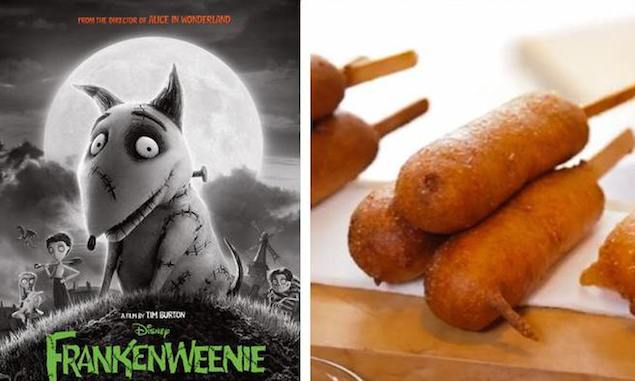 Corpse Bride
As a sweet complement to Tim Burton's not-quite-blushing Corpse Bride, whip up this Red Velvet "Wedding Cake"—deep ghoulish red layers, iced with a ghostly white vanilla frosting. Get the recipe here.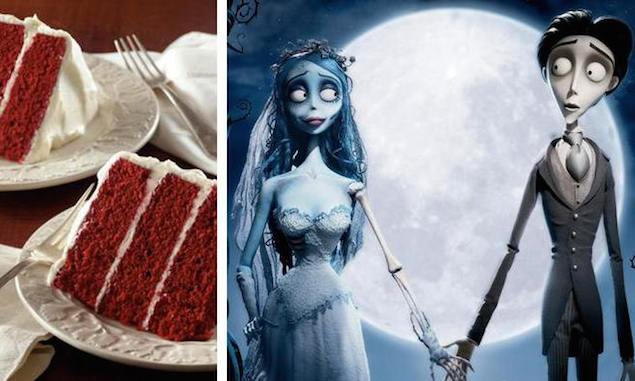 The Addams Family
As advocates for all things creepy, we'd wager the members of The Addams Family would have been huge fans of this Spooktacular Cheesecake. It's laced with plenty of cream cheese and chocolate, so your own family is likely to be equally approving. Get the recipe here.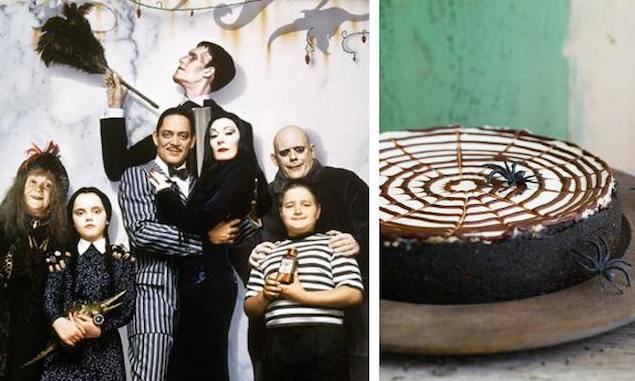 The Adventures of Ichabod Crane
Ichabod Crane, reluctant protagonist in Disney's original adaptation of The Legend of Sleepy Hollow—The Adventures of Ichabod Crane—is well-known for his insatiable appetite. Mini Pies were a favorite of Mr. Crane's, making this recipe perfectly suited for a Sleepy Hollow-themed evening. Get the recipe here.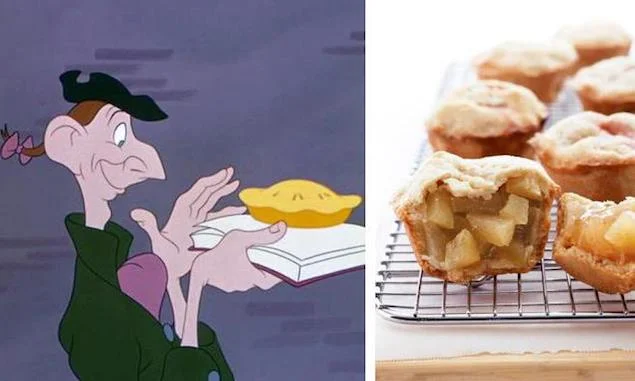 Casper the Friendly Ghost
A showing of Casper the Friendly Ghost is the perfect excuse to whip up Pumpkin Granola Pancakes—on a crisp Saturday morning, or for a very special weeknight breakfast-for-dinner. The kids will absolutely flip over this combination, as they watch Casper use his own ghostly skill set to whip up a pancake breakfast for house guests. Get the recipe here.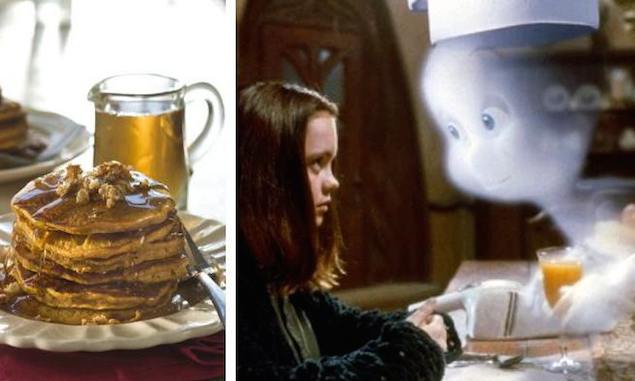 The Nightmare Before Christmas
Holidays collide in Tim Burton's The Nightmare Before Christmas, and we can't think of a better sweet treat to perfectly suit both Halloween and Christmas than a Rich Dessert Hot Chocolate. This one features heavy cream, vanilla, and an optional something extra for the grown-ups. Get the recipe here.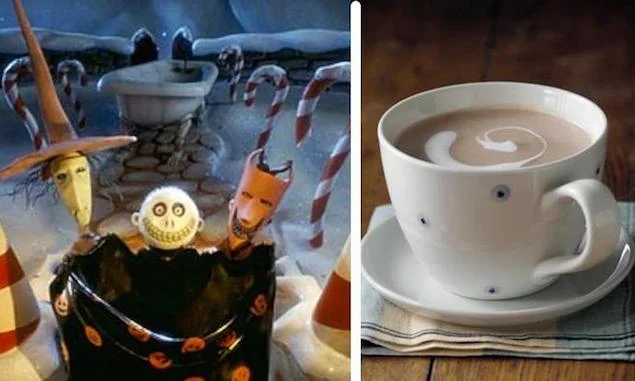 Harry Potter Series
Who does Halloween better than a castle full of witches and wizards? Very few, we'd guess—making a Harry Potter movie marathon ideal for Halloween season. Pair these Pumpkin Pasties, a signature Harry Potter treat, with your favorite Potter films—or all of them, if you're so inclined. Get the recipe here.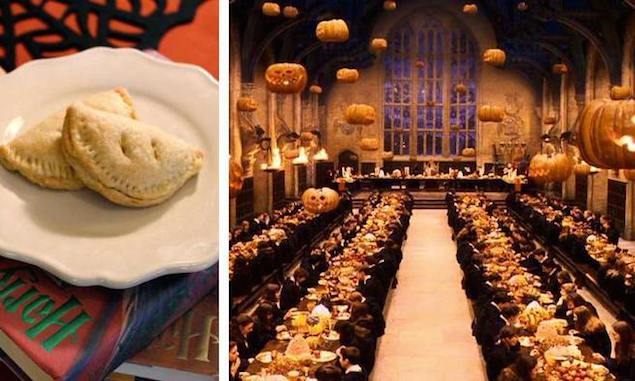 Beetlejuice
Movie magician Tim Burton, making yet another not-so-surprise appearance on our list, offers up a perfectly creepy opportunity for spooky snacking. Among the most memorable moments in Beetlejuice is the dinner party scene, in which seemingly innocent dishes of shrimp cocktail come to life. Get the recipe here.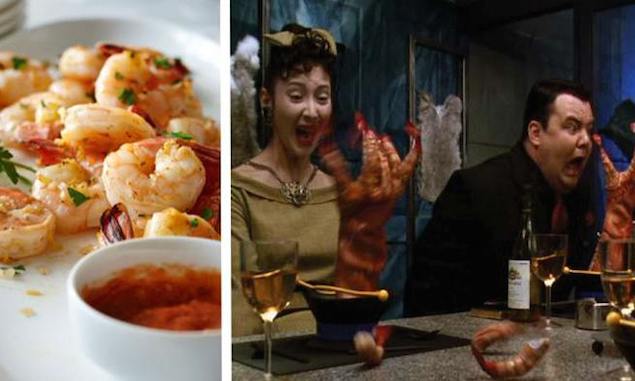 Snow White and The Hunstman
Snow White and The Hunstman offers up scary new twists on Snow White's classic tale. But some things never change—the fairest-of-all main character still falls prey to a poisoned apple. We don't suggest poisoning yours, however sweetening them with caramel is quite all right. Get the recipe here.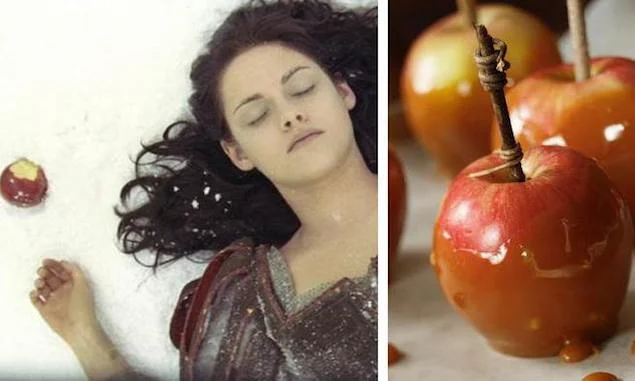 See Also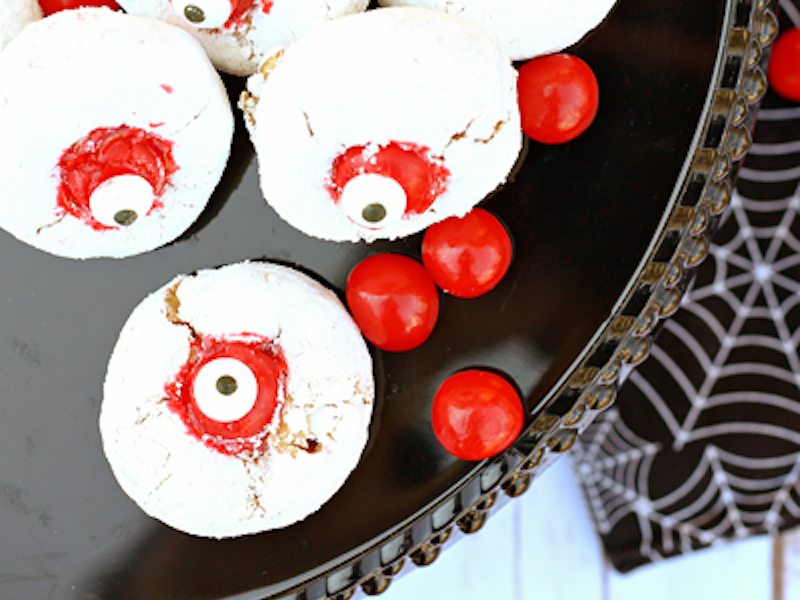 Monsters, Inc.
Turns out, when monsters have date night, they opt for sushi. This recipe for Asian Express Beef Lettuce Wraps offers a hands-on, family-friendly complement to your Monsters, Inc. viewing. The filling cooks up in no time, and kids will love the DIY nature of rolling up their own movie-inspired meal. Get the recipe here.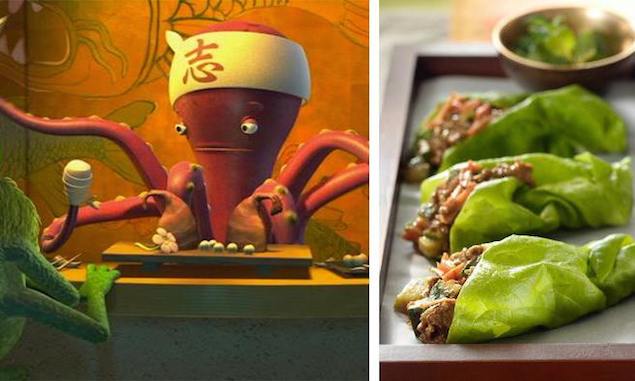 Coraline
Imagine an alternate reality where your every whim is met. At dinner with her would-be "Other" parents, Coraline requests a Mango Milkshake—a fine choice. Coraline's tale may turn sinister, but this Mango Honey Lassi is nothing but sweet. Get the recipe here.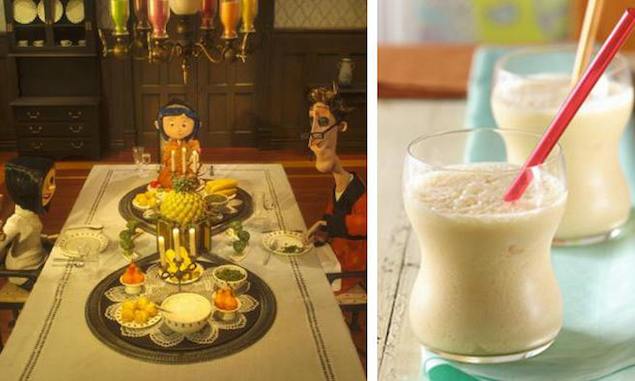 Halloweentown
This recipe for Pumpkin, Pork and Apple Cider Stew has Halloween written all over it—making it an obvious menu selection for a family viewing of Disney's Halloweentown. Since the narrative follows a family of witches (and warlocks), the idea of presenting each serving in a miniature cast iron "cauldron" is just too perfect. Get the recipe here.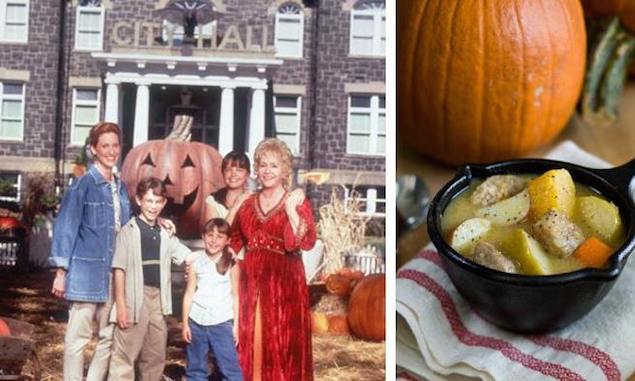 The Mummy
You can't have Halloween without a mummy or two—the mummy, after all, has been spooking audiences for years. This Halloween, serve a platter of Roast Beef Wraps (get it?) for your viewing of The Mummy. Or better yet, serve up the ingredients, and let the kids wrap their own. Get the recipe here.
Gremlins
In Gremlins, a herd of furry, frankly adorable creatures go from goofball to ghoulish when they descend on a plate of chicken wings, violating a cardinal rule for gremlins—no snacks after midnight. Your own little gremlins will love the finger-food quality of these Lemon Pesto Chicken Wings. Get the recipe here.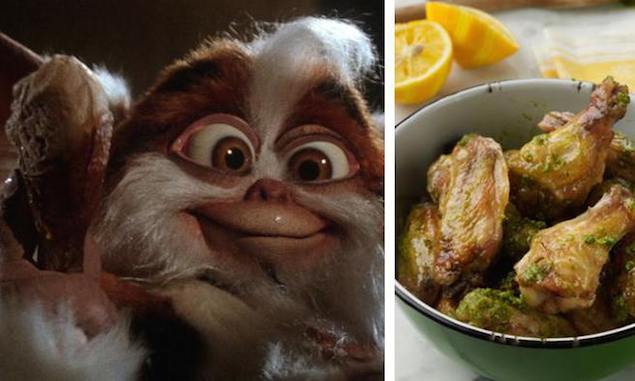 Scooby Doo
Scooby Doo is no stranger to the supernatural—or the culinary. Pay homage to the whole gang with an extra-cheesy, deep dish version of one of Scooby's favorite foods—pizza. Get the recipe here.
Hotel Transylvania
The monster mash-up of characters that make up the residents of Hotel Transylvania are plenty lovable, but one can never be too careful. This super-savory Chicken with 40 Cloves of Garlic is sure to keep the vampires at bay. And don't be spooked by the name—the longer the garlic cloves roast, the more mellow and buttery the flavor becomes. Get the recipe here.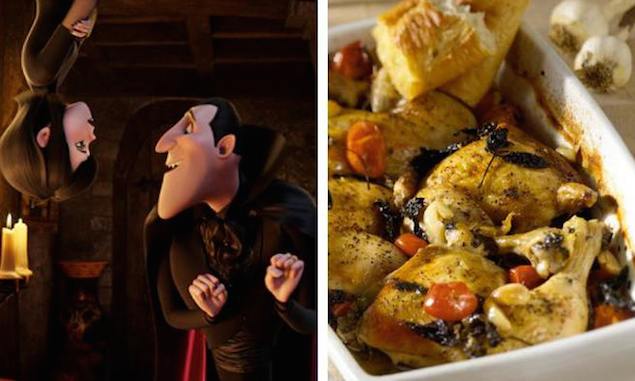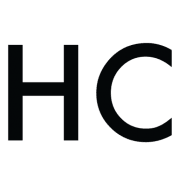 Relish
Offering more than 14,000 recipes plus features and DIYs on cooking, dining and entertaining, Relish celebrates America's love of food. Relish is about honoring cooking traditions while exploring new trends and ideas, which is why millions of people turn to both Relish.com and Relish Magazine for special occasion recipes, quick and easy weeknight suppers and culinary adventures.