Grilled Lemon Chicken Skewers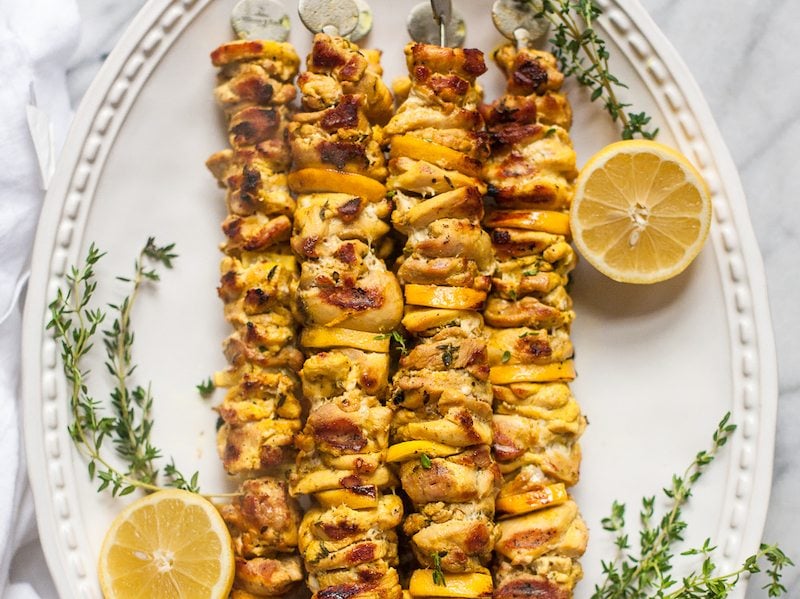 These grilled lemon chicken skewers are packed with flavor and are so easy to make. A sure hit at your next BBQ.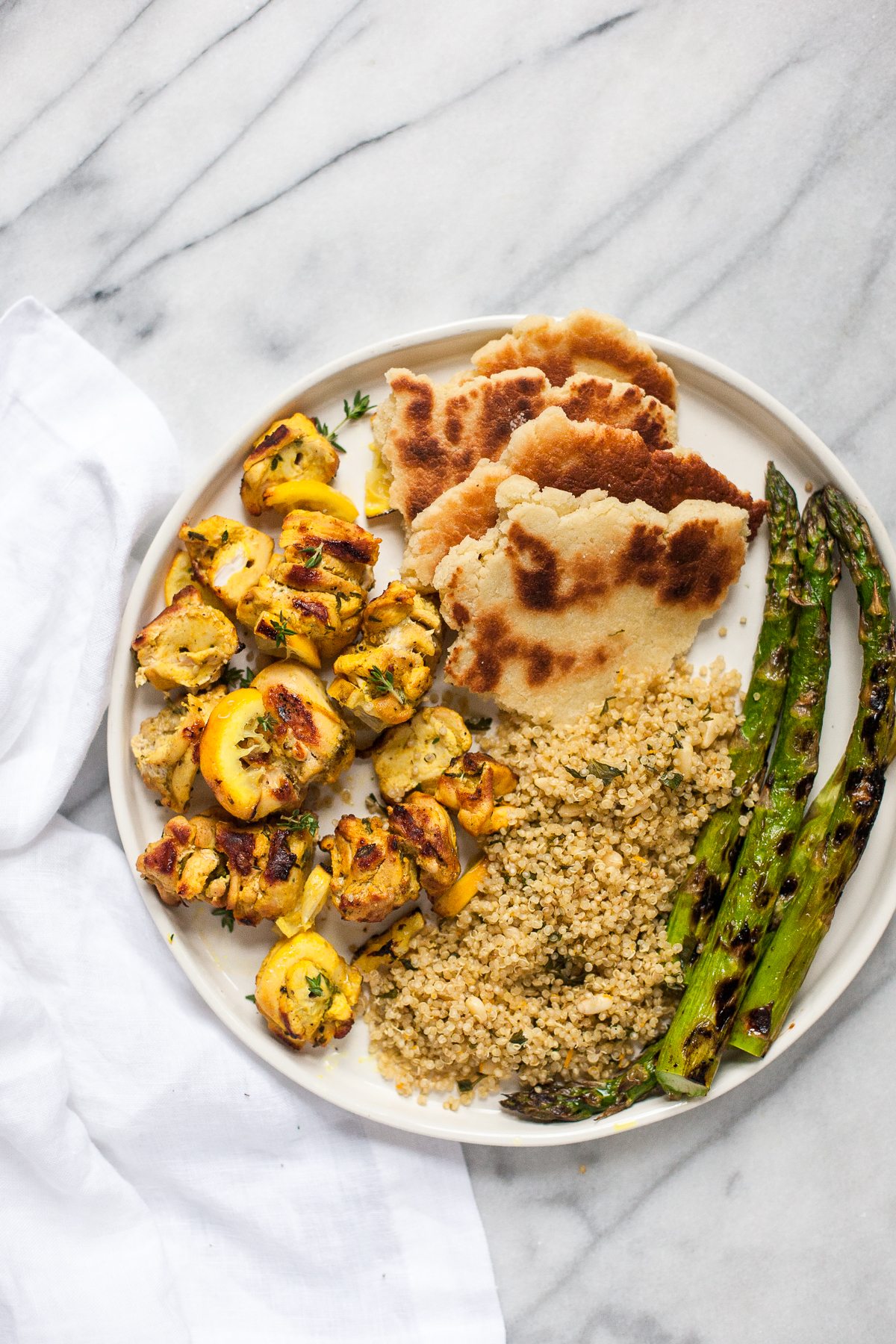 These lemon chicken kebabs are the ready-to-party, warm-weather version of Lebanese lemon chicken, one of my most popular recipes. A reader asked about modifying that recipe for the grill last summer, and I've had it simmering in the back of my mind ever since. I'm happy to say that the grilled version works perfectly, and I may like it even better than the original.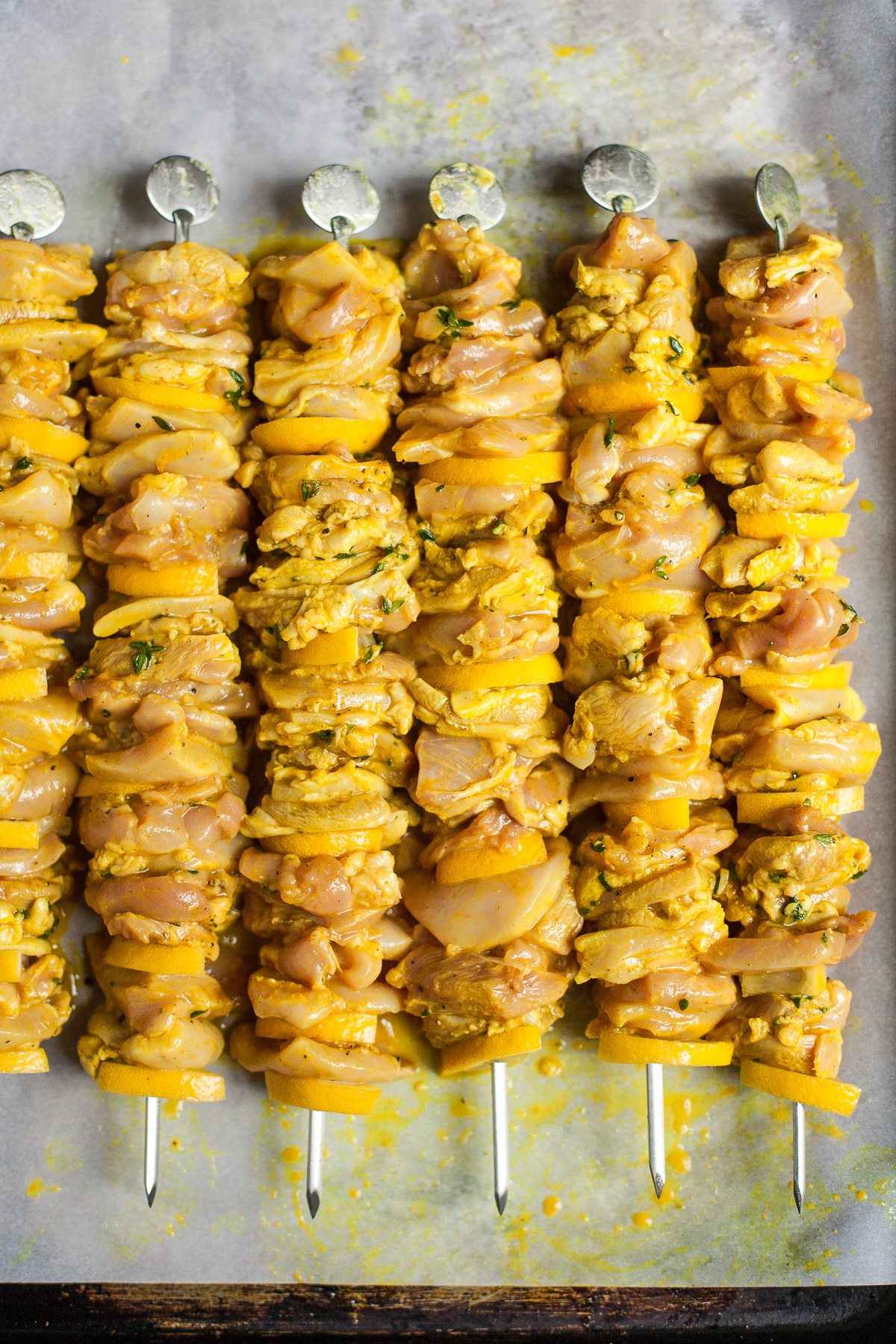 A simple mix of lemon juice, olive oil, turmeric, thyme, and rosemary gives these chicken skewers wonderful color and flavor. Using chicken thighs instead of breasts provides a bit of insurance against dry results. Adding little slices of lemon to the skewers means extra lemony flavor. I eat the grilled lemon slices–they're perfect with the chicken–but some of my dining companions have chosen to leave them on the sides of their plates. Either way, they make these kebabs more beautiful and more delicious!
I love to serve these kebabs with a grilled vegetable, like asparagus, paleo flatbread, and some sort of sauce. Today for lunch we had them with the salsa verde mágica from Latin American Paleo Cooking, which goes with everything. They would also be great with paleo raita. Happy grilling!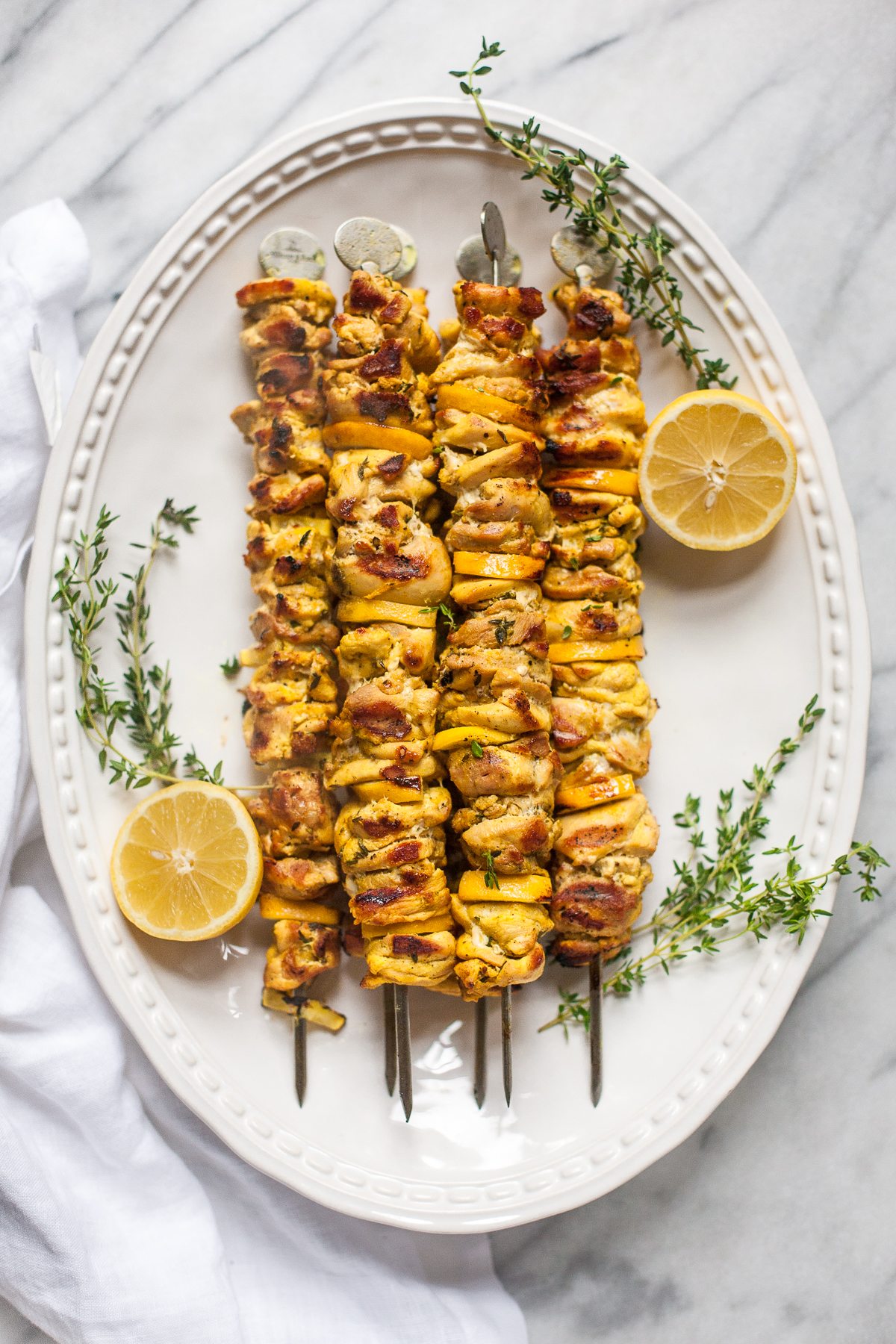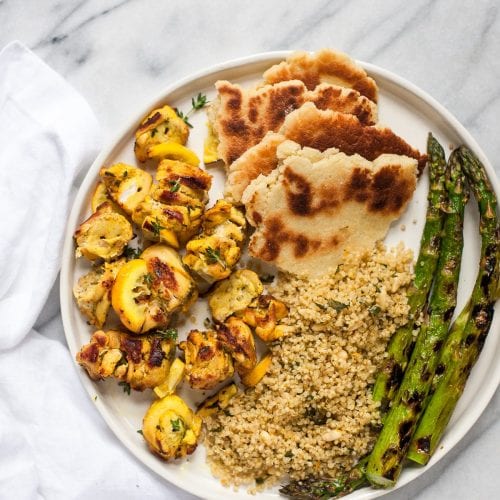 Grilled Lemon Chicken Skewers
Becky Winkler
Ingredients
3

tablespoons

extra virgin olive oil

3

tablespoons

freshly squeezed lemon juice

from 1-2 lemons

1

tablespoon

fresh thyme leaves

1½

teaspoons

ground turmeric

1

teaspoon

ground dried rosemary*

1½

teaspoons

sea salt

½

teaspoon

freshly ground black pepper

3

pounds

boneless skinless chicken thighs

excess fat trimmed, cut into bite-size pieces

2

lemons

sliced into rounds and then halved or quartered, seeds removed

Equipment: Metal or wooden skewers
Instructions
***NOTE: Prep time listed is hands-on time and does not include at least one hour for the chicken to marinate.

Whisk together the olive oil, lemon juice, thyme, turmeric, rosemary, salt, and pepper in a large bowl. Add the chicken and toss to coat. Cover and marinate in the refrigerator for at least an hour. If you are planning to grill using wooden skewers, soak them in warm water while the chicken marinates.

Thread the chicken and lemon slices onto metal or soaked wood skewers, packing the pieces together tightly. Add a lemon slice between every three or four pieces of chicken.

Preheat a grill to medium-high or preheat the broiler. Grill for 5-6 minutes per side or broil for 10-12 minutes, until the chicken is just cooked through (a meat thermometer should read 165°F). Transfer to a platter and rest for five minutes before serving.
Notes
*It's often easier to find whole dried rosemary leaves. I grind them into powder in a spice grinder. If you don't mind the needle-like texture, you can also just finely chop the leaves.
Becky Winkler
Becky Winkler is an enthusiastic eater who shares paleo and gluten-free recipes on her blog, A Calculated Whisk. She enjoys chopping chocolate, salting dessert, searing short ribs, and taking pictures. In her other life, she's a grad student in Boston.