Grilled Cheezy Polenta with Spicy Pomegranate Salad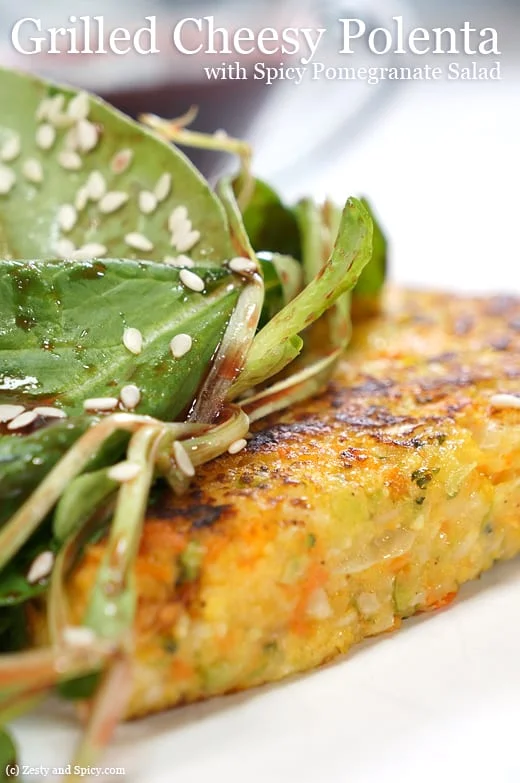 The total recipe will give you 4-5 maybe even more portions of polenta and salad dressing so it's something you can keep in your fridge for about a week and grill at the last minute when you're ready to eat it.
By Ariel Rebel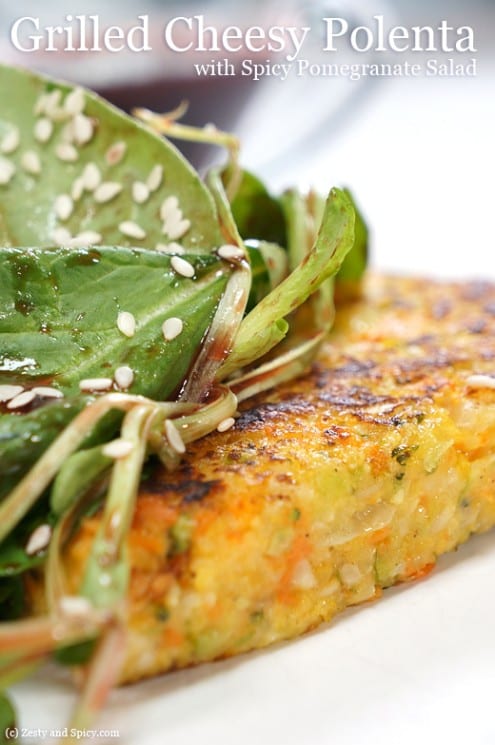 Grilled Cheezy Polenta with Spicy Pomegranate Salad
The total recipe will give you 4-5 maybe even more portions of polenta and salad dressing so it's something you can keep in your fridge for about a week and grill at the last minute when you're ready to eat it.
Ingredients
Baby Spinach
Mache Lettuce
White Sesame Seeds
For the Polenta:
½ cup of Polenta (cornmeal #120)
4 teaspoons of olive oil
2 cups of water
2 teaspoons of hoisin sauce
½ teaspoon of shiracha sauce
1 cup of finely chopped broccoli
1½ cup of finely chopped Cauliflower
¼ of a big yellow onion**
2 medium carrots**
½ cup of Parmesan
salt & pepper to taste
** the carrot and onion, once finely chopped together should be about 1 cup **
For the Dressing:
⅓ cup of pomegranate juice
1 tablespoon of sugar
1 teaspoon of hoisin sauce
¼ teaspoon of shiracha sauce
½ teaspoon of garlic powder
Instructions
In a non-stick flat bottom pan, on the stove top on MEDIUM/HIGH heat, grill your previously chopped veggies (carrots, onions, cauliflower & broccoli) with 2 teaspoons of olive oil for about 10 minutes or till they start becoming tender but not too soft.
In a small pan, on the stove top, bring to a broil the 2 cups of water with 1 teaspoon of olive oil, 2 teaspoons of hoisin sauce and the ½ teaspoon of shiracha sauce. Once your water is boiling, bring the heat to low and add the ½ cup of polenta. Keep stirring till the polenta absorb most of the water, then remove from heat and keep stirring till all the water is absorb. The consistency of your mixture should be very "watery".
Stir in the Parmesan cheese till it's well mixed and then add your veggies. Mix well and transfer in to a 8×8 pirex lined with a parchment paper. Let cool down in the fridge over night or for at least 2 hours.
Back on the stove top, at MEDIUM heat in a small sauce pan, mix all the ingredients for the salad dressing and let reduce the juice in a light simmer for 8 to 10 minutes. Remove from head and reserve.
Once your polenta is cooled down, slice a piece and grill it in a non stick pan with a bit of olive oil (1/2 teaspoon MAX) till each sides are brownish. In a mixing bowl, mix your baby spinach and mache lettuce with a small portion of the dressing. Sprinkle the salad with a bit of sesame seed before bringing it to your plate, on top of the grilled polenta and ENJOY!
Ariel Rebel
Canadian food blogger, model and web designer Ariel Rebel was born in Montreal in 1985. Her love for food started at a young age by looking at her grand mother cooking pie after pie while she was trying to steal some uncooked dough from the counter. Ariel inspiration for recipes comes from her French Canadian roots mix with all her traveling memories and the countless hours she spent running around Montreal to taste all the different culinary cultures. Her passion for cooking big dinners for her friends and family never ceases to increase every year and that's what motivate her to keep learning new skills while experimenting in her kitchen at much as she can. On her blog (ZestyandSpicy.com) Ariel shares with the world her passion for flavorful and healthy recipes while blogging small pieces of her life as a model and a web entrepreneur.